2002 Tacoma SR 5 Seats (So-Cal)
---
Driver and passenger seats grey in color. They are out of a 2002 extra cab sr5 tacoma. It has all the brackets and sliders, the only thing missing is the seat belt buckles (which is being used currently on my after market seats). Would like to sell as a pair and would not like to ship.
Location: 91107 zip code
Price: $250.00 obo (open to reasonable offers)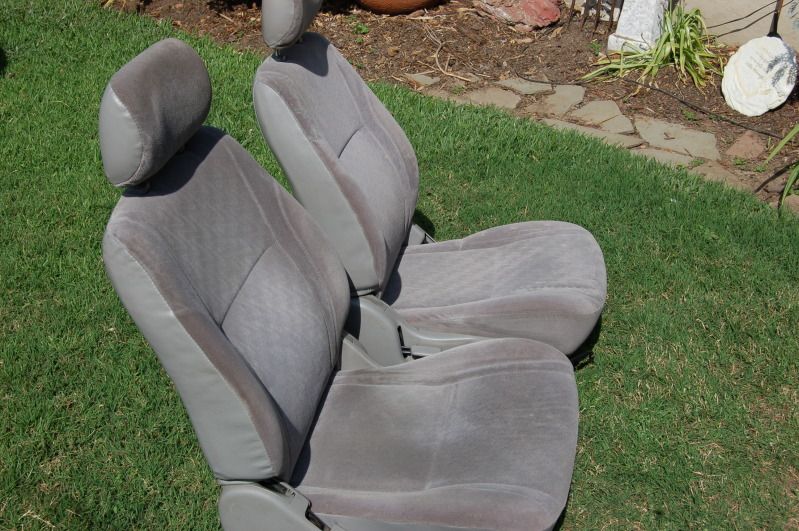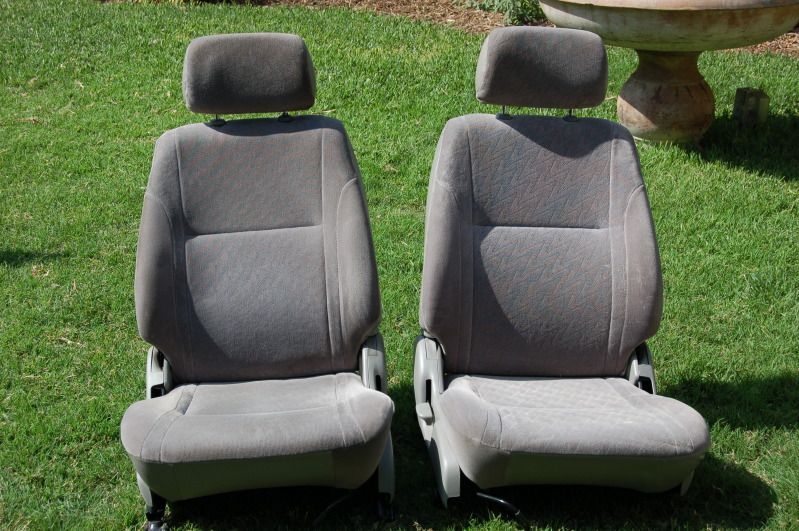 ---
---
Last edited by dirty dog; 04-10-2012 at

01:02 AM

.
bump price reduced $200.00...someone has to want these... no rips, tears, or funny smells haha
---
bump lets make a deal.
---
Veteran Member
Join Date: Dec 2004
Location: Corona, CA
Posts: 650
Veteran Member
pasadena
---
"Jekyll and Hyde" 2002 d-cab v6 4x4 33" dunlop MT, ARB's F and R, manual hub conversion, king coilovers, TC UCA's, deaver 8-leafs, downey shackles, 12" sb bilstein 7100 resi's, marlin brakeline, demello sliders, rear bumper/tirecarrier, rear shock relocation, budbuilt ifs skid, can-back, urd gasket, airraid elbow, full floating rear w/discs
Senior Member
Join Date: Nov 2005
Location: Houston, TX
Posts: 129
If only you were closer to Houston, TX.....they would be mine already. GLWS. Great price!
Veteran Member
You ever make it down North county SD way? I would love to have them but the ga smoney up to you would negate the awesome price lol
---
FLAT DESERT TAN 2000 XTDCAB TRD 4X4
-Tuff Country 5 inch suspension
-SAW 2.5'S with 14" 650# king coils
-Factory 16x8 "baja" wheels 285/75/16 DEFNITY DAKOTA M/T
-grey wire mod
-Deckplate mod
-2001 center console
-Mercer Fabrication square sliders welded on
-custom heavy duty front plate winch bumper
KHYBER PASS MULE BUILD THREAD
If you would like to pay the extra $50.00 to meet half way I wouldn't mind doing that but like you said earlier it might kill the deal lol. I make it down to oceanside every so often my buddy has a condo down there.
---
Member
Join Date: Oct 2007
Location: Bell, CA
Posts: 45
This is just what I'm looking for! Unfortunately out of my budget at the moment. If you are willing to take $100 I'd gladly take these out of your hands. If not GLWS!
Veteran Member
well dirty_dog I live about 10 min from oceanside if these don't sell and you make a trip to o-side hit me up I'll deff buy them.
---
FLAT DESERT TAN 2000 XTDCAB TRD 4X4
-Tuff Country 5 inch suspension
-SAW 2.5'S with 14" 650# king coils
-Factory 16x8 "baja" wheels 285/75/16 DEFNITY DAKOTA M/T
-grey wire mod
-Deckplate mod
-2001 center console
-Mercer Fabrication square sliders welded on
-custom heavy duty front plate winch bumper
KHYBER PASS MULE BUILD THREAD
pirate i will for sure...unfortunately ithinkblue I have to get enough to cover my insurance and registration so I need 200 let me know if you find an extra 100 layin around though lol
---
Veteran Member
bump
---
"Jekyll and Hyde" 2002 d-cab v6 4x4 33" dunlop MT, ARB's F and R, manual hub conversion, king coilovers, TC UCA's, deaver 8-leafs, downey shackles, 12" sb bilstein 7100 resi's, marlin brakeline, demello sliders, rear bumper/tirecarrier, rear shock relocation, budbuilt ifs skid, can-back, urd gasket, airraid elbow, full floating rear w/discs
bumpppppppp
---
seats are sold! thanks guys
---