1997 Tacoma Extra Cab - $600
---
The rest of the truck sucked so I got rid of it and just kept the cab for future plans. I have no interest in storing it until I will use it.
Selling the cab including whatever else is in the pictures.
$600 located in Agua Dulce. Zip code is 91390 for the geographically challenged. I can help load, but bring a trailer cause it's heavy and has no wheels.
This is the cab. It is black. It is an extra cab meaning it's extra special cause it has an extra window with extra room for your friends.
As you can see it has some frame under it. I can remove or you can keep and use the scrap money. It's most of a 5 lug frame which sucks anyways.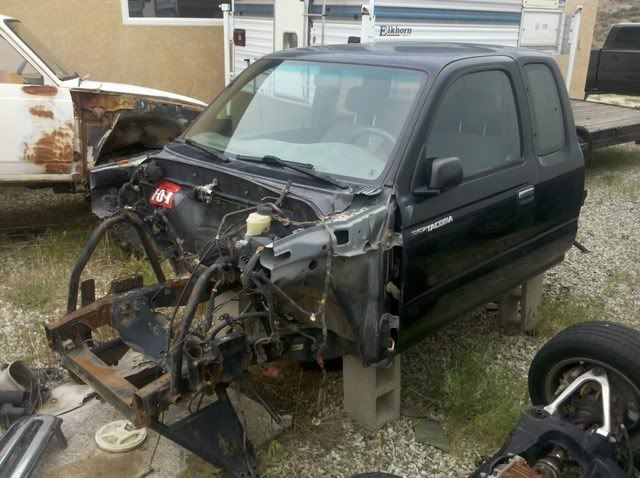 Here's the back. It has a slider window that is not broken. In fact it has all the windows and none are broken. The windshield isn't broken either. The back glass might have a little weld spatter on it, but not much. The gas tank might even still have gas in it.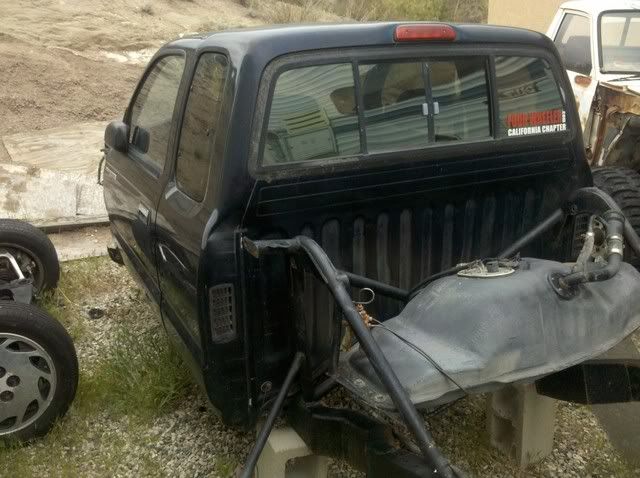 It even has a passenger side. This one has a booboo though. At the front lower corner of the door. FOA stickers cover up pure awesomeness, don'te worry about them.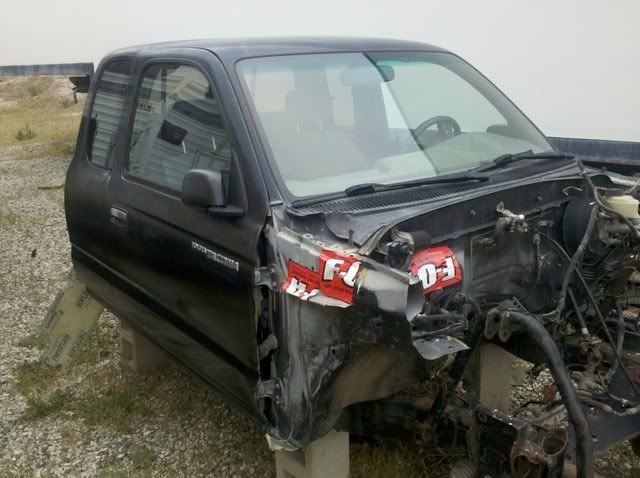 Close up of dent in door. It even still has a BFG imprent in it. Sick!!!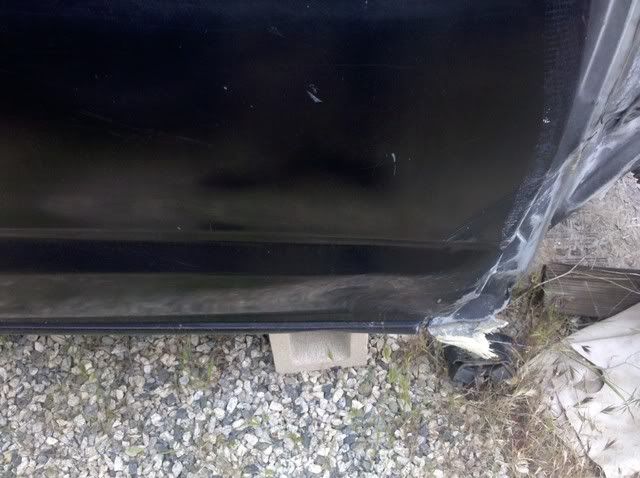 But Wait! There's more! It even has an inside. And it's full of goodies like seats and dash and stuff.
It even has a back seat and clean carpet. DUI cooler not included.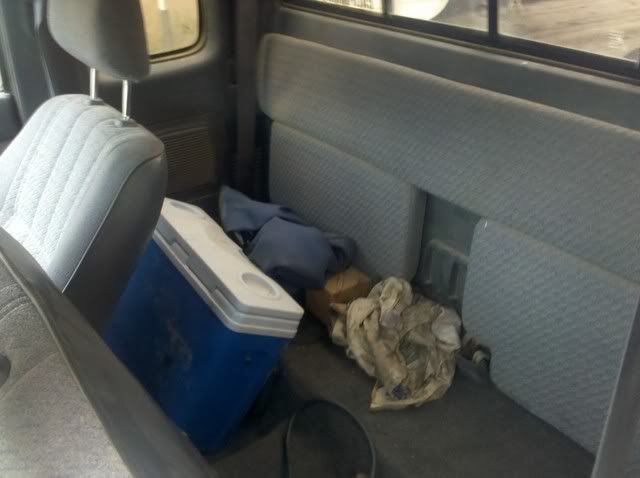 I'll even include the passenger mirror half off!
Senior Member
Join Date: Nov 2008
Location: Midland/Lubbock/Rowlett TX
Posts: 101
man i wish you were closer
Senior Member
bump cause i appreciate this guys humor
---
2003 TRD Taco
OME 883s, Dakars, ARB with Milemarker Scout SEC8, Allpro rear bumper, Skidrow Skids, Goodyear MT/R Kevlar 265/75/16s ECT. ECT. ECT.
Senior Member
Join Date: Sep 2011
Location: Wyoming
Posts: 302
i see an MKIII supra chassis..
Thanks, I get bored of the same old classified ads.

That is the rearend from a 87 Supra. I have bad ideas of building a minitruck some day but off rod is way too much fun.
I'd be interested in the seats if you want to part out further.
Veteran Member
Join Date: Nov 2008
Location: PDX
Posts: 516
Quote:
I'd be interested in the seats if you want to part out further.
I was just thinking the same thing (that I could use some parts off of this).
---
Quote:
shut the fuck up when u dont know what ur talking about
'98 TRD Taco with some junk. '93 FZJ80 also with some junk.
ehh, I don't really want to, It's not stored at my house and becomes a pain to run up and grab parts. I just need room for other projects.

Will trade for '05 and up Tacoma extra cab with at least windows or a 2uzfe.
Veteran Member
Join Date: Oct 2009
Location: Vista, Ca
Posts: 1,445
I'd be interested in those doors...
Doesn't help me make much room, but I suppose I could start parting it out.

$100 for the grey 60/40 seats with no tears and very little wear
$250 for both doors with panels and glass

Throw out offers for anything else, it all has to go. Willing to ship smaller parts if needed. Everything is clean and works, nothing cracked or faded. Dash is clean and odod has 137k-ish. No airbags.
Member
Join Date: Apr 2008
Location: 7th Level of Hell
Posts: 31
I'll give you $50+shipping for the steering wheel if the foam isn't separated from the inner ring.
---
1999 Tacoma
2011 Gas Gas EC300e
---
Last edited by Natas13; 05-01-2012 at

10:52 PM

.
Veteran Member
Join Date: Dec 2004
Location: Central Texas
Posts: 1,120
Is that $250 for the doors shipped?
---
"If it has tit's,tires or triggers, you can be pretty sure your going to have problems with it"
No, I'm not even sure I want to hassle with shipping doors, doesn't sound like fun.

I also have a complete brown and tan interior coming up shortly. Seats, dash, carpeting, everything real clean.