Newbie
Join Date: Jun 2006
Location: Waldemar, Ontario, Canada
Posts: 2
Roof Rack/Rack Back Question
---
Hi there,
Has anyone ever installed a Rack Back (AKA Headache bars) on their 05/06 Taco? If so, what might be the best way to do it?

I've also considered putting on a stock roof rack. Does anyone know what materials it is made from? Is it a composite/plastic material of some kind, all metal, or a combination of both? The reason I ask is because I need to be able to mount extra antennas to whatever solution I go with. I need a solid metal-metal connection where I mount them to provide a good ground-plane for the extra antennas.

TIA!
Shar
there dosen't appear to be very many roof racks for the accesss cab. if you find one you'll have to drill your roof. I contacted back-rack and they said they have no plans to make a version for the '05 and newer tac because of the bed rail system.

EDIT: there now seems to be one available from Back Rack. Part #10317
---
Last edited by CNADNtacoma; 01-28-2008 at

03:54 PM

.
You can get a Yakima or Thule setup.
That is what I have and it requires no drilling, just 2 people to close the cams at the same time. Beware: I had a chip in my windshield, and when I installed the rack the chip propagated into a large crack. (then it got huge when I went wheeling that weekend.)
They claim that each crossbar can hold 50lbs (the same setup on my pathfinder could hold 175lbs each, I guess due to the different shape clips; the door frame doesn't have a good shape for a clips on the new tacos.
go here for a photo:
http://www.tacomaterritory.com/forum...ad.php?t=64670
---
Last edited by Crazy Geologist; 04-04-2007 at

07:55 PM

. Reason: add link, clarify explaination
Well I guess Back Rack changed their mind about making one for the 05+ tacomas. There is now a part number listed on their site. Part # 10317 is for the 05+ Tacoma Back Rack. I'm going to order one today. I'll post pics when I get it and install it.
---
'06 tacoma access cab TRD, 3" toytech lift, Dual Batteries w/ isolator, Scanner, CB, Rigid Industries LEDs, TIR3 strobes and PCC8R, Thule rack and MOAB, CBI front hitch and lots of electrical mods.
Make your own.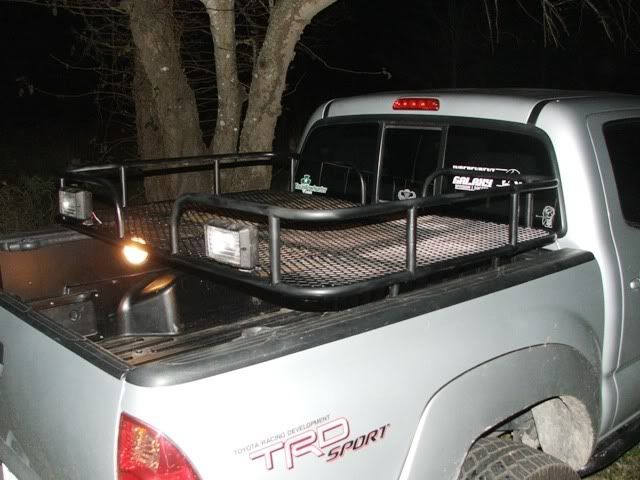 ---
06 TRD Sport, Dub Cab, 4x4
285/70/17 ATR's on ProComp 17x9 8179's
Shrockworks Winch Bumper, Sliders and Bottle Opener
OME 886 Front, AirLift Rear