Jackson Gulch to Araz Wash... Again!
---
IMPORTANT!
This run was a WILDCAT RUN and not a regular TRAIL RUN. The images you are about to see is not typical and is the first time in 3 years that anything this bad has happened.
WILDCAT RUNS are trail runs that are not part of our regular schedule. These types of run are "spur of the moment" in most cases and range in difficulty depending on who plans the run. Usually the more modified rigs go on these runs to "cut loose". Damage is likely and usually happens.
--------------------------------------------------------------------------------------------------
I forgot to reset the image size, so these images are 1024x768. Sorry if you have dial up.
Jackson Gulch 02-23-2008
5 rigs: 2 Toyotas, 3 Jeeps.
Drivers: Chris, Bill, Dale, Cole and Rick.
Everything went well in the first hour...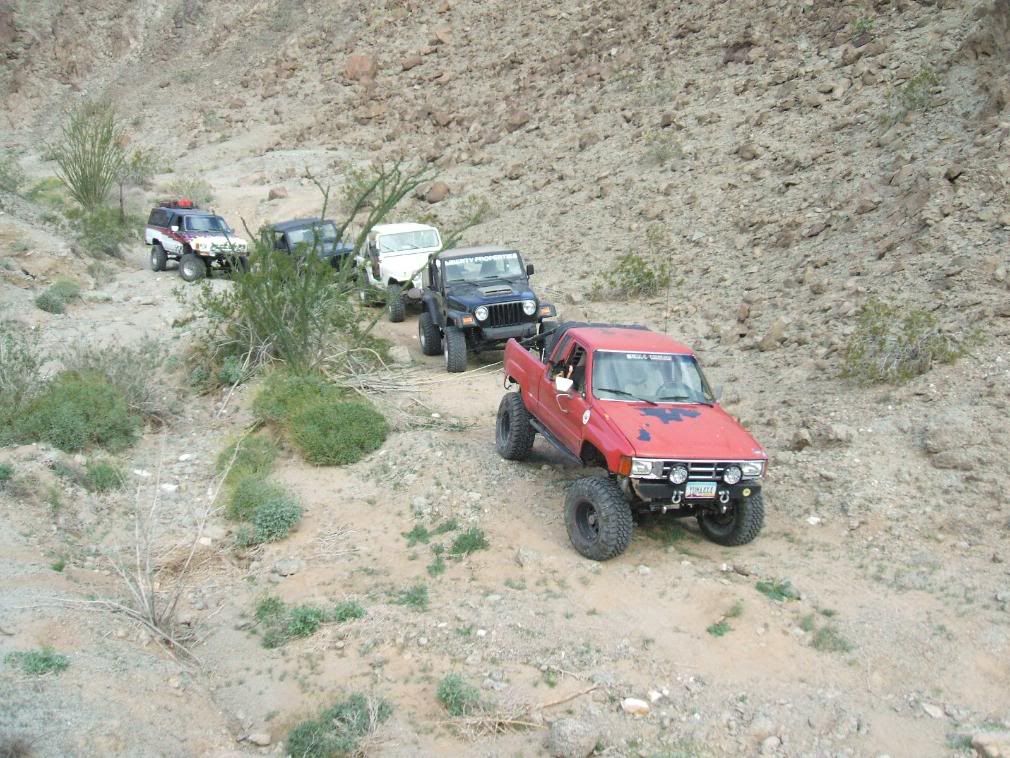 I went down first, without a spotter, and nobody to take pictures.
Bill...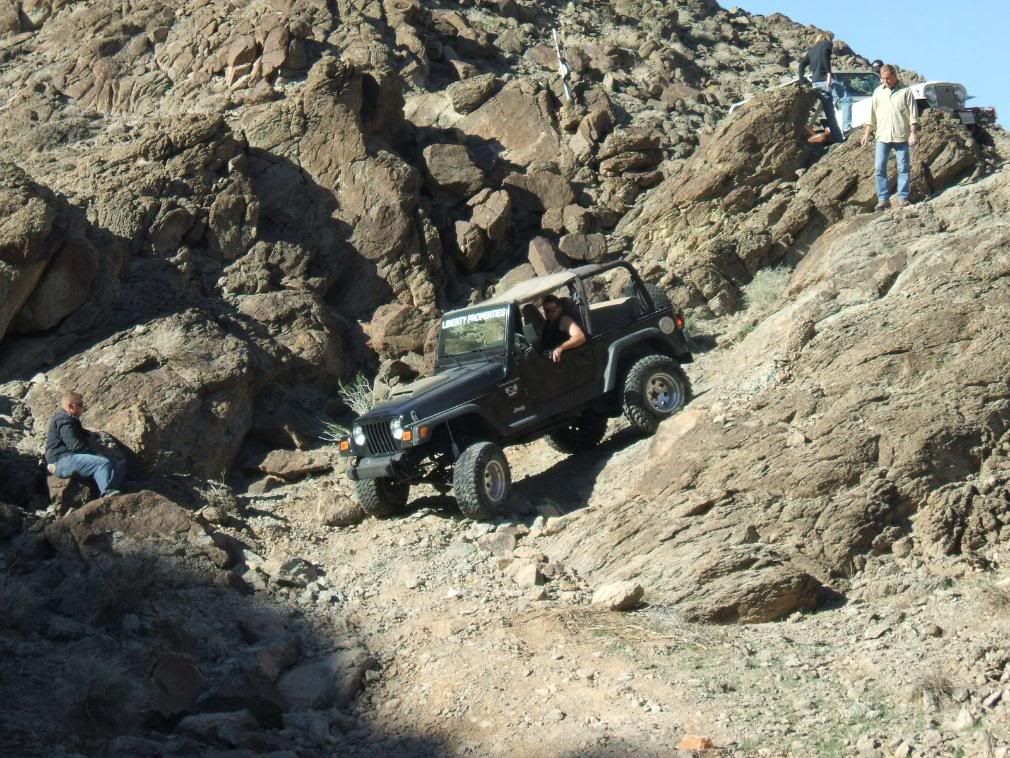 Rick...
Cole...
Dale...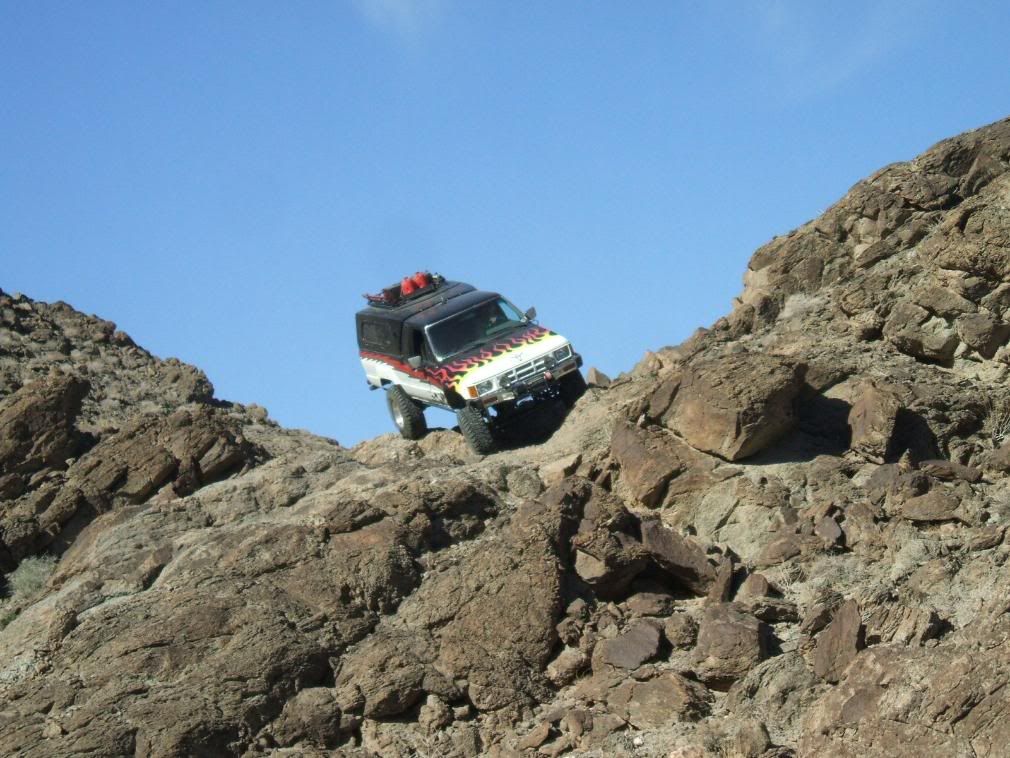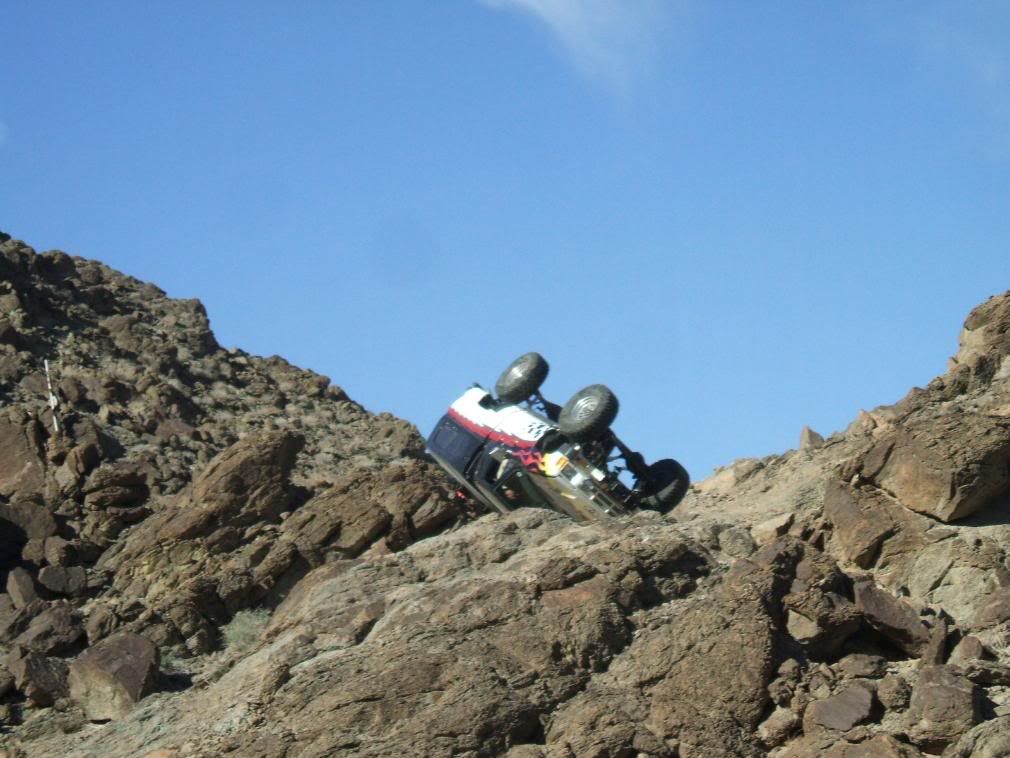 As you seen, Dale rolled. The reason he rolled is that he gunned the motor and ran his driver's side wheel high on a rock. This is why I have always stressed the importance of "Roll Control". You must always be in total control of the rolling speed and behavior of your rig. Dale let his temper and frustration get the best of him and this was the result.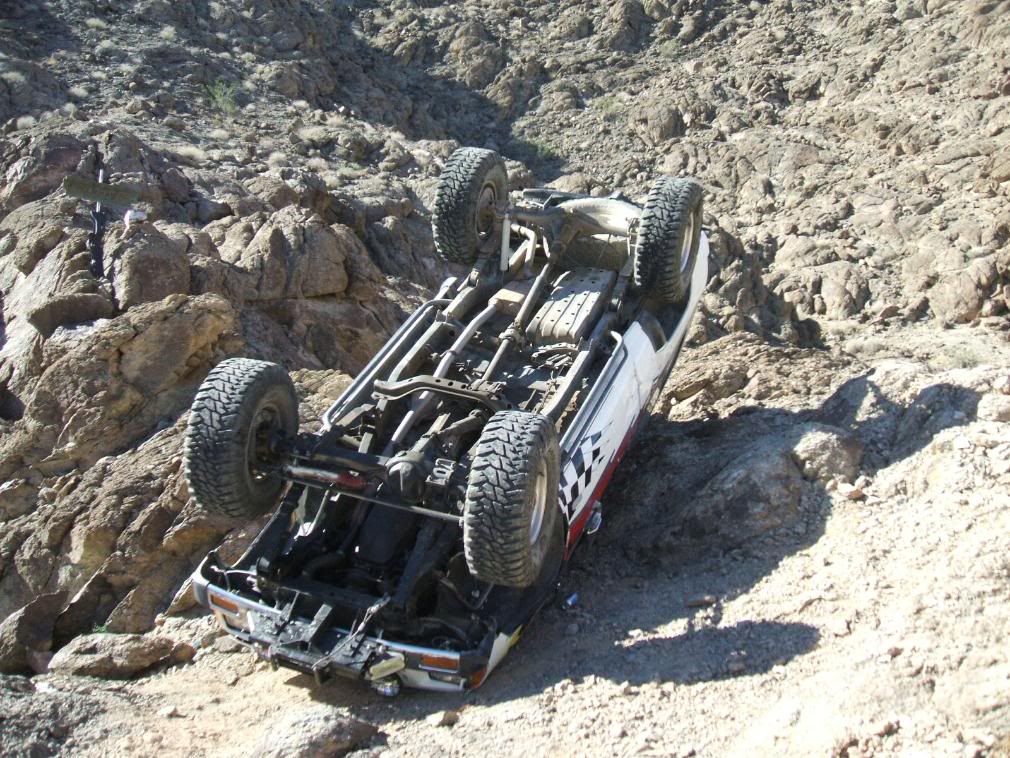 Dale suffered no physical injuries, but he was shaken a bit.
The following pictures are of the 3.5 hours it took us to get the rig back on it'e tires.
Dale next to his rig.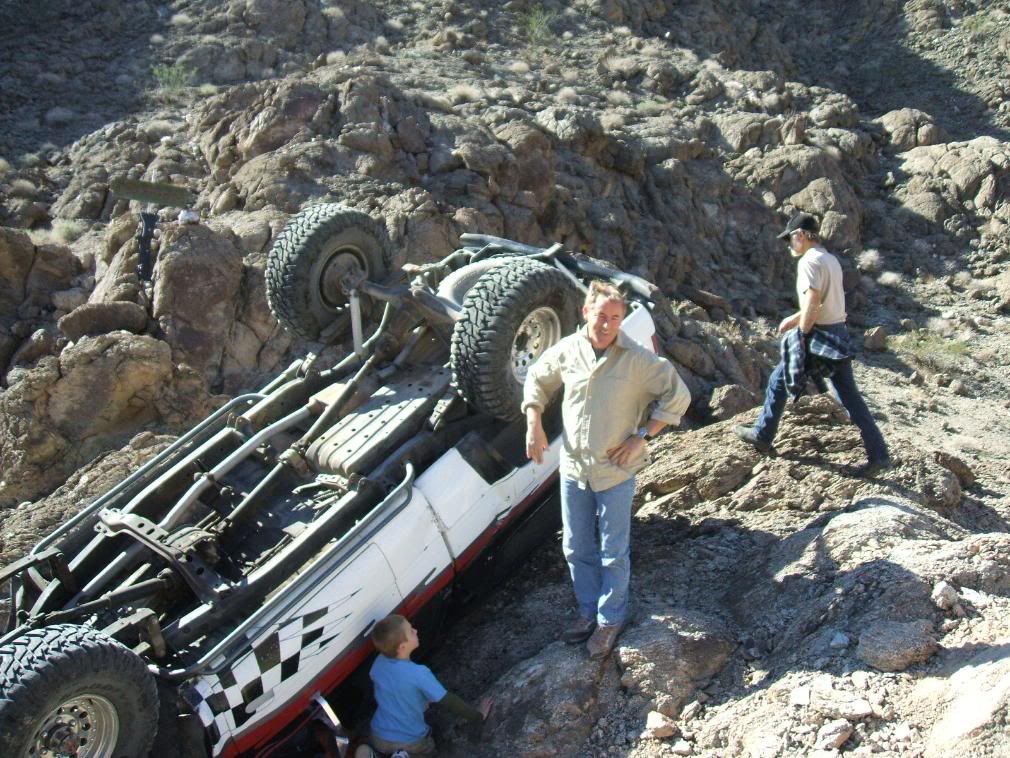 Rick had to drive back up the waterfall so we could get his Jeep to do the heavy work. There were some tense moments as it took a couple tries to get the Jeep to the top.
We could't get a "straight" pull due to the narrow trail. This was the best angle we could achieve.
Rick was the "Jack Man". Everyone stood clear as Rick did his thing...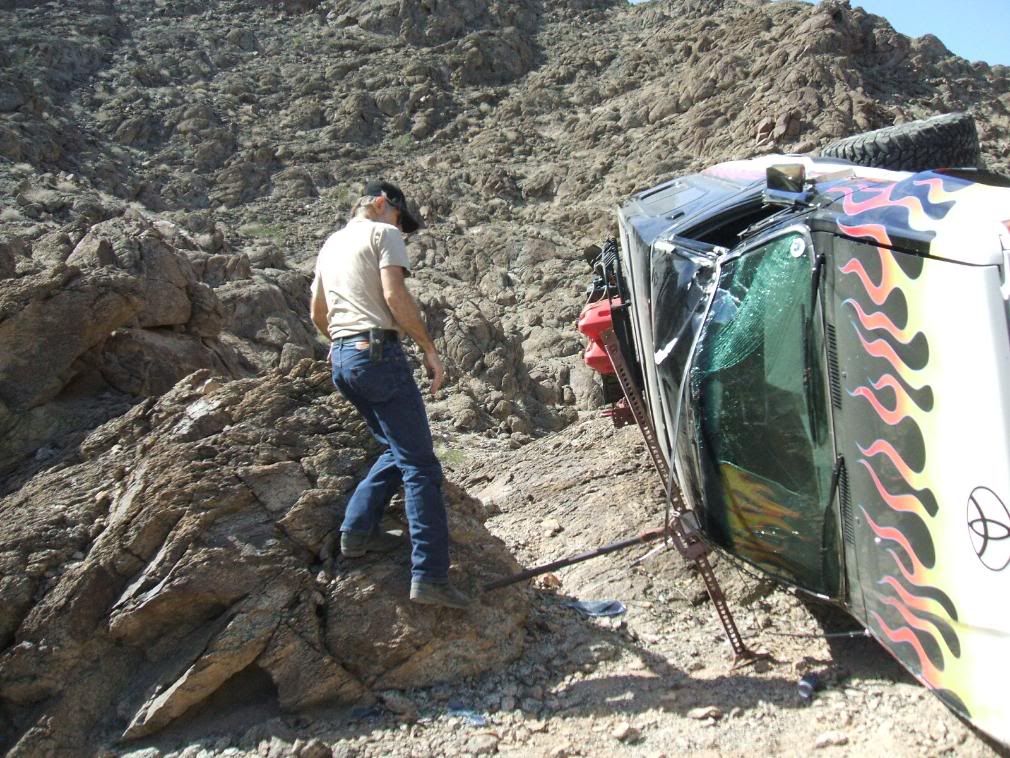 Rick was dedicated to helping get the rig on it's wheels. Notice the fire extinguishers in the foreground. There was fuel dripping from the carburator and there was a possibility that a spark could ingnite the the truck, so we were ready. Rick and myself were the only one with fire extinguishers in our rigs.
We rolled a tire under the cab so if the jack slipped we would have a backup.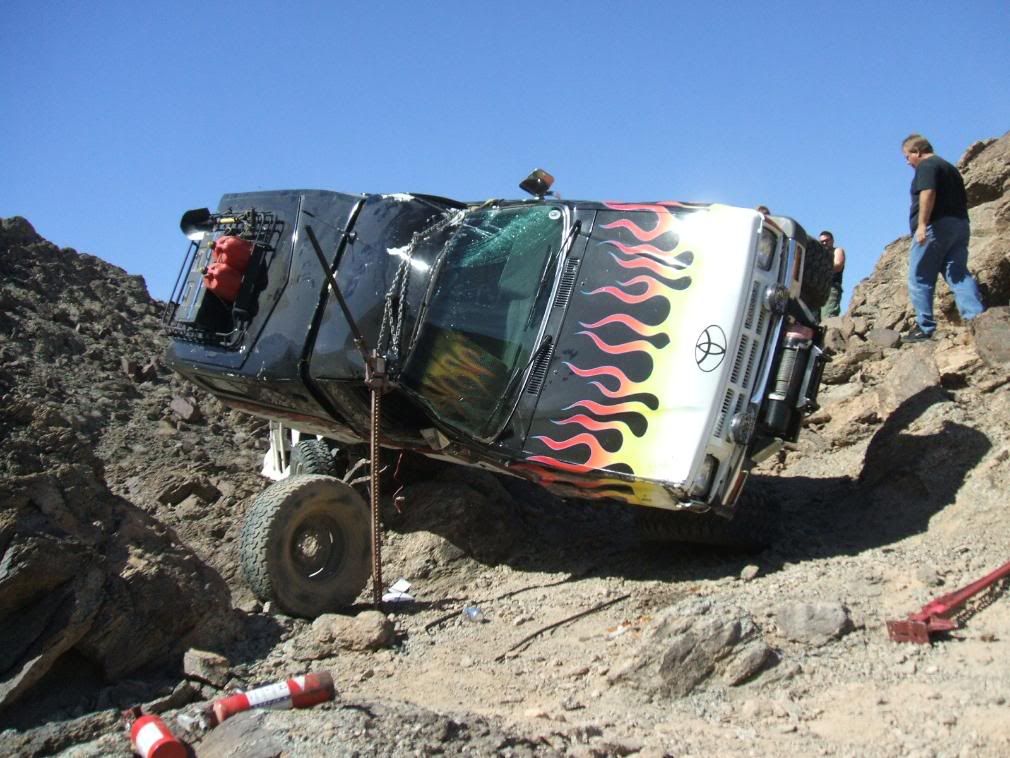 This picture makes me proud to be a member Yuma 4-Wheeler! After getting the rig past verticle, a strap was attached so we could aid in pulling the rig in the direction we needed.
Success!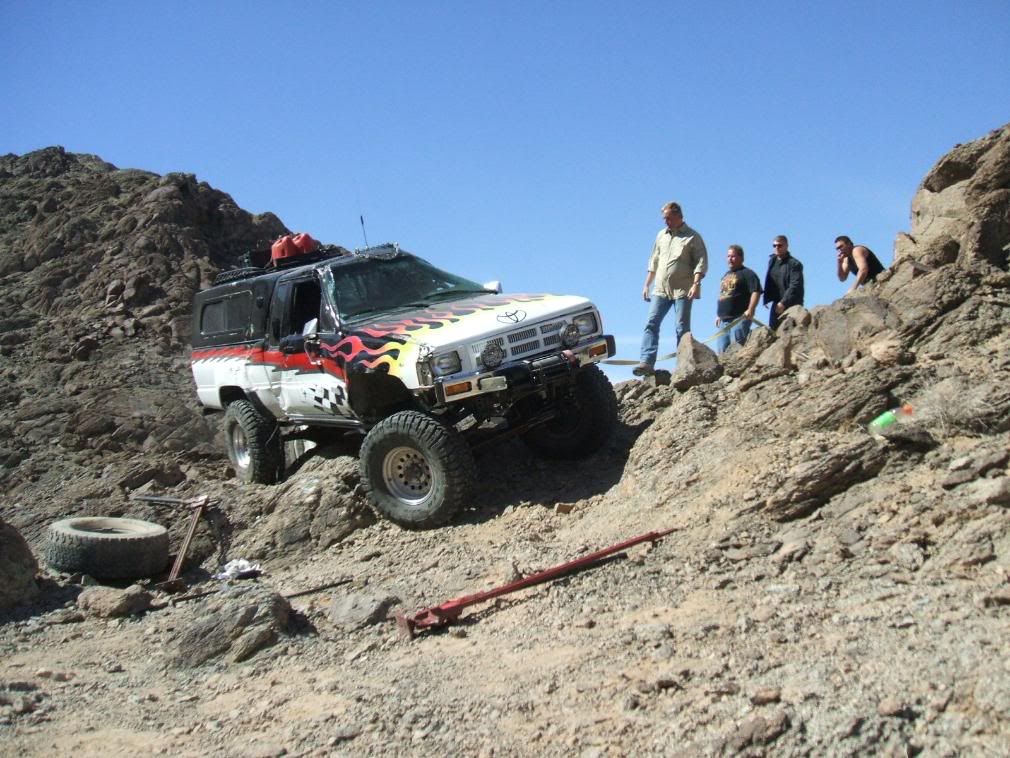 We instructed Dale to remove the sparkplugs from the engine and ground the coil wire, then turn the engine over for about 20 seconds to clear the cylinders of any oil that may have gotten in while the rig was upside down. Oil in a cylinder will cause major damage if cranked over. Oil does not compress and will bend a connecting rod, or other damage.
Back on the trail! Rick jacked the cab up so Dale would have more head room. Soon Dale was in the driver's seat ready to finish the trail.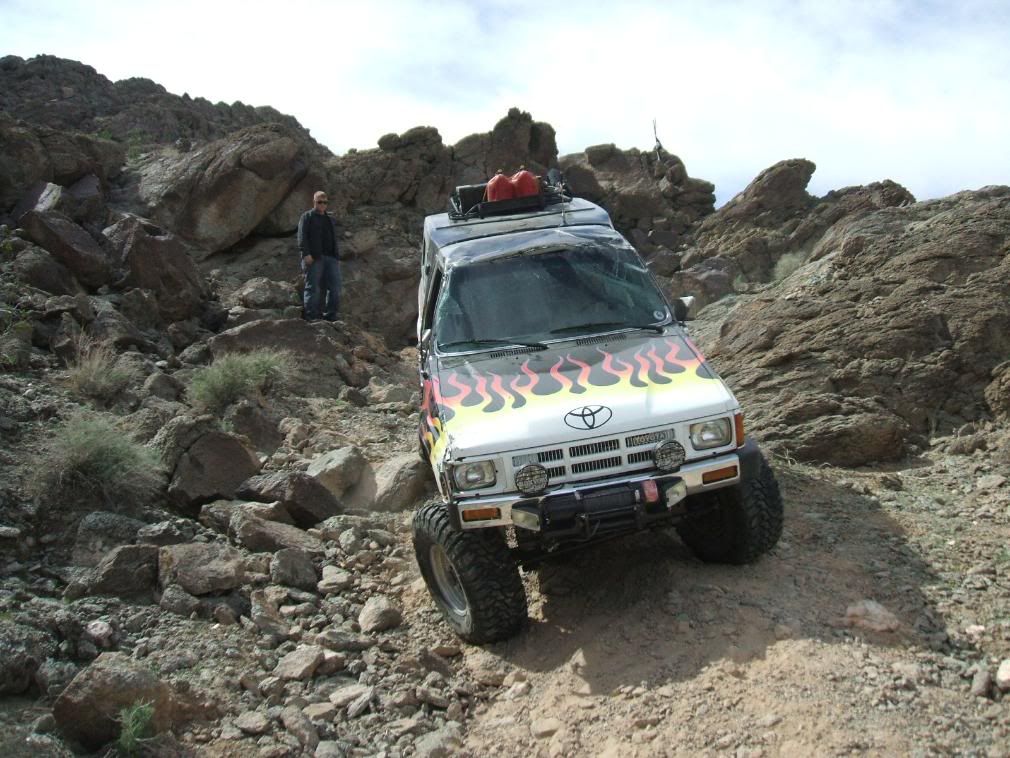 This was by far, the most damage any rig has sustained in the history of the Yuma 4-Wheelers. Don't let this scare you away from running with us. As I said at the top, this was a WILDCAT RUN and it was rated
X-TREME DIFFICULT
.
---
Yuma 4-Wheelers - Founder
yuma4wheelers.com
Veteran Member
Join Date: Dec 2004
Location: Az Baby!
Posts: 607
wow! that will dirty the shorts everytime. That sucks the only person with a winch was upside down. Could of only taken an hour instead of 3.5. Least no one was hurt.
Looked like a wild ride. I think I'll hurry up and finnish my exo cage now!
good pics, glad every one was ok.
The telling part is, that after rolling his rig, Dale went on and finnished the trail. Did he have on His brown pants?
---
"Bent & Broken"
He should of got a better angle coming down.The key is staying straight and level with the road.Im pretty sure that runner is very top heavy to make it worse.
---
AZ Undertakers
Veteran Member
Join Date: Feb 2005
Location: Colorado Springs, Co
Posts: 1,339
I've been on that trail and it looks like he was trying to cut a little to wide. Most pull up to a certain then back up to realign. It's a tricky little section.\
Good to see that everyone made it back safe Chris but it looks like Dale needs a new paint job.
---
2000 Toyota 4runner - Totaled
2002 Toyota 4runner - a work in progress.
Quote:
Im pretty sure that runner is very top heavy to make it worse.
It's a 1985 pickup with a fiberglass shell. He had his hi-lift and some other crap on top. He's still a little green. He's learning the hard way.
---
Yuma 4-Wheelers - Founder
yuma4wheelers.com
Yeah he definitely took it too wide, and when it started to go over he just kind of froze up. At least we got it back over. Wish I would have driven my rig instead of riding passenger so I could have drove back up the waterfall. Got some good pictures though.
Quote:
Originally Posted by
goodsdealerlmt
View Post
Hello seller...
WTF!?
---
Yuma 4-Wheelers - Founder
yuma4wheelers.com