Veteran Member
Join Date: Jun 2006
Location: Peoples Communist Republic of Northern Illinois
Posts: 1,795
My taco
---
Here is the closest pic i have of it stock, I slapped the all pro bumpers f/r and the winch off my old jeep! I bought the truck as a DD while i built the jeep, i had no intention of wheeling it. Took it offroad once, and sold the jeep 2 weeks later!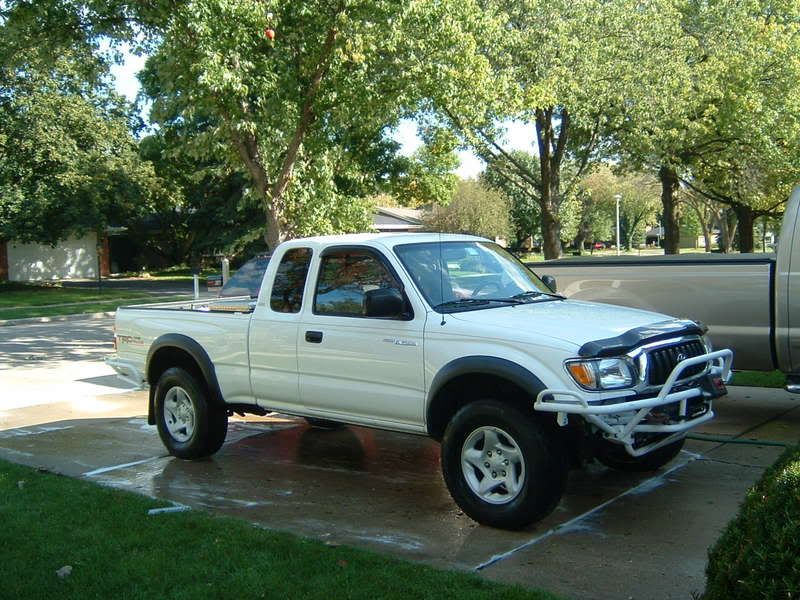 old jeep that i sold that has funded 80% of my buildup:
Wheeled the for a while and needed new tires so i lifted it.
Before:
After: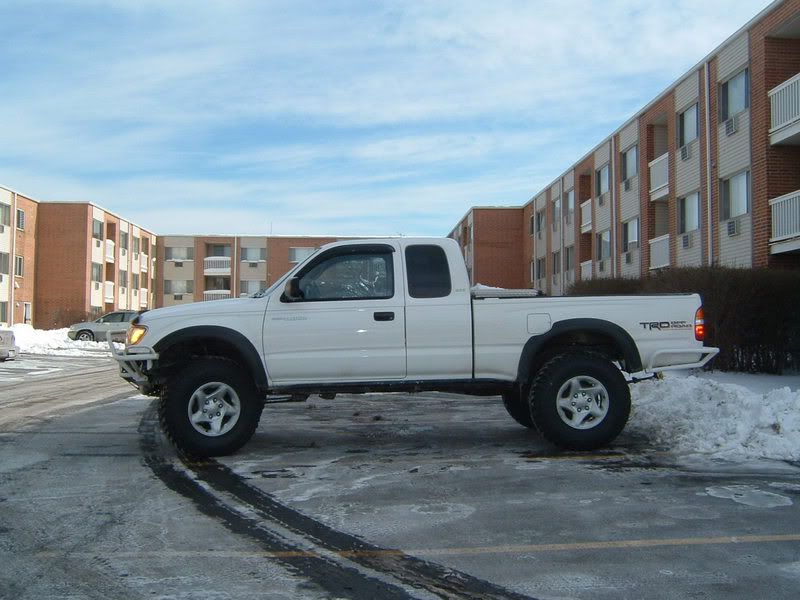 I put OME 882s with rear 8 leaf deavers, 1inch lift shackle, a ubolt flip, and bfg 255/85/16 kms. I had the soft OME shocks out back, but i broke them off the mount at take over, and i decided to replace them with some bilstein 5100's. I have been very pleased with this combo and have no complaints.
Breaking it in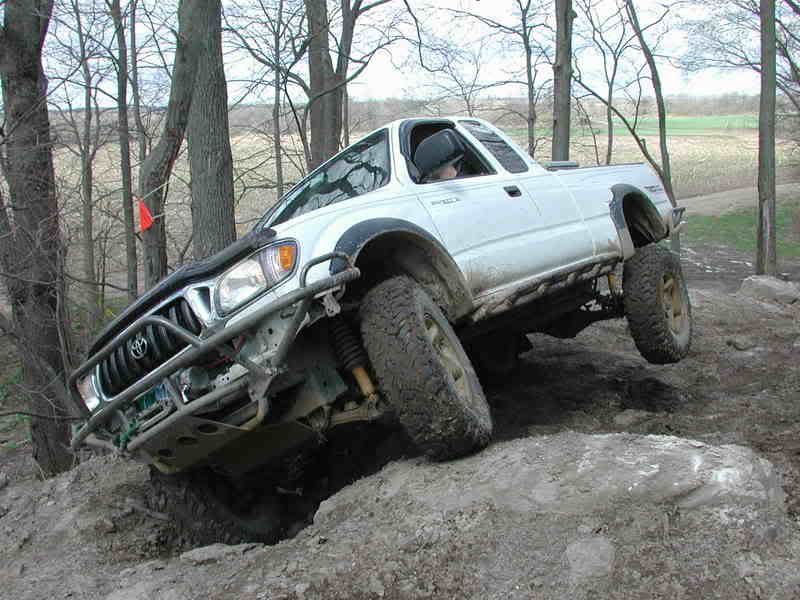 Well i decided that i needed a crawl box after stalling my truck and rolling backwards down a 50 foot hill my clutch hated me as well! I bought a some marlin adapters used, a toy case, and some 4.7 gears and built my crawler. I decided to swap out the front plates for inchworms. I like the way inchworm seals up the coupler. I could not be happier with this setup!! It was a relatively easy project and i enjoyed it and glad i built it! I will snap some pics of the setup in the truck some time soon. PM me with any questions!! I am also kicking around the idea of a front ARB, but probibly wont do it until i decide if im going to SAS it. Other than that i could not be happier with the setup now! The truck will go up anything i point it at and is reliable as hell!
---
Last edited by slander; 09-06-2013 at

11:58 AM

.
Veteran Member
Join Date: Jun 2006
Location: Peoples Communist Republic of Northern Illinois
Posts: 1,795
Well i got a new camera and was bored so i decided to snap some pics of my mods, since my first post on here kinda sucked.
Here is an overall side shot of the truck as it sits today
If we start at the front here is my warn m8000 winch attached to the all pro bumper. It has 100ft of synth viking winch rope, i forgot what diameter the rope is. I also have an all pro aluminum hawse fairlead on there.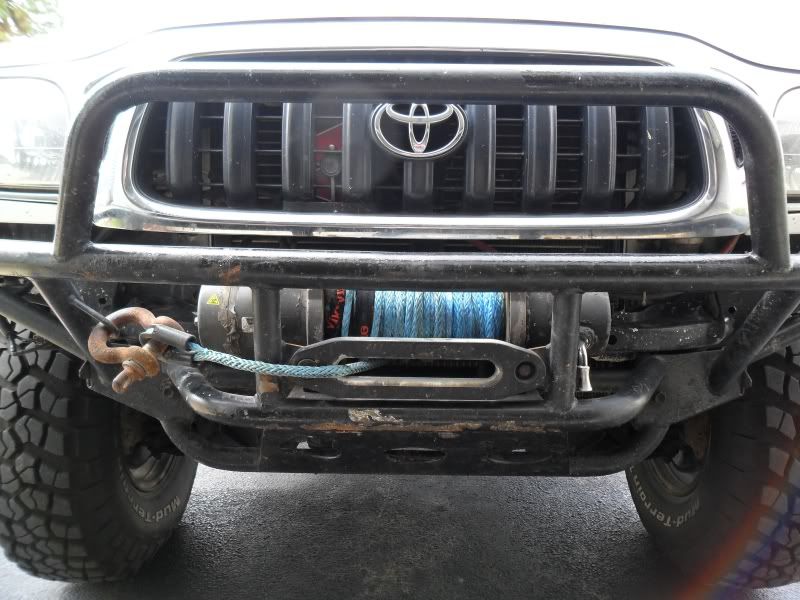 When i installed my winch, you can see in the first post i just slapped the winch control box onto the front of the bumper, obviously this was temporary, so i needed a better place to mount it.
So i stuck it behind the grill.
MY truck has gotten some body damage, well pretty much evreytime i go wheeling it seems: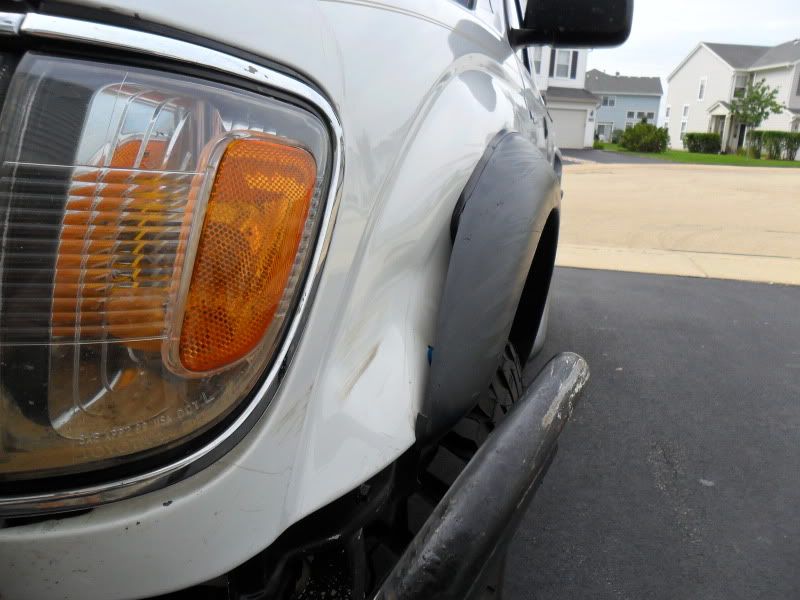 I had to figure out a place to tossed the spare so i went the easy and cheap route with a pro comp spare tire carrier.
As you can see i had to get rid of my old 255/85/16s because they were internally cracking and ready to fail, so i had them replaced with the km2s in the same size.
These tires are quiet on the street, offroad, i dont know how i like them, i went wheeling once, and it was real muddy and they didnt clean out too well, then again we were in some thick clay and crawling, so very little wheel speed. I do like that BFG ditched that stupid rim guard, all it seemed to do was funnel mud between the rim and the tire evreytime i wheeled it.
My stock tranny mount was on its last legs, and coupled with the crawler, was hating life. I wanted something beefier and was sick of praying my motor mount doesnt let go evreytime i was in 4low. So i got 4xinnovations HD tranny mount, no more wobbly shifters.
Pics of the crawler, it has an inchworm front plate, and marlins rear plate, with 4.7:1 gears stuffed in the box. Ignore the leaking, i belive its coming out of the factory tcases shifter mount.
I went the easy route when mounting the shifters and cut out the cupholders. Thats a factory shifter boot glued in there.
You also get a shot of my grey carpet mod, lol!! Dont leave your back window open in the summer, when it rains the carpet molds!!! Drove around for a year with no carpet and finally found someone on here selling their carpet.
Heres a shot of the rear suspension, i have 8 leaf deavers with bilstein 5100s (used to have OME shocks but one broke at TO 08) and an all pro ubolt flip. I also have a set of .5" lift shackles from toytec out back.
UP front i have OME 882s and shocks.
Well thats pretty much it, future plans are: Some new seats, the factory seats are on their last legs, and a roll cage. I cant decide if i want to go internal or external, but i need something! I also need to figure out how to get a skid on the tcase, if anyone has any ideas PM me. I want to limit welding to my frame since im probibly going to need a new frame in the next few years from toyota.
---
Last edited by slander; 09-06-2013 at

12:04 PM

.
Veteran Member
Join Date: Jun 2006
Location: Peoples Communist Republic of Northern Illinois
Posts: 1,795
Heres some pics of my latest mod. Its a lefty with a crawler bolted to it! The crawler has the stock 2.28:1 gears in it, 23 spline, mated with an MC07 XD to the lefty. The lefty has 23spline, 4.7:1 gears, the Advanced adapters low range housing, and marlin 30spline main shaft. I will also be installing RAD designs triple sticks, because i want my cup holders back. I will most likely be making a custom center console as well. Didnt get any pics of the install since it was spread over 4weeks (dont ask parts problems and it sucks living here!) and my camera was in mexico on a family trip. I also slapped a marlin clutch in as well.
Veteran Member
Join Date: Jun 2006
Location: Peoples Communist Republic of Northern Illinois
Posts: 1,795
The taco left the garage last night for the first time in a month!!! Got the lefty and duals in, wired up the ADD to a switch (thats the red switch you see in the pic) and got the triple sticks in. I need to figure out a way to get the left stick to clesr the gear shifter when the case in lo and the tranny is in 2nd or 4th All i need to do now is build a floor for it, fix some minor leaks, and add some more fluid to the crawler/lefty. This is the RAD design triple stick kit, this is mated to a lefty so dont pm me asking how i got it to fit on a chain drive taco kit it may or may not fit i dont know!!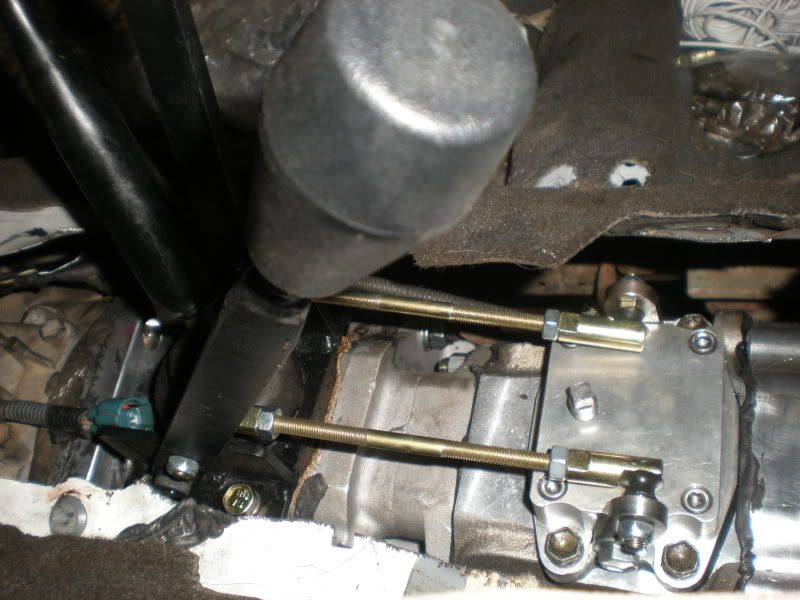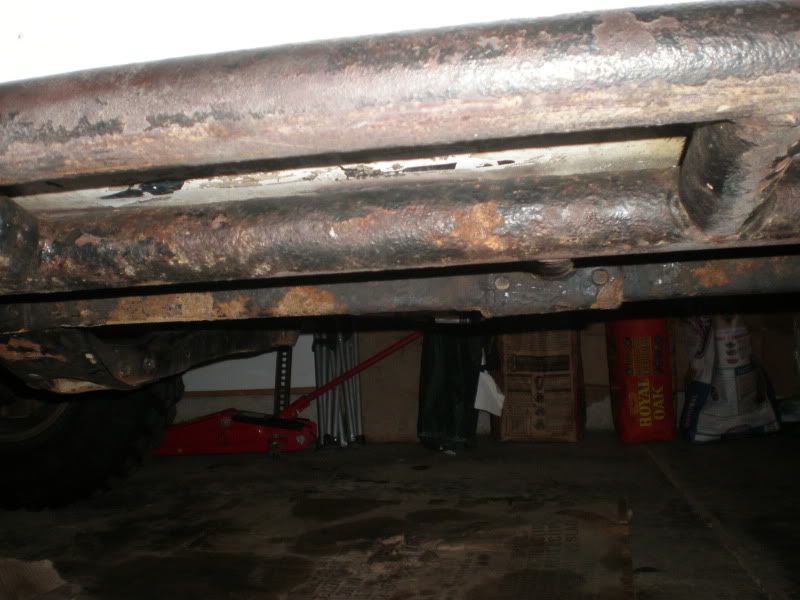 And look no more nut sack hanging down, the lefty is pretty much tucked up to the frame rails. It hangs down maybe a half inch below. It wasnt worth my time to clock it, it already barely fits under the truck.
Veteran Member
Join Date: Jun 2006
Location: Peoples Communist Republic of Northern Illinois
Posts: 1,795
Update: Broke a c clip off into the lefty. Its the c clip on the 4wd shift rail, it must have been knocked off durings the test drive after building the truck. Wheeled it hard on two trips, and DD for a few thousand miles, and it finally gave up. The last wheeling trip i broke a end off the shift rod for the triple stick kit. The lefty got hot as hell and puked its fluid all over the truck the whole drive home (3hrs). I changed the fluid and found chunks of c clip on there and a ton of metal shavings. I droped the cases and disassembled and cleaned evreything, and aside from some marks on the inside of the case, evreything was okay in there, i got way lucky!!! I changed out the double row bearing on the mc07 because it was already showing wear on the bearing race, i dont know if that was from the metal shavings or what, so in went the one from my mc09. Ill snap some pics of my floor, and my new heim shift rod ends sometime this week. Other than my little error i could not be happier!! Next on the list is to refresh my rear suspsension, i need some new greasable frame end shackle bushings, and to redo my bump stops to try to save my rear deavers, they are hating life!!!
Veteran Member
Join Date: Jun 2006
Location: Peoples Communist Republic of Northern Illinois
Posts: 1,795
I replaced my clapped out rear suspension last week. My 6 year old 8 leaf deavers finaally gave up on life. The truck sagged 2.5"s more on the drivers side than the passenger side, and the springs were badly wrapped from years of wheeling with no bumpstops and a crawler with no traction bar. I picked up a set of all pro expo leafs for a smokin deal on here. The expo leafs would be WAY too stiff for my application, so i pulled 2 leafs out of the springs packs. I also ordered a new set of u bolts, and spring plates from ruff stuff. On with the pics:
Side by side comparason of the deavers and the expo leafs:
Side shot after the install:
Shot of the springs, not a fan of the shackle angle but it should sag down.
It still leans about an inch more on the drivers side. May be that i tweaked the frame flopping it in harlan to that side 2 years ago.
The springs flex okay, a bit stiff, but they should break in after a few trips. It is nice not bottoming out on whoops in the road, and offroad i can get on the gas a bit and hit some good size holes, and the rear does not hit the bumps even with the bed loaded. I also have cut the axle wrap by 95% on the street, the yokes are no longer slapping into each other on the rear drive shaft.
Veteran Member
Join Date: Jun 2006
Location: Peoples Communist Republic of Northern Illinois
Posts: 1,795
Mounted up my bilstein 12" short body 7100 shocks and shock mounts through the bed last night. We cut a f250 shock mount in half and welded that to the rear frame after cutting holes in the bed. I also welded a new passenger side shock mount on the axle, moving it to the back of the axle. We failed to take into account the shock angle, so the bushings are bound up pretty good, but i am going to get some heims and that should fix it, it just sucks because the ones that came with the shocks got buggerd up when i was pounding them out. I mounted the resi's to my pro comp spare mount, nice and subtle!!