3 link options
---
am trying to find a good 3 link set up.. just seening whats stronger using a cross member or mounting off of frame.. opinons what be cool.. and pics whould be even better.. thanks
go to these links to see a three link system that goes to the frame. We have done them on two early model Taco's, a late model Taco and an FJ cruiser. Strong as hell and awesome flex with good road manners.
http://rides.webshots.com/album/378870315SnHRiA
http://good-times.webshots.com/album/564203253zyajmq
http://www.villagephotos.com/members...der_id=2024806
Project 07 FJ Cruiser SAS
Here are some pictures for you of the trucks. They all have the same three link system on them. The FJ nd the older Taco use's Johny Joints at both ends of the links and the '05 Taco use's huge 11/4" hiem joints at the axle end and johny joints at the frame on the links.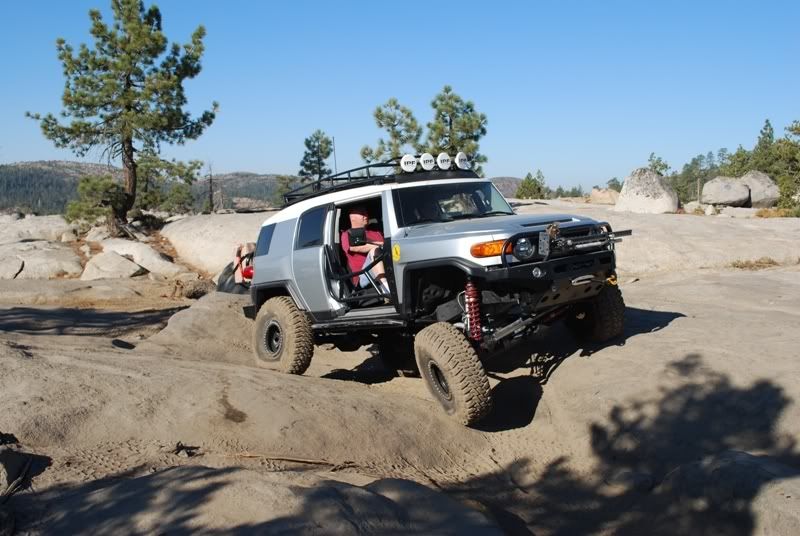 They all three use different front axles for the swap. The '02 Taco use's the tried and true Dana 44 out of a Jeep Wagoneer.
The Fj Cruiser use's an awesome Diamond axle housing with an FJ80 high pinion center section with elocker.
And the '05 Taco use's a Massive Currie Enterprise's Rock Jock 60 with 35 spline axles 5.38 gears and ford F-450 1 ton knuckles and unit bearings. Super Super strong.
Three different axles on three different trucks that all use the same three link system.
---
'05
"SAC"
Double Cab TRD Sport 4x4 with Marlin Crawler "Taco" Box and a bunch of other stuff.
Linked, Locked & Large!
"THE BEAST"
AKA "THE BIG SEXY"
Wyatt Scott
3.4 auto crawler install
Installing an FJ Case into an 05+ Tacoma
My Build thread. Building "The Beast"
GOT SAC?
Quote:
just saw this pic, nice pic, and i know exactly where it is
Chris, here are some pics of my set up. I went off the frame, sacrificed some ground clearence for streetability. The ground clearence really hasn't been an issue.
Here you can see the passenger side frame mount and the upper link mount bolt through the frame;
Drivers side;
All 3;
More pics are here;
http://s78.photobucket.com/albums/j1...ota/?start=all
If you do a crossmember then it has to be removable and then you have to unhook the front suspension for trans removal????
Good luck.
---
Sy
85 Syota, 6.0/700r4/203/300/60's/Detroits/37 PBRR's/§XX§
02 Cummins tow rig, a few goodies
High Country Renegades
anyone out there runs a upper link on the pass side frame with out hitting exhaust?
how should the upper link sit? try to get it level? or at same plane as your lowers?
Possible for some more pics of the pass side??
---
"Beer is proof that god loves us and wants us to be happy" Benjamin franklin
ok cool .. thanks alot...