3rz pictures needed
---
I'm rebuilding my 3rz ( 1996 has distributor ) and work along with funds had added major delays. I started this kinda suddenly and did not take any photo prior to removal or tear down ( kinda an oopsy on my part ).

I do have most of the parts separated however it's at a friends home garage and multiple people have handled the parts. I have the engine back together and am slowing down as work picks up and could use some good clean photos of the front of the engine ( bracketry and bolt locations ) to save a bunch of trial and error along the lines of this bolt should be this stud kinda thing.

I'm aiming to try to fire it up in the next couple of weeks if time allows and the photos would save me a lot of time if anyone has any.

Thank ya
Boophoenix
Veteran Member
Join Date: Dec 2006
Location: Galion Ohio
Posts: 822
I can send you some pics of a 98 3rz. Pretty much the same just coil packs instead of distributor. Pm me your email or cell #
---
Baron long rod von hug€nschlong
Member Dismemberer
Join Date: Dec 2004
Location: SoCal
Posts: 17,698
The front is the easy part. Its all the junk on the intake side that gets a little harder to match up.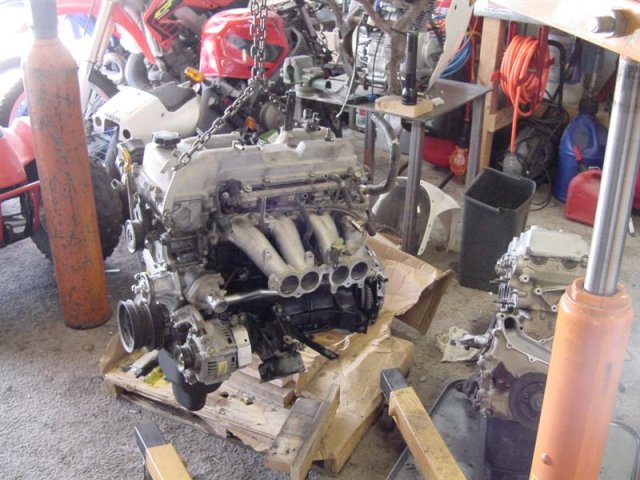 Member
Join Date: Jan 2010
Location: northern, ca
Posts: 65
By Friday I could probably get u some pics of a 95.5. We'll see if u get it solved by then
---
01 4x4 ex-cab taco 3.4 kn intake afe pro dry filter
magnaflow helix throttle body spacer cb, aluminum cross box, grey wire mod, 265/75/16 km2
alcon 1" lift springs custom headache rack light racing upper arms icon extravel coilovers remote resi rears and timbren bumps trail-gear rear frame braces and low profile front bumper

94 2wd reg cab, smitty front rear bumpers, fabtech upper arms swayaway torsions custom shock mounts 3 leaf aal and bilstein 5125's all the way around
Knuckleduster271:

Pm sent

ShowStop:

that's exactly what I could use if ya have detail pics of the front and bracketry. I'm not real concerned With the intake side I think I can get that.

tyler_989:

It goes very slow I get about 30 minutes a week to mess with it.


I got a wild hair back before X-mas and had it towed over there pulled it and stripped it down that day. It's been a long time since I did the wrenching thing so I'm outa practice of rembering those things ( got older too since those days ). Because of X-mas the head was at LCE or intransite for over a month. Since work has gotten in the way.

Thank y'all very much for the quick replies and assistance.
Member Dismemberer
Join Date: Dec 2004
Location: SoCal
Posts: 17,698
I could take some pics tomorrow, but the other ones I had weren't any better then that one. It was from my engine swap about 6 yrs ago.
My original plan was to pick up a spare and build it and just drop it in, but life has a tendency to not work with plans very often.

Anything would be helpful at this point. I'm hoping to cut down on the trial and error time as I don't have the spare time to put into it going into the busy season of my work. I'm bringing it back to life to trade up from a Chevy 2500 that's hogging the fuel. I have to drive one 5 mile to the gallon truck daily and trying to save a little while increasing my enjoyment of driving in the other.