Well i got a new camera and was bored so i decided to snap some pics of my mods, since my first post on here kinda sucked.
Here is an overall side shot of the truck as it sits today
If we start at the front here is my warn m8000 winch attached to the all pro bumper. It has 100ft of synth viking winch rope, i forgot what diameter the rope is. I also have an all pro aluminum hawse fairlead on there.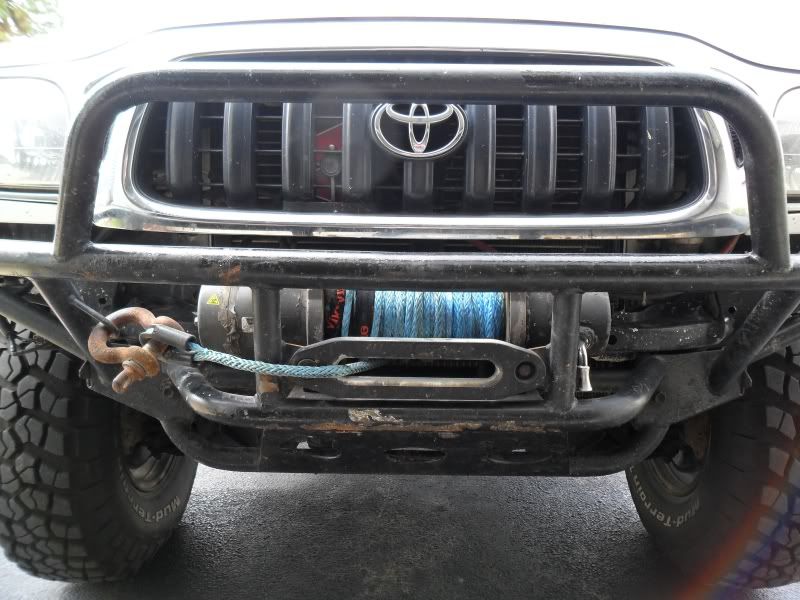 When i installed my winch, you can see in the first post i just slapped the winch control box onto the front of the bumper, obviously this was temporary, so i needed a better place to mount it.
So i stuck it behind the grill.
MY truck has gotten some body damage, well pretty much evreytime i go wheeling it seems: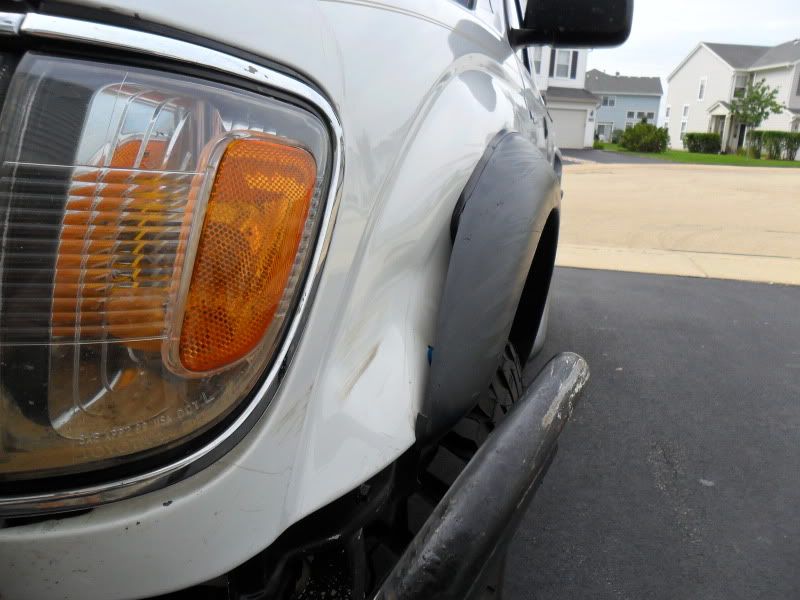 I had to figure out a place to tossed the spare so i went the easy and cheap route with a pro comp spare tire carrier.
As you can see i had to get rid of my old 255/85/16s because they were internally cracking and ready to fail, so i had them replaced with the km2s in the same size.
These tires are quiet on the street, offroad, i dont know how i like them, i went wheeling once, and it was real muddy and they didnt clean out too well, then again we were in some thick clay and crawling, so very little wheel speed. I do like that BFG ditched that stupid rim guard, all it seemed to do was funnel mud between the rim and the tire evreytime i wheeled it.
My stock tranny mount was on its last legs, and coupled with the crawler, was hating life. I wanted something beefier and was sick of praying my motor mount doesnt let go evreytime i was in 4low. So i got 4xinnovations HD tranny mount, no more wobbly shifters.
Pics of the crawler, it has an inchworm front plate, and marlins rear plate, with 4.7:1 gears stuffed in the box. Ignore the leaking, i belive its coming out of the factory tcases shifter mount.
I went the easy route when mounting the shifters and cut out the cupholders. Thats a factory shifter boot glued in there.
You also get a shot of my grey carpet mod, lol!! Dont leave your back window open in the summer, when it rains the carpet molds!!! Drove around for a year with no carpet and finally found someone on here selling their carpet.
Heres a shot of the rear suspension, i have 8 leaf deavers with bilstein 5100s (used to have OME shocks but one broke at TO 08) and an all pro ubolt flip. I also have a set of .5" lift shackles from toytec out back.
UP front i have OME 882s and shocks.
Well thats pretty much it, future plans are: Some new seats, the factory seats are on their last legs, and a roll cage. I cant decide if i want to go internal or external, but i need something! I also need to figure out how to get a skid on the tcase, if anyone has any ideas PM me. I want to limit welding to my frame since im probibly going to need a new frame in the next few years from toyota.