Hey guys, haven't checked this thread in a while, but thanks to NorcalPR I've finished some testing and have made available some good shackles. I've identified a 5/8" shackle that works very well with the crush proof thimbles. The key to this shackle is that it's forged alloy steel. This makes them much stronger than a standard steel shackle. This 5/8" shackle has a working load limit of 10,000 lbs. a proof load limit of 20,000 lbs and an ultimate breaking strength of 54,000 lbs. FYI, these are not cheap. For fit, shackles must be tested with the thimble closed. I've had a thimble lock onto a shackle pin before, when doing a heavy pull. To get the pin out, we had to pry the thimble open. I've put a thimble in a vice, closed it and these 5/8" shackles still fit both body and pin.
5/8" forged alloy shackles include shipping at the following prices:
1 Shackle - $18.45
2 Shackles - $29.90
3 Shackles - $42.35
4 Shackles - $53.95
RE the tubular webbing as a chafe guard. The biggest problem with using webbing is that if you pull the rope into the winch, under load, the winch line can get stuck and will not de-spool without a load pulling it out. This is why I recommend a removable chafe guard. I haven't had a chance to properly test my design and this is why I do not yet offer a chafe guard.
Picture of 5/8" shackle: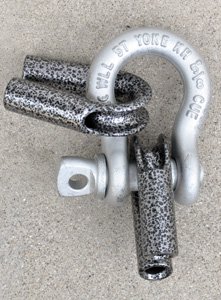 Here's a picture of a thimble, closed in a vice: