Member
Join Date: Jul 2011
Posts: 37
New from Va
---
Hello COTTORA! Just moved to the Springs from VA. Beautiful country here. Im definately not new to the toyota game. Ive had an 85,91,95.5 tacos and currently have a 08 Tundra. Id really like to hook up with some of you guys on here and check out some trails. Hope to see some of yall soon
-Andrew
Pics? Is it stock or lifted? We do a stocker run every month Check out our next meet and greet and see if you cant make it. Where in the springs do you live? Btw welcome.
---
Felix is my Hero!
Welcome. Maybe we can get the Tundra's out for a run soon? I have a 2009.
Veteran Member
Join Date: Jan 2009
Location: Colorado Springs
Posts: 3,987
Welcome, any plans for armor/building it any? Rainbows and Unicorns Fabwerqkz can help...
>>Dan
---
I LOVE FELIX!!!!
and I have the stickers to prove it
Anti Bro Lightbar Soceity founder
Welcome. What part of VA?
---
1994 Toyota Pickup, 40's, duals, exo
Welcome to cottora.




---
Degenerate

I am not lost


98 mazda protege
99 v6 trd taco-some stuff
07 Ninja 650R
Member
Join Date: Jul 2011
Posts: 37
No pics of the tundra as of now. Its stock db cab with a leer cap. I have pics of the other tacos I have owned. I dont know what to do with it as of now. Idealy I would like to trade it in for a qclb 4x4 cummins 3rd gen and build up a 80's runner to beat on. We will see though. I wouldn't mind a 3in on 33s with a road armor up front though
1995.5 3in bl and 3in fabtech on 33's, pretty much was just my beater
1991 6in rancho on 35's 22re 5speed, wish I never sold it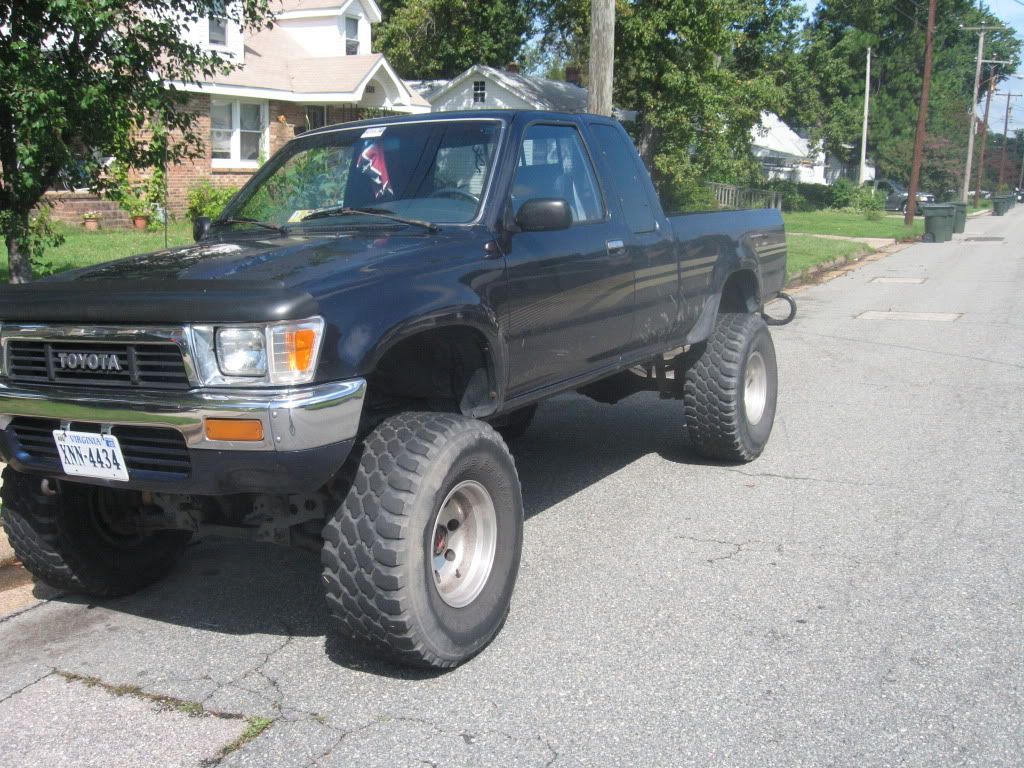 I will try and get some pics of my 85. Im from Hampton near Virginia Beach. Way to populated over there though. I got an apartment up by the chapel hills mall. When and where do you guys do the m&g?
Welcome freak!
---
87 Dlx Longbed mall crawler
93 c3500 lowerthanstockdually
10 jaguar xf- about to be forsale
04 760li on 22's- soon to be forsale
02 Vette to show the world I'm compensating-forsale
Senior Member
Join Date: Aug 2010
Posts: 201