Senior Member
Join Date: Jan 2011
Posts: 105
Wheelers Lake 9/25
---
Went out with a few guys from the 4wheel club at the School of Mines. Finishing up my degree in December so I'm trying to get out as much as I can before then. I was the only Toyota in the group that day with a bunch of Jeeps that had much more work done to them. Picked up a set of 33x10.5 KM2's the day prior and they hooked up amazing. Overall a great day as I got to test my truck pretty good. Used my sliders a bunch as I only have around 1 1/2 to 2 in lift in the front with my OME 881 on 5100's set at stock height. Nothing broke on my truck but had a bump stop come off one of the Jeep's and another Jeep sheared a driveshaft bolt on the way home forcing FWD for the remainder. Here is a couple of pictures.
Can anyone give me suggestions as how to get more travel out of my rear? As you can see in the picture my shocks seem to be limiting the full limit of my Alcans. Would relocating the shocks inward help this?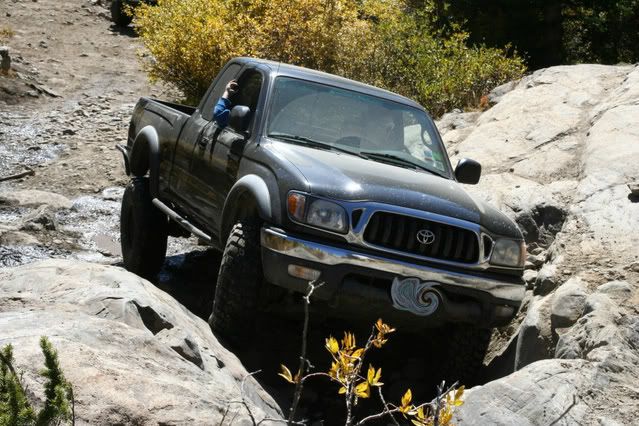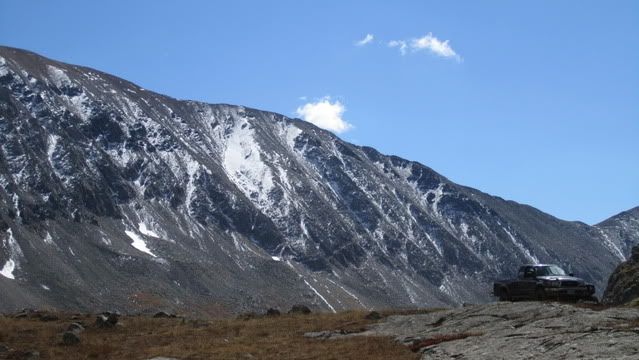 ---
02 Ex Cab V6 5 Speed...some stuff sitting on 33's

00 Suzuki SV650N
Relocating could help but you likely need a longer travel shock to get full travel.




---
Degenerate

I am not lost


98 mazda protege
99 v6 trd taco-some stuff
07 Ninja 650R
The first step would be to actually measure and see what your actual wheel travel is. Then decide if moving the shocks makes more sense than buying ones that will allow the full travel.
---
de·gen·er·ate

I'm outside your window watching you read this.
Nice pics! That is one of my favorite trails right there. I wish that CSU still had a 4x4 club. It sounds as though it disbanded awhile back...
Just remember that when relocating shocks, every degree off of vertical decreases your damping by a factor of the cosine of that angle. (i.e. 60 degrees from vertical has 1/2 the original damping). But since you are in your last semester at Mines, I'm sure you already knew that.
That said, most of the time they will end up at <25 degrees or so, which won't make much difference. But I have seen a few leaned over at like 60 degrees, just bouncing down the trail...
I would try to keep the lower mounts close to where they are. Moving them further in will decrease damping force significantly too.
It's pretty easy to tell if you need longer shocks. Unbolt them, find something to flex on, and then see if you can put the shock somewhere that it still has about 1/2" of extension left and will still reach on the extended side. And then see if a similar mounting would work on the compressed side with about 1/2" until the shock is fully compressed. Making the shock go to full compression or extension on a regular basis will wear it out quickly... And they don't make for very good bump stops.
---
1980 Toyota Pickup: CB antenna, custom 2-tone paint, duct tape mod, weight reduction, 29" meats. sway bar and torque bar removed for MAD FLEX.
I think we need to make one Kyle...we keep meeting all sorts of people through various things anyway. lol

Sweet pics glad you all had fun!
---
1998 Tacoma - Rear e-locker, ADS Racing Shocks 2.5" Extended Travel Coilovers with Reservoirs, 3 inch All-Pro lift system in rear, Trail-Gear sliders, Trail-Gear front stinger bumper, CBI Wrap Around tube rear bumper, CB Radio, Skid Row Offroad Skids, 33 inch BFG KM2's on Ivan Stewart 16 inch wheels.