Cheapo Bike Rack
---
I sold my Yakima rack with the Suby, so I needed some way to stow bikes in the runner that would be secure and stable.
Enter
RockyMounts
. I purchased two of the "Clutch" model for $25 each at their factory store in Boulder. Then, I headed over to McGuckin's for some mounting hardware and discovered the same model on sale for $20. RockyMounts price-matched and away we go.
Using a 2x4 I had laying around the garage, I drilled a few sets of holes. Two sets allow for a straight mounting. Two sets are angled slightly so wider handlebars don't interfere with one another. The entire thing is 52" wide which, by my rough measurements, should fit nicely across the back of the truck. Each mount is 14" from the end of the board, leaving plenty of room for the handlebars. I measured my mountain bike and it has 13" from the center of the stem to the end of the bar.
I also beveled the edges a bit to make it look nice. I may paint it eventually, but, meh.
Total cost to mount two bikes securely within the cargo area: $44 and some change.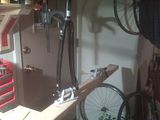 I built one like that for my '89 .. there was plenty of room with them mounted straight.

One issue I had was the 2x4 sliding forward under braking. A short piece to go from the mount up to the front of the bed stopped that.
Veteran Member
Join Date: May 2007
Location: Littleton
Posts: 2,201
My bike will not stand up in my 4runner. Did you already try yours?
Yeah, I'd like to see pics of them in your Runner. I have a 1st Gen as well so I'm curious. 26" or 29er?
---
- Brian
Daily - '96 Dodge Ram 2500 - 5.9 12v Cummins - 285's, Level 8 Trackers, HID projector retro
Rig - '86 4Runner - 22RE 5spd - lifted, locked, geared, 33's, 85% armored
Cars - '95 Lexus SC400, '86 SVO Comp Prep
Bikes - '06 Buell Ulysses, '78 Yamaha XS650
Spares - '85 Xtra cab 2wd, '01 F150 Super Crew
Veteran Member
Join Date: May 2007
Location: Littleton
Posts: 2,201
Looks like 700c by that carbon fork.
Which bike?
I have a 26er, two road bikes, a tri bike, and a single speed. I expect to have to drop the seats to get them to fit. I'll give it shot tomorrow. I just measured, though, and I have 36" of room from bed to roof. My mountain bike is under 30" from fork to handlebars.
Troy - I was planning on facing the bikes to the rear, so I'm not sure sliding will be an issue. I may add a few spikes or some velcro or something to anchor it in the carpet, if necessary.
As for the angling, I expect at some point to want the ability to mount a third bike in there. I was just planning ahead.
Similar Threads
Thread
Thread Starter
Forum
Replies
Last Post
bike rack

blatant

For Sale/WTB in AZ

3

05-26-2008

10:19 PM

bike rack

thenexus

Miscellaneous Items

3

01-01-2007

04:08 AM

Bed Bar/Bike Rack

kj454

Fabrication/Tools

4

03-13-2006

05:27 AM

Bike Rack

Eztrog88

Cheap Tricks

26

05-16-2005

02:23 PM