Xcelr8's SuperTaco
---
Hello all, this is my 2002 Tacoma that I purchased stock over 4 years ago. It served me well during my time in the military and never left me stranded once. However, since it has over 200,000 miles now...it's being promoted to a 20% DD/80% trial rig. The end result I'm shooting for is a mildly capable SAS'd Taco. I'd like to maintain the ability to drive it on the road, but it definitely won't be a daily driver in any regard.
As of several months ago it looked like this...
I had added 3" Allpro rear leafs, AllPro UCA's, 2.0 SAWS, and an Allpro rear and 4xInnovations front bumpers. This setup was great for some trail riding and a lot of DD'ing, however, I wanted more...which is why this build thread has begun. I eventually acquired a Honda Accord for a DD, and now the fun begins.
But, before my fun could begin, I found this after taking my bed off...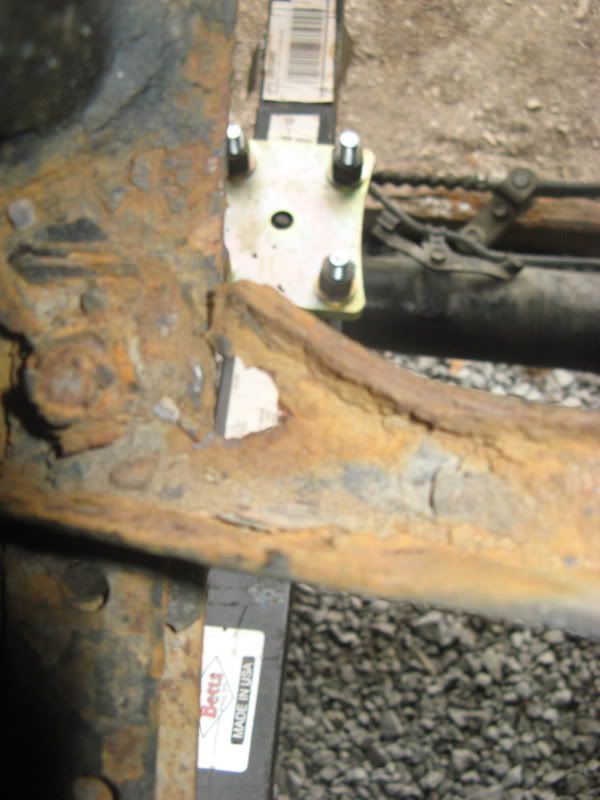 AND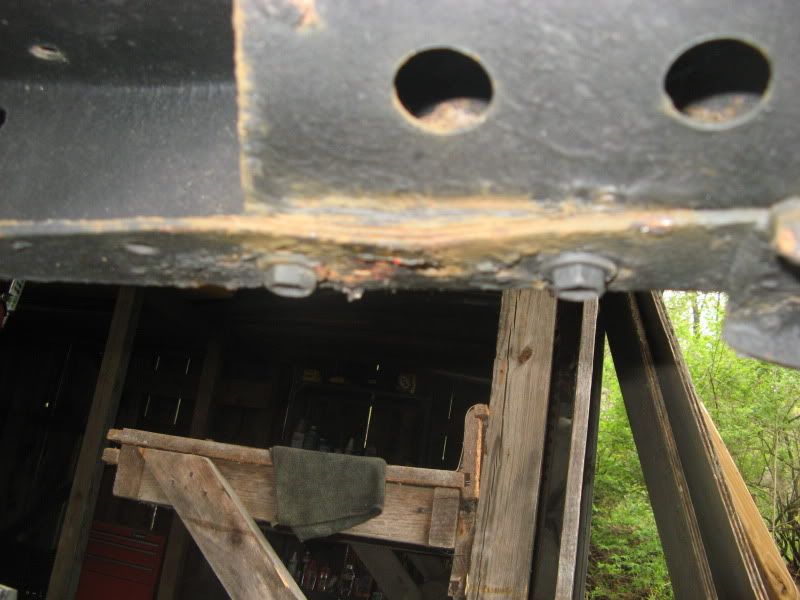 So, thankfully Toyota warrantied the frame, and now I have new rails to work with. Before Toyota warrantied the frame I was able to replace my 8.4 rear diff with an 8" diff I acquired a long time ago. I had the third rebuilt by ECGS with 5.29's, Currently running 5" AllPro leafs with 6" Shackles. The plan is to match the lift of the D44 up front with the rear. But we will see.
Toyota finished replacing the frame in under two weeks, also replaced all brake lines and the BPV under the warranty. I do not have a pic yet of the truck's new frame but I'll add it soon.
---
Last edited by Xcelr8; 10-15-2012 at

01:25 PM

. Reason: GRAMMAR
While the Taco is away...
---
SORRY FOR BLURRY PICS. I don't have steady hands.
Well, towed the Taco to the dealer w/out the bed. So, I decided to bob it during the time it is gone. Total I took off was 12.25"...
I basically followed the guide that was posted by waskillywabbit on this forum. Here's a link to his thread...
http://www.tacomaterritory.com/forum...ht=bed+bobbing
...he has a very detailed description on the process.
Step 1) Level the bed, measure 10x, and tape...
Step 2) Cut. Use a cut-off wheel on a grinder. Worked 10x better and more accurate, for me, than using my sawzall
. Take your time and re-check your measurements 10 times before you start cutting.
After you finish your first cut, hopefully this happens...
Step 3) Cut again...
Step 4) Clean it up!
Step 5) I highly recommend the use of backing strips. They are very helpful in the process. Just cut a piece of your "extra" bed, drill some holes, and make some rosette welds.
Step 6) Make sure everything is clean, take the tail piece and mock it up to the bed. I focused on keeping the top of the rails of the bed level to each other. Then I trimmed for a high clearance rear bumper.
Step 7) I had minor width differences on the sides of the bed, I used a little bondo to even it all out. I haven't sanded it down yet but will put more pics up once I complete it...
---
Last edited by Xcelr8; 10-15-2012 at

01:31 PM

.
After several hours of...bondo, sand, repeat...The bed is done. As long as you take your time, it comes out rather well. I decided to extend my herculiner onto the sides of the bed to cover up the cut area.
Primed
temporarily installed to mark frame rails
Next on the list is boxing in the frame, however, until I pick up the metal...bed cage...
Picked it up for free from another member, needs to be cut down length due to the shorter bed/frame.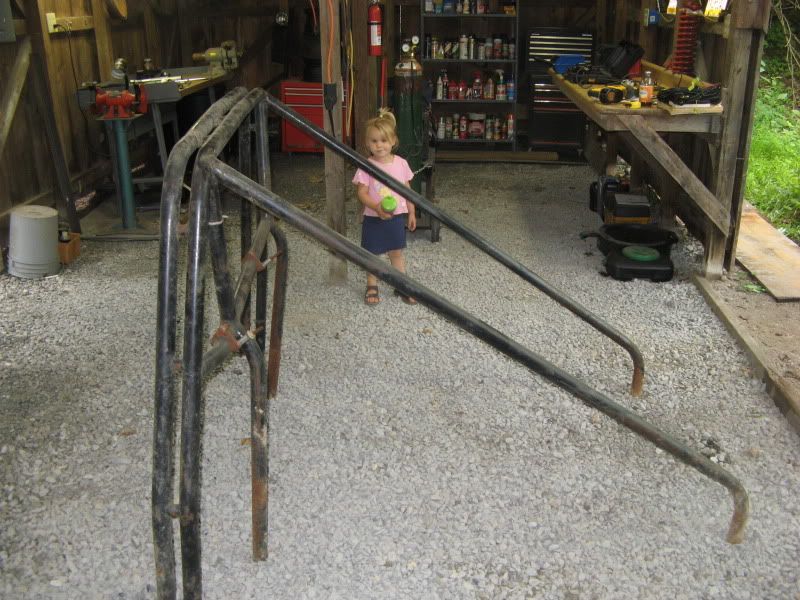 ---
Last edited by Xcelr8; 10-15-2012 at

01:36 PM

.
Moving on, classes/work/a kid on the way have slowed my funds/progress. Regardless, I chopped the frame rail as close to the rear leaf perches as I could. Doing so removed 5.5" of frame rail...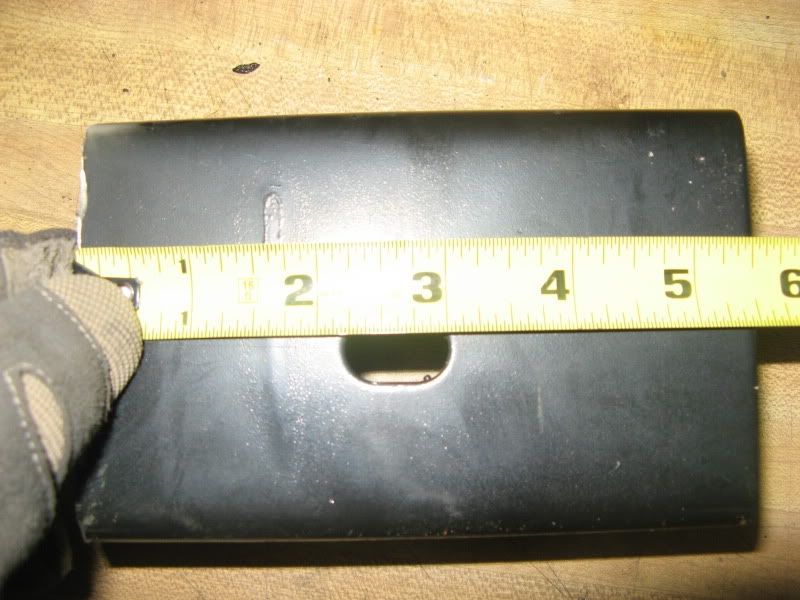 Removed the gas tank, planning on using the stock pump in a fuel cell which I will be inside the bed. I figured removing the tank will be one less thing I need to worry about hitting rocks. Also removed the stock BPV and will be using a Wilwood manual BPV.
Frame is plated...Cross-members welded in...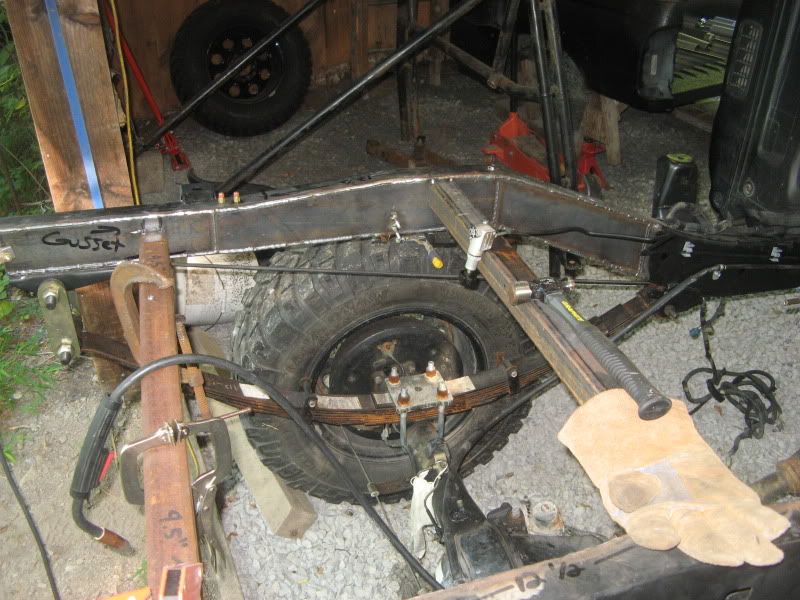 Lower shock mount...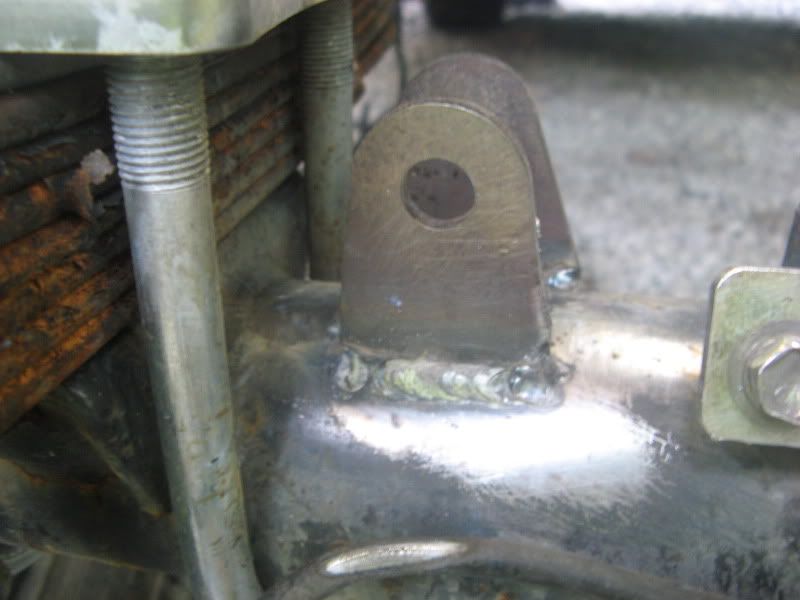 After a little math...created a shock hoop for the 14"ers I plan to be running.
NOTE: This isn't what you want to do. Will be fixed sometime in a future update.
Moving on, now the cage. Since I planned on having this cage run through my bed, I decided to not weld it to the frame and make it a "bolt on" application. This has slowed down progress, however I believe it will be worth it.
Created mounts for the front using part of my frame rails I cut off and scrap for gussets...
Not sure if you can see my markings...
Welded a plate and grade 8 bolt to the bottom of the cage where it will mount to the front 2 mounts. In essence, I recreated the mounts for the bed. If this doesn't make sense, the pictures will.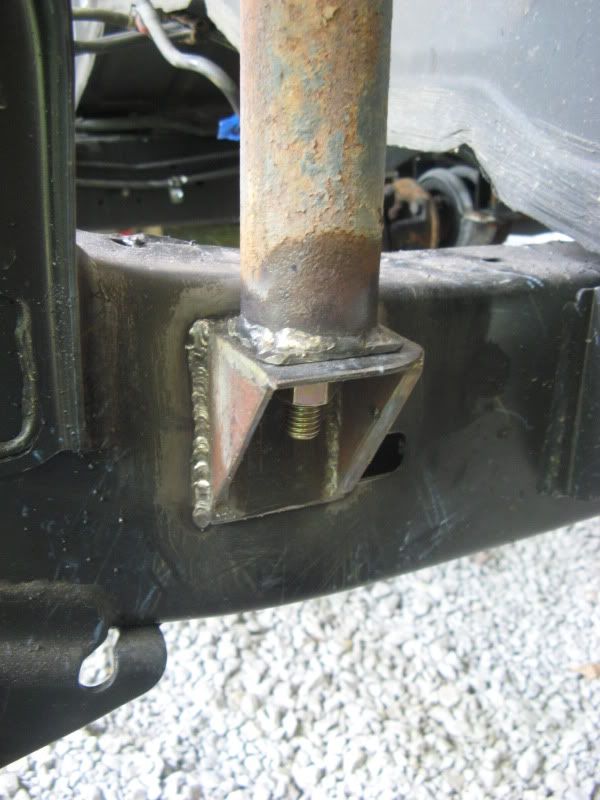 On the cage...
These are going to be welded to the feet of the rear hoops, which will be bolted to the frame.
Like so...
And that's as far as I've gotten in what seems like months. Progress is SLOW. Next steps are to finish the cage, modify the bumper, and cut a lot of holes in the bed (for the cage & fuel lines). Good times! I plan on running the outside of the cage into sliders like it was intended...it can only help
---
Last edited by Xcelr8; 10-15-2012 at

01:45 PM

.
HOPE YOU'RE NOT LOOKING FOR A LOT OF PROGRESS...college isn't easy...for me.
Regardless, have some pics so I'll post em up.
Had to shorten the rear hoops around 14" due to the shortened frame/bed bob.
Cage partially completed and temporarily on truck to check clearances
Design idea for the mounting of the rear hoops, hope it works.
Fabbed up a mount for the radiator on the roll cage. 2 pieces of flat bar topped off w/ angle iron to strengthen it. It's not going anywhere. Plan on using a Taurus fan, will have to mount on the cab side and be a "pusher"
Everything is off, waiting for a front hanger from Front Range Offroad. Being that this is my first build, I'll play it safe and use a previously engineered hanger.
Picked up an already built Waggy D44 from YotaCrawlin40. Will have to be re-geared before the truck moves.
---
Last edited by Xcelr8; 08-22-2012 at

09:20 AM

.
Minor update
---
Well, it's been a while. Life has delayed my progress drastically. With that being said, I finally got the front hangar from FROR about 3 weeks ago. For all those prospective SAS'ers out there, I am very pleased with the end product that FROR builds, however, they are a small company and get back-logged. Add weeks or months on top of what time they estimate you. This is not a complaint, simply some advice...or an observation. Small companies like this need to survive...in my opinion. Regardless, don't order the hangar and expect to be welding it in 3 weeks later. Moving on...
I'm going to attempt to make a user friendly step by step (Leaf-Spring) SAS guide. This has been done before A LOT. However in my research I had to piece together a lot of different builds in order to learn what I needed to learn. Hopefully I can accomplish a detailed guide from tacking on the front spring hangar to checking clearances during compression and droop.
With that being said, obviously no one can comment on this since it is in the "garage" section, so if I am misinformed about something or really fu[k something up, please PM me so I can fix it and stop anyone else from making the mistake. I am only human, I will make mistakes.
With all that out of the way, this is a leaf-spring SAS on a 2002 ext-cab Tacoma w/ 2.7 & 5-speed, accomplished with FROR's SAS kit.
http://frontrangeoffroadfab.com/nfos...products_id=39
NOTE: For your reference, the radiator has already been removed prior to these pictures...
First off, the front 2 frame horns will need to be unbolted from the frame.
Before...
After...
Once that is done, you will want to tack weld the 2x3" tube (Provided in the FROR kit, pictured below) in place in-between your frame rails. You may need to trim this down, I had to remove 1/4" to make it fit in-between my rails. Due to the fact that my frame is brand new, I assumed that my rails have not been tweaked and that FROR probably sends pieces that are slightly longer than necessary because everyone's frames are tweaked a little different.
In order to get the cross-member to fit flush with the front of your frame rails, you will most likely have to grind down the welds on the inside of your frame horns...
Before...
After...
At this point, use some sort of device to ensure the bottom of your cross-member to level to the bottom of your frame rails. In my case, I used a set of shackles...
Check that everything is flush and level 15 times. Granted you can always fix it later on, it makes things easier. After this picture was taken, I re-did it twice before I was confident with it's placement. Moving on, once you are positive that you are flush the front and bottom of the frame rails...tack weld this cross-member in place.
Next, you will want to find the center of the cross-member. You will use this mark to center the front spring hangar that you will be tacking in place next. For your reference, I measured from the outside of each frame rail to get my center mark. I'm sure there are other methods to use, however, this is the method I used.
Now, with the spring hangar still on the ground, find your center and mark it. Use a set of C-clamps to hold the hangar in place, but loose enough that you can still move it, and match up your two center marks. (Cross-member and hangar) Once that is accomplished ensure the front of your hangar is flush with your cross-member...
Again, ensure everything is perfect 15 times. This is extremely important. Once you are confident everything is good, tack weld your hangar in place...
Next, begin cutting out your IFS cross-members and shock towers. I highly recommend borrowing or renting a torch to do this. I did it with several cut off wheels and a sawzall...it is difficult and dangerous to say the least.
NOTE:
Do not do this before tacking the new cross-member and leaf spring hangar in place.
Now, grind off all the welds and such from the old cross-members. This step is very time consuming...which is why I'm still doing it... Enjoy!
Camera was lost temporarily, so I don't have any progress pics in this update.
Grinding takes forever. In addition, NEVER attempt to put the rear hangars on by yourself. One of the stupidest decisions I've made in a long time. It is nearly impossible, and took me around 4 hours to get both rear hangers aligned and in the correct position.
With that being said, I have the rear hangers mounted 43 1/4" back from the front of the spring. This is a center to center measurement. Below is my shackle hangar at ride height, I was very happy with it, so I've proceeded with welding everything together.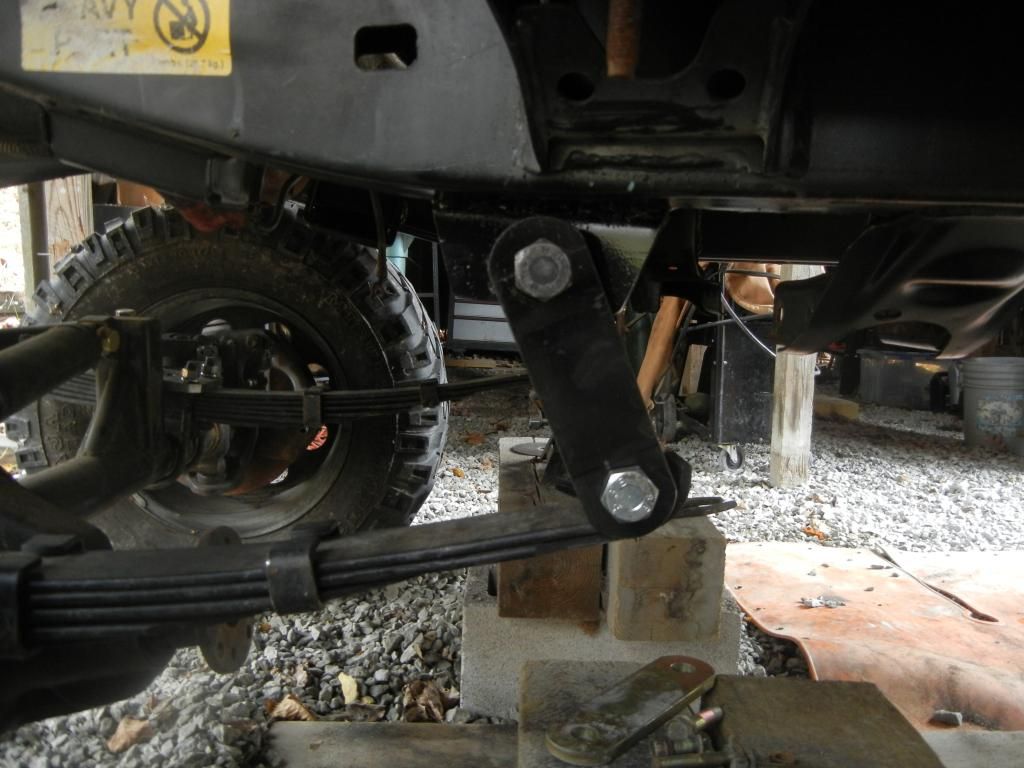 Currently I need to plate the frame where the rear hangars are located, in addition to welding in gussets from the hangars to the top of the frame. Along with the never ending list of things to complete. School is sucking my life away so my progress is not extremely exciting. More pics will be added later. Enjoy!
So. Yea. Due to not having a camera until recently, there is a large gap in my progress via pictures. I'll do my best to make up for it, in order for any confused individuals out there, to explain the process for mounting the hangars etc.
So, as I stated in the previous post, I ended up having my rear shackle hangars 43 1/4" back from the front hangar. This was a center to center measurement and I'm using Rancho 44044 leaf springs. Obviously, if you are using different springs, your measurements could be significantly different. The methods out there to calculate this measurement, such as measuring the length of the spring flat and subtracting half an inch, etc. generally get you in the ballpark. I tried two different methods, purely out of curiosity, and they both generally end up with the same measurement. Which is a good thing.
With that being said, I used those methods to initially tack up my rear hangars. Then, assemble your axle and mount your leafs in order to get your shackle angles. My initial angle at full droop was maybe 10 degrees negative, so, I moved the rear hangar forward (1" I believe, don't quite remember) and proceeded with the same process. At full droop, the shackles are at 0 degrees and I've pictured my angle at ride height...
SO. Here is how it sits. Again, don't mind the small tires. It's all a work in progress and rubber isn't cheap.
I've been working through a lot of little side projects in order to get the truck rolling since I'm moving in about a month. Put on the sliders and cage...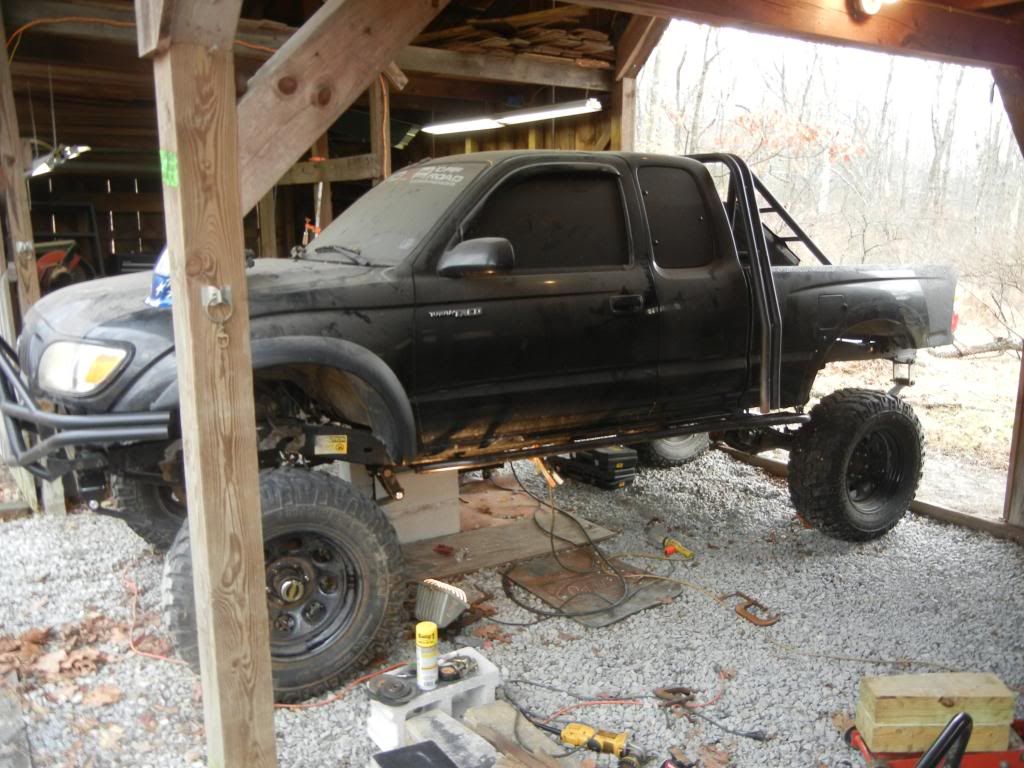 I still have to tie the two together, but it doesn't look like it will be difficult at all. Fixed the parking brake, replaced front calipers, acquired some older steering shafts to make a Frankenstein etc. I have a few days of free time and last thing I really need to get done in order for this to roll is the steering.
So this is somewhat of an update. Side note, if you see something in the pictures that makes you think to yourself...WTF? It's probably due to the fact that I'm skipping some projects/steps etc. solely so I can move this thing in a month. My free time is limited, so I'm ecstatic if I get to put in 4 hours on a weekend. Second side note, this whole process would go a million times faster if you had several close-by friends willing to lend you help. That is all.
---
Last edited by Xcelr8; 11-20-2012 at

01:57 PM

. Reason: Retarded pictures
Still working on this thing. Had a move, family health issues and college get in the way. Have been slacking on pictures but the following has been accomplished.

-Trans/transfer re-installed
-Installed ORS E-locker harness
-Moved axle 1.5" forward
-Made frame for fuel cell in bed
-Made brackets/adapters for using stock sending unit & related components in fuel cell
-Installed T100 oil pan and necessary components
-Ordered a 2.4L radiator and shroud to mount in stock radiator location (no longer on roll cage)
-Replaced water-pump and alternator
-Fixed lingering e-brake issues
-A handful of other things I can't remember

I'll do my best to make a proper update soon and maintain the whole point of this, which is to give someone a somewhat step-by-step walk-through. I've veered off of trying to make everything perfect in the first shot and am currently trying to make everything work and then proceed to pick at things one at a time once this thing is mobile again. I miss my Taco.

I've received messages about the tire size, these are still the 33's from when I had IFS. For the record, the plan is to use 35's.

Cheers.
Similar Threads
Thread
Thread Starter
Forum
Replies
Last Post
99 Supertaco

Crawler677

The Garage

0

11-27-2007

02:49 PM

SuperTaco Tranny

TacoTuesday

Early Tacoma Tech

2

03-05-2007

10:55 AM