Discussion Starter
•
#1
•
Decided to start a new thread to summarize my build and show the final results.
First of all, thanks to many individuals on this forum - especially Hytenor
- who provided much guidance talking off line, private message, phone call or chatting on other forums. Starting a project like this can be overwhelming, so good advise from people that have experience is always helpful.
There' not a lot of Reg Cab 3-link SAS trucks out there rolling on 1ton axles and 40" tires. So I hope this will turn into a rig that will be fun to wheel…cause it might not be that much fun to drive on the highway with the 2.7 engine
Had a number of setbacks that delayed the start of this project for over 18 months now that I remember correctly. Initially, I intended to stay "all toyota parts", but that didn't work out for me, as it would have kept pushing my project timeline more and more. The other reason for the delays was my going back-n-forward deciding what axles to go with - though initially I had custom built Diamond axles in mind.
So I decided to move into an entire different direction altogether. Enter 1ton axles and atlas tcase under a small reg cab truck.
Axles:
D60 High Pinion Kingping from a late 80's Ford F-350
-Rebuilt hub-to-hub with Chevy outers
-Solid Axle Industries Keyed Knuckles (this company sells awsome shit BTW)
-Artec High Steering Keyed Arms with bolts instead of studs
-35 spline chromo shafts all around
-Yukon air locker
-Yukon HD locking hubs
-Ballistic Diff Cover
-D60-to-toyota flange
-5.13 gears
Late Model 14bolt:
-stock axle shafts
-Heavily shaved
-Ballistic Diff Cover
-Factory disc brakes
-Factory ebrake
-Yukon Grizzly Locker
-14bolt-to-toyota flange
-5.13 gears
Front Suspension:
-Custom 3-link/panhard with 1.25 Heims (some parts sourced from Ruff Stuff, other parts custom built)
-ADS 14" Coilovers
-Custom shock hoops
Rear Suspension:
-TG 5" leaf springs
-Bilstein Shocks
Steering:
-Ruff Stuff 1ton steering linkage
-PSC hydro assist, steering shaft, plumbing and all the other typical stuff.
-Toyota IFS steering box
Transfer Case:
-2speed Atlas with 5.0 gears and Toyota Flanges
-upgraded shafts (which I think is standard with the 5.0 gears)
Wheels/Tires
-40X13.50 R17 Nitto Trail Grapplers
-Steel Wheels from summit until I can afford beadlocks
Other Stuff:
-Oil Pan Conversion Kit from Low Range Offroad
-Front/rear Frame Plats from Trail Gear
-Steering shaft plate from Trail Gear
-Drive Shafts (trying to retube the factory ones)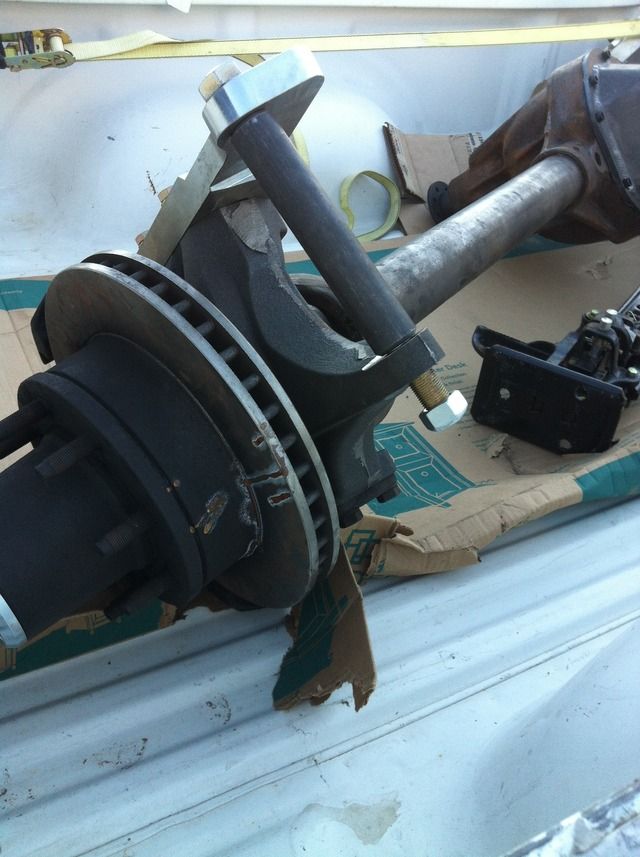 The steering arms are massive, close to a foot long. And yes, those are grade 8 bolts per SOLID axle industries recommendations, as the arms and knuckles are keyed: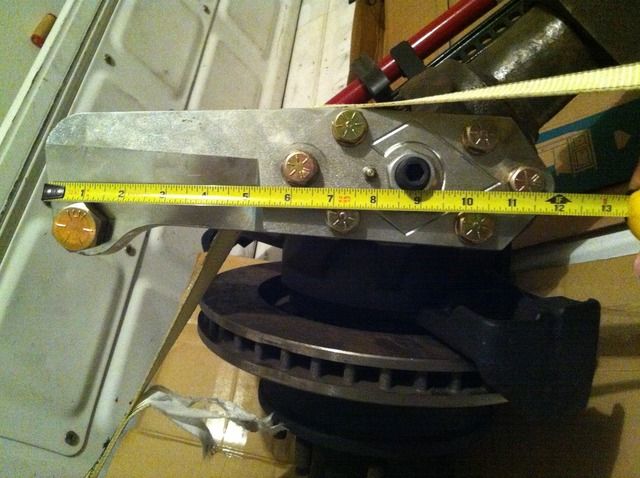 Yukon super joints and 35spline inner/outer axle shafts:
Late model 14bolt with the shave job: