After a somewhat long wait, I finally took shipment of an Outlaw intake for my 03 2.7L 4wd Taco. Keep in mind that I'm writing this with Joe Shmoe in mind, If your a master welder and fabricator, don't bother reading.
I'm not too much of a mechanical person - I can do a car stereo...wire in a amp, My friend and I did my spring packs... I'd say my Automotive skill ranks somewhere between your older sister, and the 15 year old zit faced freshmen pumping gas at the local service station.
The removal of the OE intake stuff was pretty straight forward. The instructions were comprehensive enough so I could navigate my way through with very little problems... The only snag was the instructions did not mention this clip holding the MAF wire loom behind the resonator tube.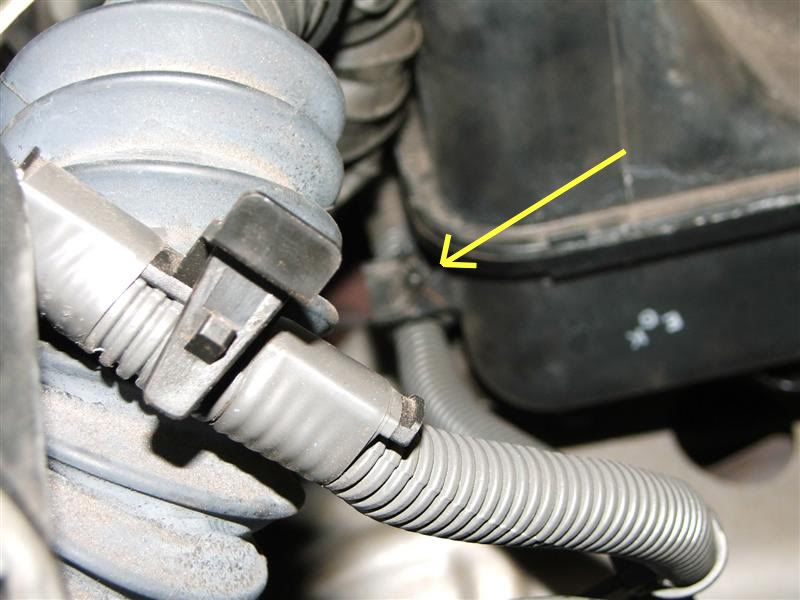 Here's a shot for NorcalPR... The inside of my fender looks like the pic you posted up. No weird bumps or indentations or anything. Those blasted wires and big ass harness will come back and bite me in the ass later in the install though.
Now that all the stock sh!t is out, it's time to put in the Outlaw sh!t. Again, the instructions are pretty straight forward - here's my :2cents: that may save you some time...
Test fit the air cleaner box, note where it "comes close" (read comes into contact) with the upper radiator hose... wrap the hose with the supplied wrap BEFORE you screw the box down... it'll be damn near impossible once the box is bolted down.
It's a good idea to trim the sharp corners off of the wrap too... It's a little sharp, and you don't want it to rub a hole in your hose...
The throttle body rubber coupler is a friggen pain in the ass to get on per the instructions. I slid it on first, and slowly finaggled the other end on - working my way down to the intake box - and i did not have to disconnect my throttle linkage like how the instructions suggest.
It kinda concerns me how tight the couplers are... you know its never a good thing when the rubber breaks.
That's pretty much the install... connect up the vaccum lines and you're done. I did run into a little problem with the mounting of my air box early on, it seems I either screwed up the threads while taking the stock bolt out (unlikely, but it could happen... remember my skill level?), or the supplied bolt is the wrong thread size (I held the OE bolt and the Outlaw bolt next to each other, by my eyeball, they look a little off). no biggie though, I watch American Choppers and I know my way around metal. I fabbed this little bracket up and bolted it to the inside of my fender using a existing threaded hole.
Note that it is not bolted to the box... my cordless drill ran out of batteries. I'll get to that when it's charged up.
The only other concern I have is the airbox is smashing up against the upper radiator hose. Outlaw does supply a hard plastic loom, but I am afraid that given enough time and vibration it will eventually rub through. I also noticed that because the hose gets so hot, the heat is radiated/transferred to the box. The airbox was warm to the touch in the area surrounding where the hose is in contact.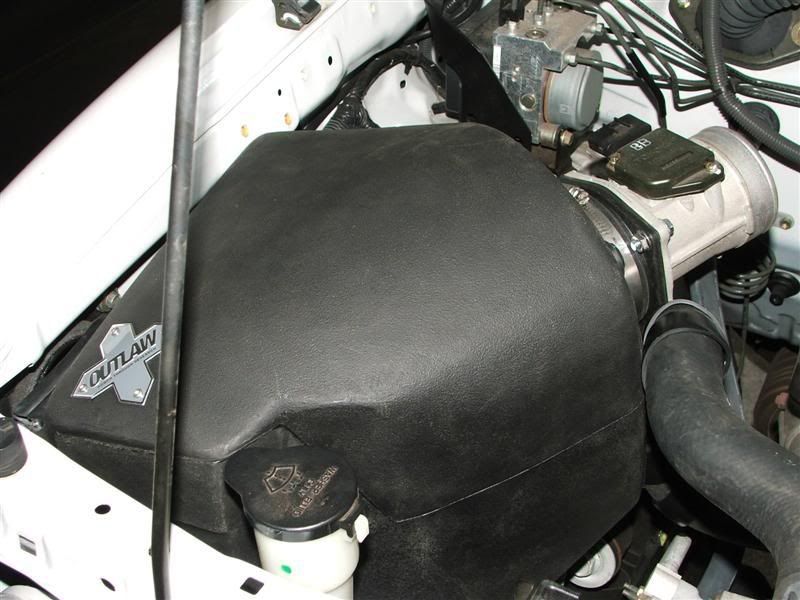 Anywho, here's what it looks like...
Would I buy this product again? Yup.
Would I recommend it to a friend? Not sure yet... I'm going to drive it for a week or so, see what kind of gas milage I get and make up my mind then.
So here's the basic run down...
PRO's
Affordable (but not cheaply made).
Fit/Finish - Pretty good
So easy, a caveman could do it.
Not blingy
Quiet - No ricey noise
No Oil filter -No worries about F'ing up MAF
Pulls cold air, not hot engine compartment air!
Customer service is really good - TTORA sponsor!
CON's
Does not seal up to the fender - I don't need it water tight, but that damn OE plug and wires interfere with it sitting flush.
Box rests up against radiator hose.