Discussion Starter
•
#1
•
2007 Honda High compression CRF511R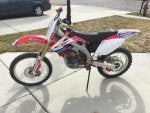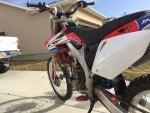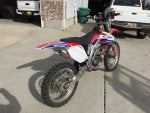 The bike started as a CRF450R. I bought this bike brand new in 2007. I have absolutely loved this thing! I rode it problem free for about 300 hours before the stock valves stretched too far and had to get the head machined. Since it had so many hours I decided to go all in and overhaul the ENTIRE BIKE. It is now a healthy 511cc stroker motor! Every moving part or wear item on this bike was replaced or serviced! Here is a list of how it sits right now with only 50 hours on it.
-Cylinder works 100mm (+4) Nikasil cylinder
-CP piston kit 13.5:1
-Hot Rods +3mm crankshaft welded and trued and balanced with this exact piston
-Hotrods main bearings and seal kit
-Webcams camshaft 943/1081 grind
-Stainless reusable oil filter
-OEM right side engine case
-Cometic cylinder head and base gaskets
-Pro X complete engine gasket kit
-OEM gaskets and seals for anything else not in the "complete" set.
-All new seals and o-rings on the entire bike
-Every bearing on the bike is new, Engine, Trans, Chassis, Wheels, suspension, literally everything!
-Rekluse friction plates
-Yoshimura RS-2 full stainless exhaust
-ASV folding levers
-Hammerhead shift lever
-Hammerhead case saver
-Myler silicone radiator hoses
-OEM coolant hose tee
-Tokyomods MCCT
-Tokyomods carberator custom tune and 'modification'
-Tokyomods red billet hot start nut, fuel screw, sump, and hardware
-R&D power bowl 2
-Tokyomods neon yellow carb and engine vent kits
-OEM oil reed valve
-TM Designworks chain slider
-Tm Designworks chain guide
-OEM chain roller
-Boyeseen Supercooler water pump cover and impeller
-Trail Tech kickstand
-OEM inner and outer oil pump rotors
-OEM cam chain
-OEM cam chain guides
-OEM Shift drum spring from a CRF450X (its a stiffer spring making shifts firmer with less accidental neutral shifts)
-FASTHEADS performance port and polish with all new upgraded internals including beryllium seats and titanium valves
-Race Tech fork and shock springs .49 front 5.7 rear
-Race tech fork oil and dust seals
-All new plastics and graphics
-SDG grip seat with step
-Hyde Racing composite skid plate
-Warp 9 foot pegs
-Easton EXP freestyle bars
-Easton EXP bar mounts
-Moto Stuff pro brake lines front and rear
-AP Racing front and rear brake pads
-OEM front brake line guides
-Boyeseen clutch cover
-All balls front and rear brake caliper rebuild kits
-All balls front and rear master cylinder rebuild kits
-ODI locking grips
-Michelin Bib mouse front and rear
-5.1 brake fluid
-Evans coolant
-Pro Honda trans fluid is the only fluid ever in the trans
-Pro Honda engine oil with moly is the only fluid ever in the engine
Extras include:
-OEM fork and shock springs
-OEM plastics
-OEM seat
-Ignition coil brand new
-Kick start swivel from lever
-12T front sprocket
-OEM carb parts
-OEM front brake lever
-OEM clutch/ hot start lever
-OEM rear shifter lever
-All Balls steering stem bearing kit
-miscellaneous OEM pieces and hardware
$4,000
Located in SLC, UT