Earlier I got a pm from some dude
Tacosupreme,
Thanks again. Performed mod today. Getting in/out of 4LO is much easier, but still nowhere near as smooth as my old '93 ,'98, or '01.
Now if I could just find a way to make the transfer case go into low range without turning the front drive shaft, I'd be set. I'm afraid I may be out of luck on that one.
So I replied that I'd go get some beer and figure out how to do it. two and a half German beers later I got it, but my truck is in the shop so I can't try it out, and I need some smart guy to draw a diagram out of my instructions to make sense of it. Here is the schematics from the book- A-3 is what concerns us, top right ADD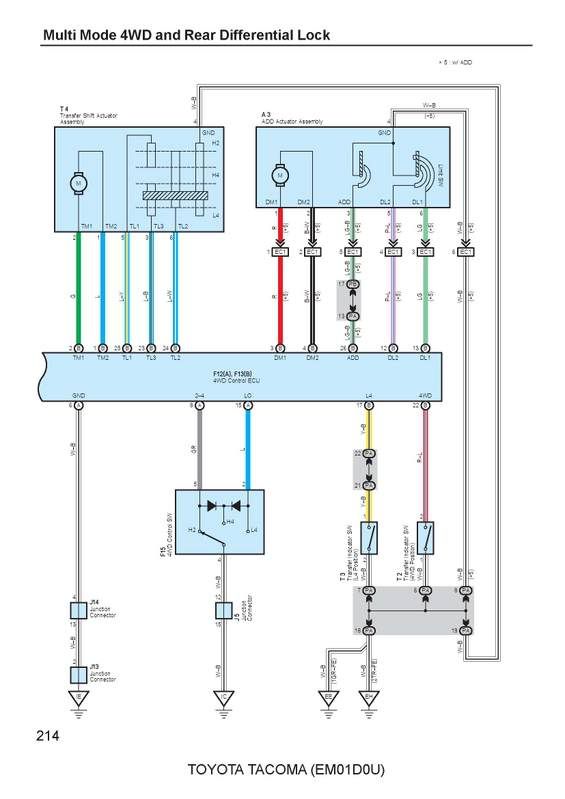 So here's the plan, using a DPDT switch set one switch position for normal flow through operations, and use the other postion to trick the ECU into believing the front ADD actuator is engaged, without letting juice flow to the motor.
so for bank "A"
pin 1a RED WIRE, ECU Side (DM1)
pin 2a RED WIRE, Motor side
pin 3a OPEN
bank "B"
pin 4b LG-B(ADD)+P-L(DL2), ECU
pin 5b LG-B(ADD)+P-L(DL2), DIFF side
pin 6b GROUND
Other than doing tire blowing burnouts or horsing around I can't think of a real world application for the 2LO mod, but there it is anyway.