Discussion Starter
•
#1
•
The P0171 Bank 1 lean code is one of the most frequent issues our trucks see as they get older with the 3.4L V6. These can be caused by quite a few things as outlined in the shop manual, but most often it is our MAF. When cleaning the MAF dosnt fix the issue then a replacement will be in order. As with all electronic components the OEM parts are recommended for compatibility and quality. A 96-98 junk yard MAF will run you $50-$100 and may very well suffer the same issues. A new 96-98 MAF from Toyota will be $750 or more. That's why people before me figured out how to use the 99-02 sensors instead.
Parts needed:
-
99-02 complete airbox
$40-$100 at the junk yard
* a note on these airboxes is they do sometimes break where the MAf tube grafts to the box. There are cheap aftermarket ones available , but I dont know whats best to get so I went OEM
-
Denso 197-6020 Mass Air Flow Sensor
$75 shipped from amazon
* this is the OEM sensor bought straight from denso
You can see the differences in the airbox at the MAF. The two airbox/Maf combinations are interchangeable Everything mounts and lines up as it should. The only difference is the pin outs on the MAF.
This is the original pin out from my 96. I do not know if the wire colors are consistent across vehicles and years, but the wire positions will still be relevant.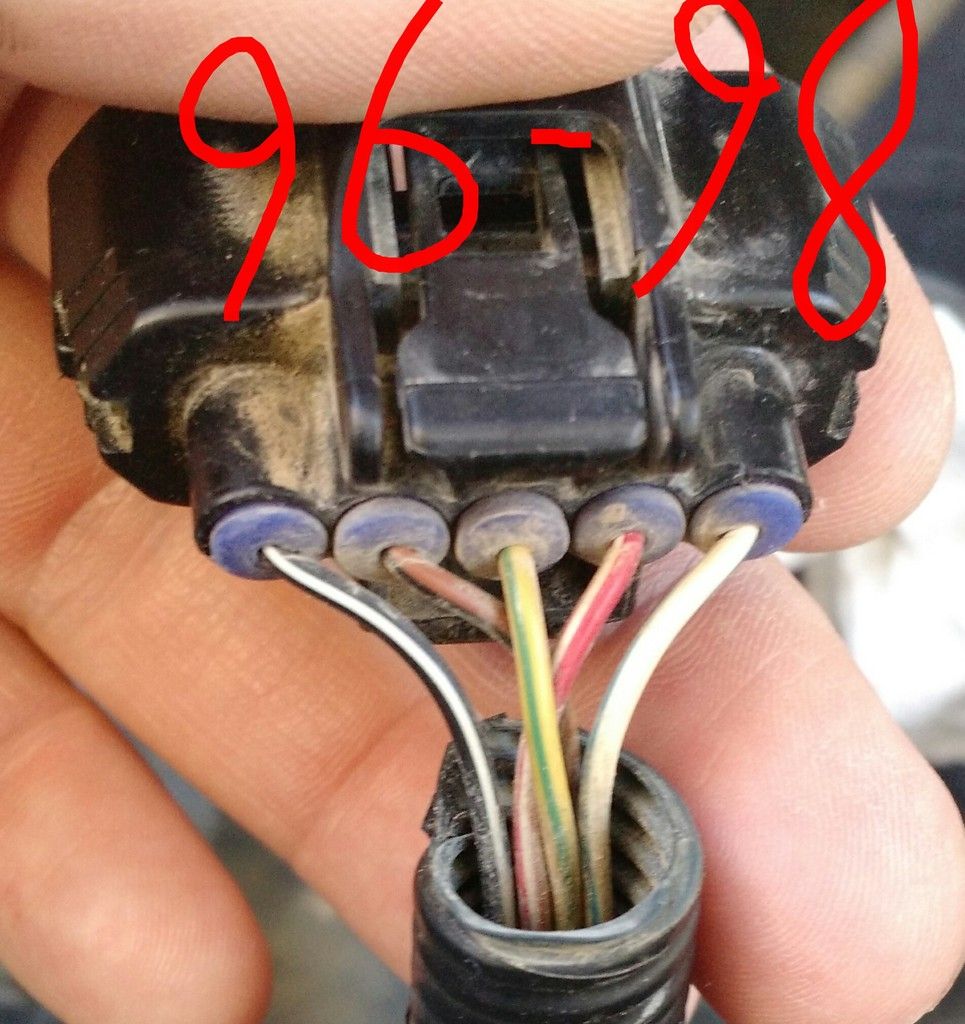 Start by taking out the white keeper with something small and pointy. It slides right out if you pry at it from a couple different spots.
Next is a little tricky to explain but put some gentle tension on the wire while moving the black locking tab downward with a small pointed tool. This retention method is very common if you have ever de-pinned any other style connectors. The arrow here is pointing to a black tab that has been moved down and the wire is ready to come out on the backside.
slide the pins back in for this new configuration and re-install the white keeper.
Results:
For my truck the new MAF gives it better response and power, but this is in comparison to a MAF that is old and faulty. The Long term fuel trims are +15 at idle, and that's higher than normal. My old MAF is +5 for comparison. Anything plus or minus 10 is considered working correctly. The +15 would indicate a vacuum leak in any other situation, but I think its just because the new MAF is significantly less restrictive. Normal driving shows long term trims of zero to +7 with the lowest numbers coming at the highest loads so the MAF is very comparable.