THE PREDICAMENT-
I recently installed a new stereo system as well as some aux. lights and a few other items that were apparently to much draw for my little ol' alternator. Now granted its prob the original alternator and what not but anyway it crapped out.

THE SOLUTION(S)
- HOLY CRAP! Are there a lot of options out there for upgrading an alternator and it never ceases to amaze me how parts from different vehicles can be adapted with little or no modification...I digress. So I looked into aftermarket "HO" alternators but at 300-500 dollars those really weren't an option. I also looked into having my alternator reman'd with a amp-up kit which would cost around 100 dollars and was a very possible solution until I realized my roomates truck whose I was driving since mine crapped, his tags expire on OCT 31ST and after that I can no longer get on base and to work. So what I settled on was a swap to a GM alternator with a higher stock output. Ther are many GM alternators that will work I wont get into the list, what I chose to use was one for a
1995 CADILLAC DEVILLE WITH THE HEATED WINSHEILD, it has a 120 amp idle output and 140 amp at highway speed
(almost double my stock alt.). You can get the same one from a junkyard for cheaper at a junkyard but its like my dad always said when working on cars, "THE BITTERNESS OF POOR QUALITY REMAINS LONG AFTER THE SWEETNESS OF LOW PRICES IS FORGOTTEN"

I believe the pictures pretty much speak for themselves I will go into detail where needed and answer any questions.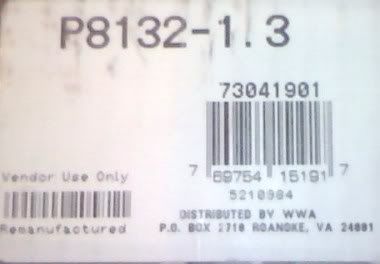 This is the part number for the alternator I used from advanced auto. You can get the one W/out heated windshield but the one with it was 25 bucks cheaper and thats why i chose it.
Pulley is about the same size and has a cooling fan attached
Just a tid of a size difference.
The GM has the same 12 and 6 attachment points but the 12 oclock one is a quarter inch shorter
Just a few washers and viola same size
. Be sure and put the washers on the inboard (as pictured) side of the mount for proper belt alignment.
As I said installation is straight forward no modification of brackets needed no :saw: or :welder: unless your into that sorta thing. me, I love bolt ons.
WIRING-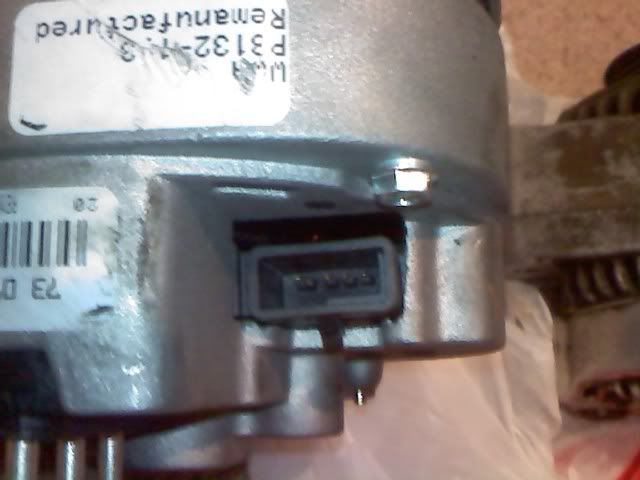 You will notice the GM alternator has an "xtra" prong DO NOT PANIC. This can be easily remedied with the simple purchase of a GM pigtail, advanced auto P/N-85854. It will have a red wire, black wire and a brown wire (dont ask why there is 4 prongs and 3 wires I dont know). Your stock harness will have a red wire, white wire and a yellow wire. You will connect the brown wire from your GM harness to the yellow wire (idiot light) on your stock harness. Secondly you will loop the thick red wire from the GM harness to the BATT post on the back of the alternator, i used a simple crimp-on hole connector. The black wire from the GM harness is not used, again I don't know why. You will also need to switch out the elec. fitting on the thick wire coming from your battery to a bigger one cause the post on the GM is bigger
I did not totally cut my toyota harness off just snipped the wire I needed and tucked it out of the way incase I ever get caught somewhere and someone has an extra stock alternator.
Belt is routed the same as stock but the GM alternator is a six groove so you have a couple extra grooves, not sure if it will jump but I keep a pretty good eye on my belt tensions and what not so im not worried.
TOTAL INVESTED
GM 140amp re-man alternator- 124.99 advanced auto
GM HARNESS- 8.99 advanced auto
subtract from that 10% for the MILITARY DISCOUNT advanced offers
~ 120 BUCKS TOTAL
I will now take questions and comments from the class.