Discussion Starter
•
#1
•
Well I finally got around to tearing the 4Runner apart starting with the inside. I figured since I don't know much about wrenching I'd start doing stuff I know how to do. Like disasembling the interior. I don't know if I mentioned it, but it smells bad in my 4Runner. I think I found out why tonight. I managed to manhandle the back seat out and when I lifted it up...this dropped out.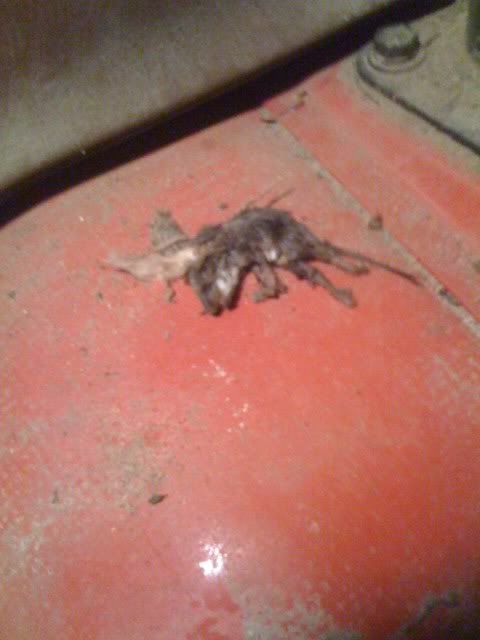 The poor bastard is still juicy, not to mention a gigantic mouse nest fell out of the back bench seat. And while I had my face up close and personal trying to get the bolts out, it smelled like the back seat was used as a toilet. I went to move onto the front seats but ran into a giant snag. The passenger side bolts are frozen and I can't torque down on them enough to break the bolts free without putting myself in some major pain...elbow.
Plus the driver side seat has a bolt I just can't get out. The nut is snapped off the front mount so the bolt just spins in place. I tried getting at it with a pair of pliers but just couldn't get the fuckers locked on. I think I might just end up busting out the :saw:
Anyways, this is what she looks like so far:
I'm so glad I bought an iPhone after not wanting to for so long. The music kept me entertained, plus I was able to take half decent shots of my progress in the dark.
Even with the frustration from the bolts I had fun doing this tonight. It was nice to get out of the house for once. Hopefully the weather holds out until tomorrow, and the PB Blaster does it's job to those frozen bolts.