Discussion Starter
•
#1
•
Hi, new to the forum.
I was out in the Florence Junction area last weekend leading some new comers to the sport around the easy areas and passed by 3 built Tacomas on the dirt road leading from the Coke Ovens and Martinez Canyon. They were all headed north, I was headed south.
The first was a white double cab (I think) with Diamond full width axles and what looked like at least 37" tires. The guy stopped and joked with me for a second about my being able to make it down the dirt road the rest of the way.
The next one was a silver extended cab (again, I think) that had a SAS and similar sized tires to the first.
Last was a dark red with a flatbed.
This is gonna sound kinda stupid, but I spent almost 3 years building a Toyota based buggy from scratch and unfortunately, in that time, all of my old wheeling friends have either gotten out of the sport or have turned into what I can only describe as "thrasher bashers".....meaning they are treating their chassis like they are disposeable and they just buy another one every 3 to 5 years.
I'm not a wealthy guy and I damn sure am not fast enough at fabrication to take almost 3 years to build something and then destroy it in another 3 only to start over.
I noticed the Tacoma guys I passed all looked like they used their rigs, but they hadn't beat them to death. Unfortunately, I find myself in a no-man's land of vehicles that aren't built well enough to run harder trails, or like my old friends that go on such extreme trails that I'm going to end up destroying the chassis in short order.
What I'm hoping by coming here is that you guys can point me in the direction of fellow Toyota enthusiasts that wheel hard trails, but are at least somewhat careful about how they wheel.
This thought just occurred to me today, so perhaps I haven't thought it through well enough....hopefully it makes sense.
In any case, here's a pic of my buggy so perhaps one of the 3 will see it and remember passing me.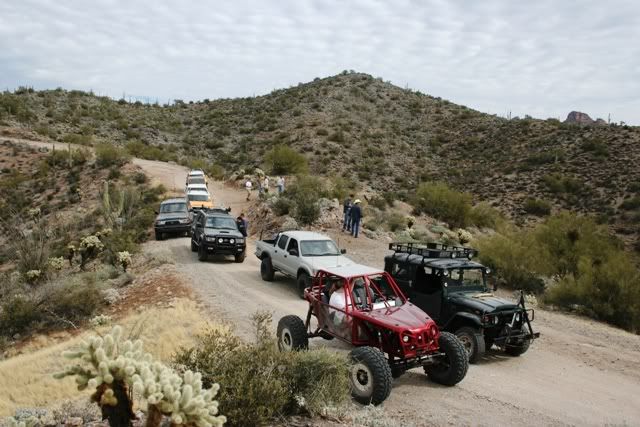 Obviously, there's a little bit of Toyota blasphemy going on with the Liberty hood, but I just liked the look of the narrowed up hood and grill and there wasn't that much custom fiberglass available when I started the project. Hope you guys won't hold it against me.
Sean