Greetings. Here is my conversion. I thought I would add mine just to expand
the existing info already out there. My Tacoma is a 2002 3RZ (2.7L)
Pre-Runner double cab. I am converting it to 4 wheel drive
as well as a 5 speed manual tranny.
Here we go-
My truck-
The donor, purchased for $650 plus shipping from Denver and
auction buyers fee. It's a 1997 reg cab (3RZ) with 141,000 miles-
Due to having a whole truck I have everything I need for the conversion minus the following parts.
- Front half of Rear drive shaft due to wrong length.
- Electronic VSS (vehicle speed sensor) due to the donor being a 97' which is mechanical.
- I plan to retain my stock ECU. It will however trigger a check engine light.
Here I have the front diff and CV's going in-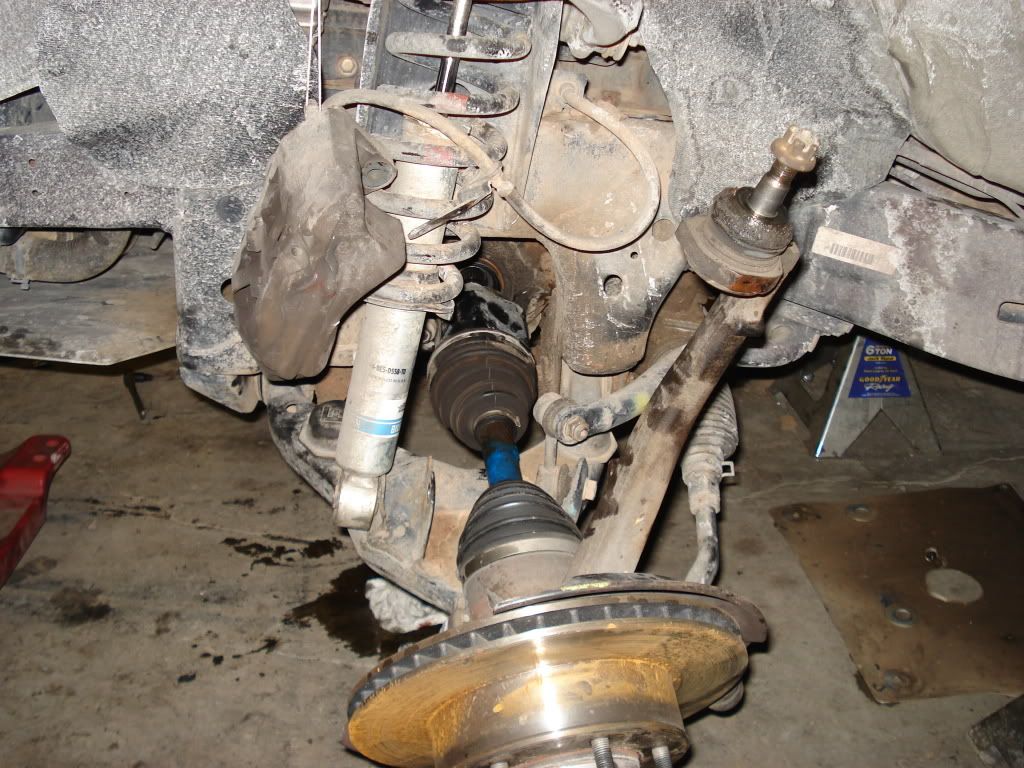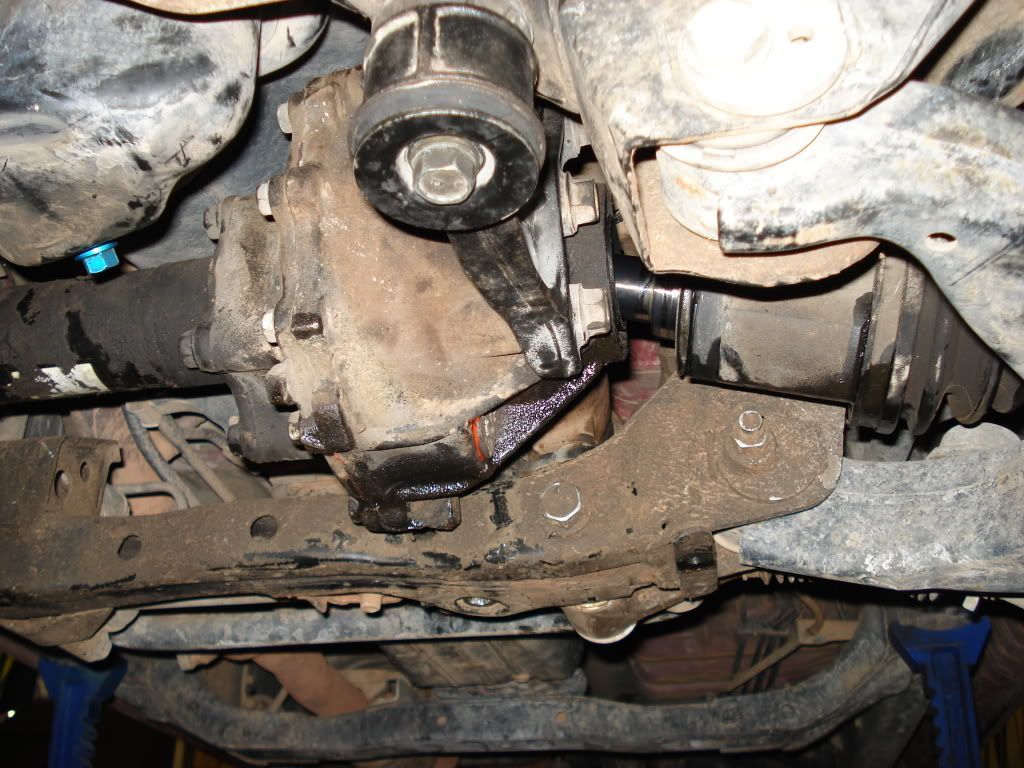 BTW- the donor has brand new front and rear brakes. I bet
someone is pissed they rolled their truck after putting new brakes
on it...
Installed-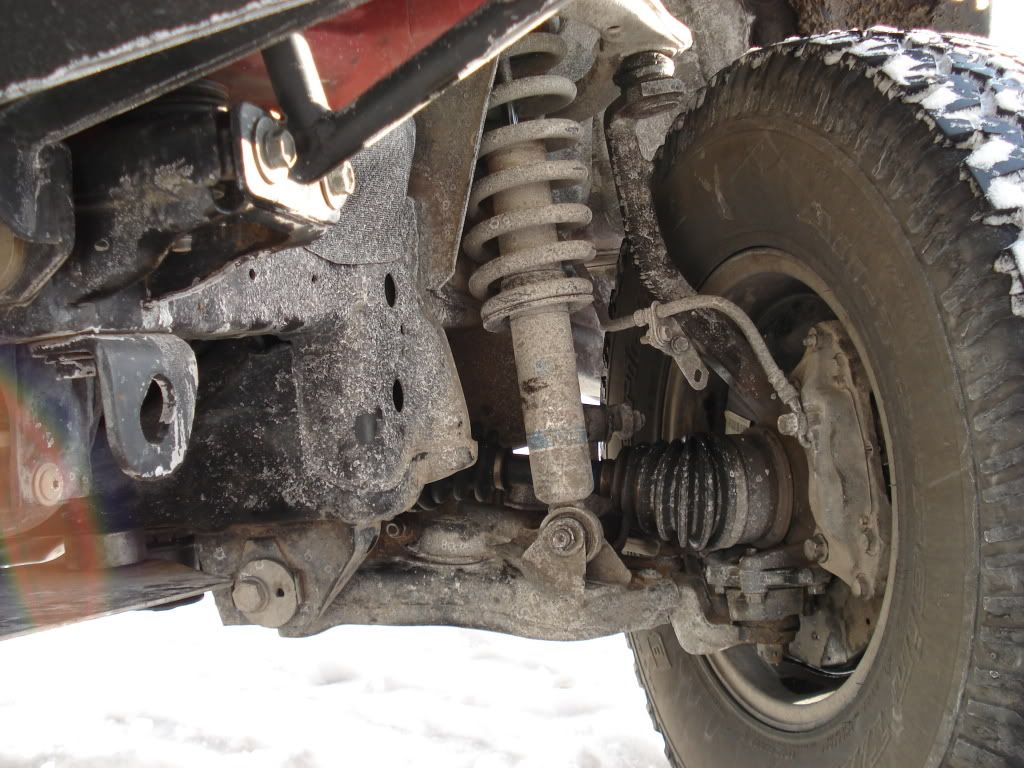 Woo hoo, locking hubs-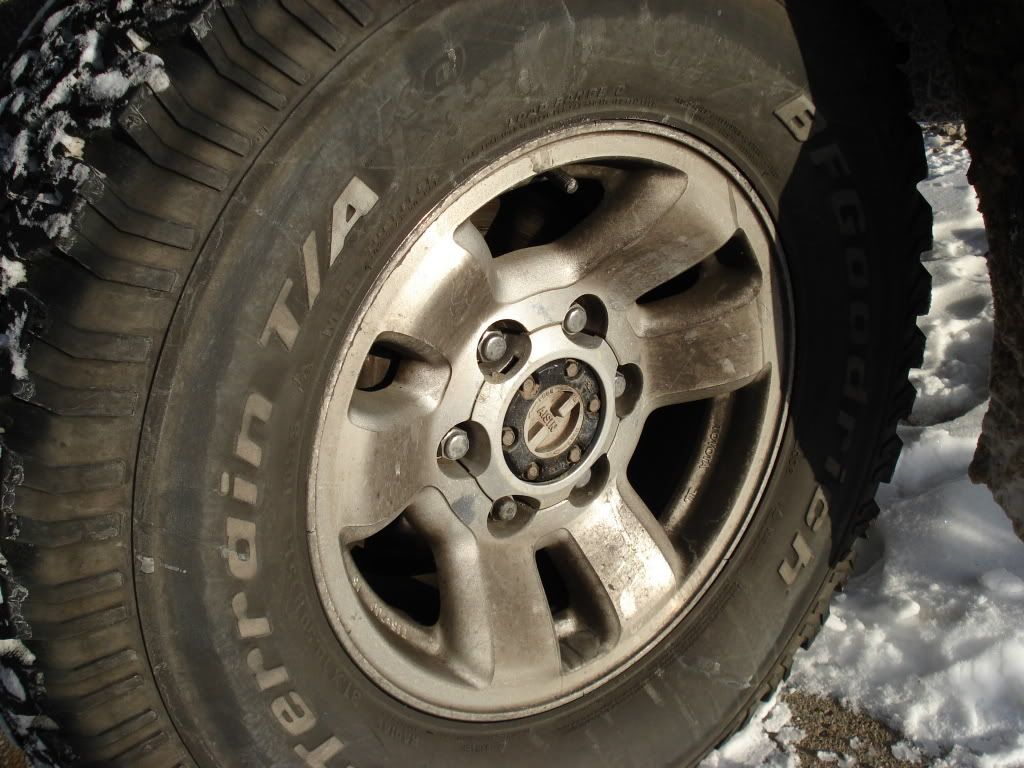 Here is the mechanical VSS and electronic VSS side by side.
1995.5-1997 were a mechanical speedometer while the 1998-2004
are electronic. However, because internally they are the same,
they are fully interchangeable.
Here is a shot of the back of the 1997 engine with everything removed-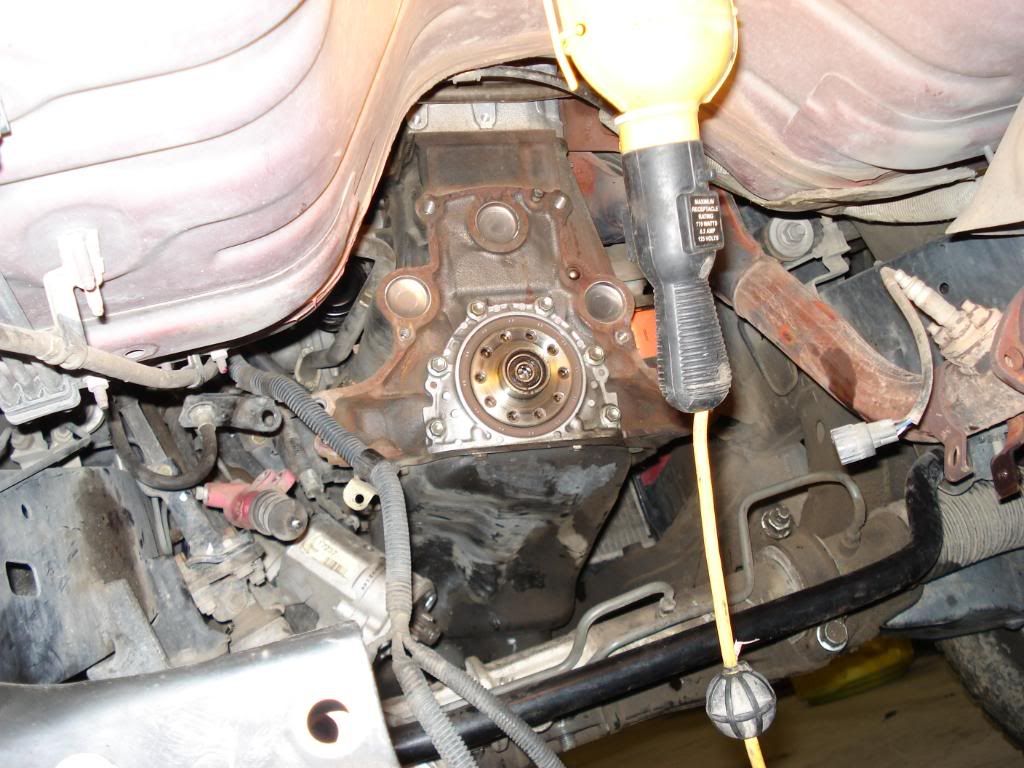 This is the manual W59 tranny and T-case that came out and will be going into my
truck-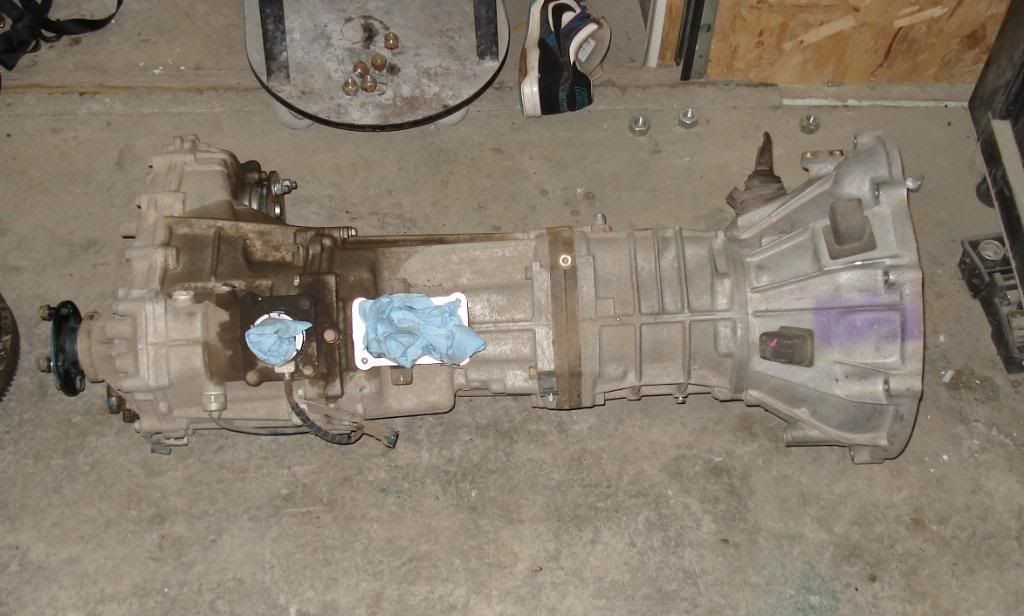 This is the auto tranny that came out of my truck. Note the auto was harder to pull than
the manual because of the additional cooling lines, shift down cable, and their
associated mounting tabs-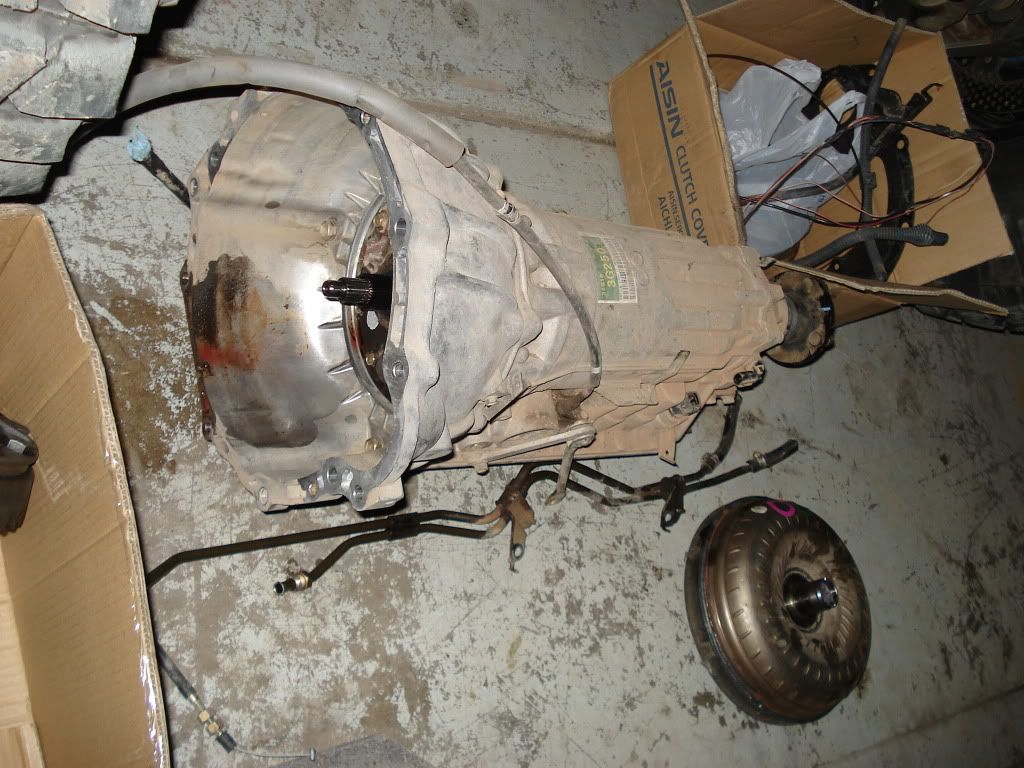 Here is a mixture of the old and new clutch parts and flywheel-
Note that I thought I was buying an OEM
clutch, even the box says AISIN. However Eaton clutch supply
sent me a SECO clutch kit (which they claim is an OEM supplier
to Toyota, though I'm almost certain it's not). I looked up reviews
online for this brand and they seem solid, so installed the whole
kit, bearings and all. I will do a long-term clutch update in few years...
So far I am happy with it as it holds firm, has a nice soft pedal,
and drives well. As of now I would recommend SECO as the
whole kit can be found for $125. However, if I EVER have trouble
with this clutch kit you can bet your ass I will post it on this forum.
Here is the back of my motor with the clutch and pressure plate installed-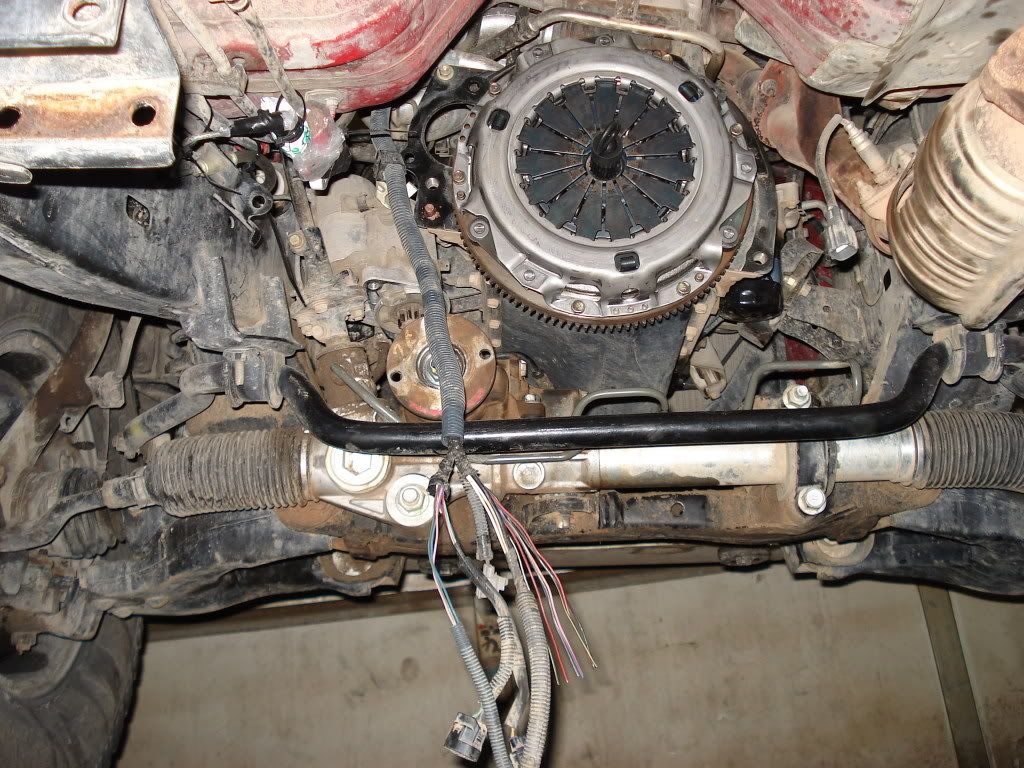 Here is a shot of the new release bearing installed on the tranny-
I pulled the rear third member so my front and rear gears match.
The donor has 4.10's, my Pre-Runner had 4.56's. If I decide I
don't like the 4.10's I'll just regear my front at a later date and
put the 4.56 rear end back in.
Update- The 4.10's are still installed. I have sold the 4.56 rear
third member, so theres no going back now, at least not cheaply.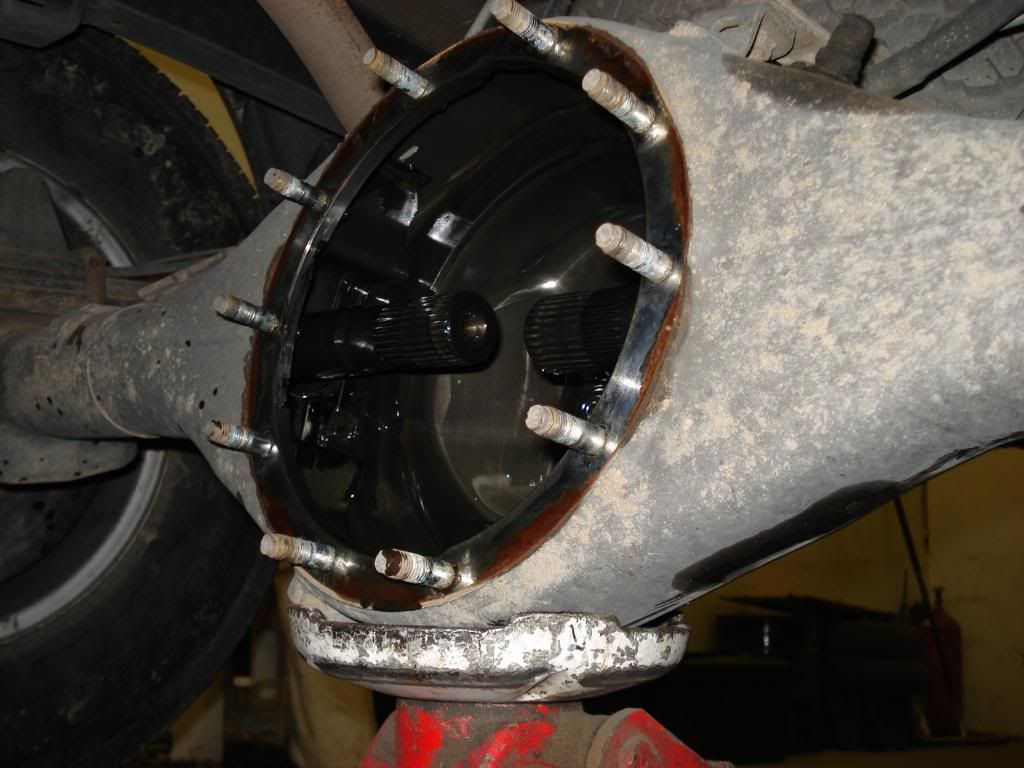 New third in-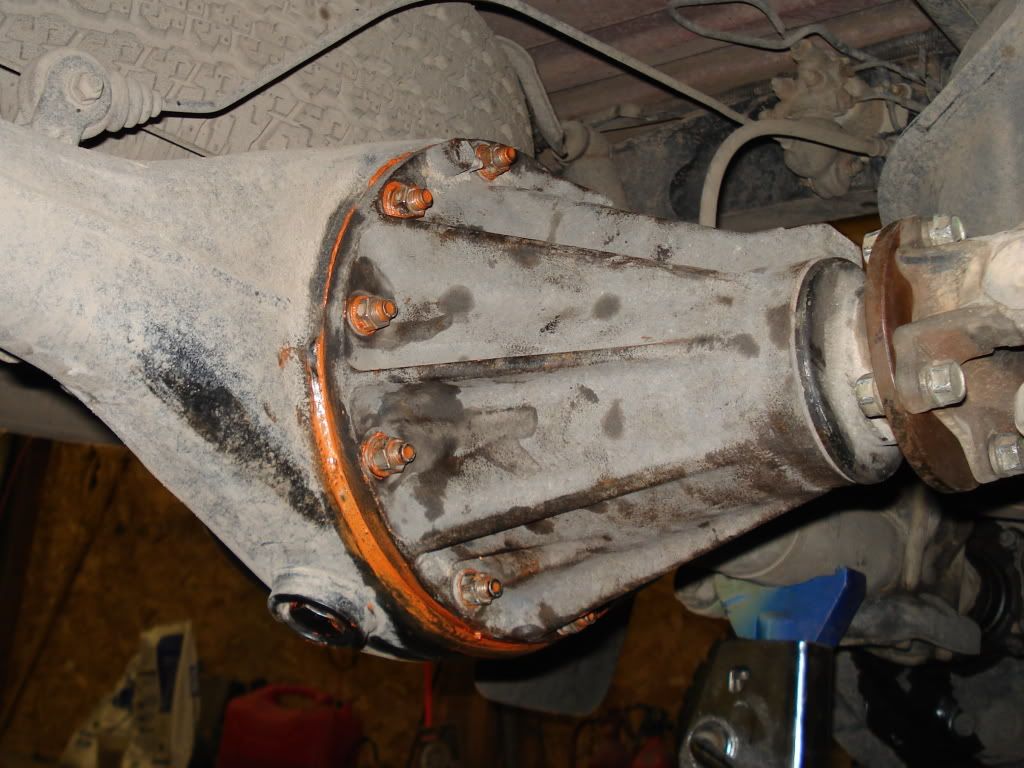 The donor truck looks a little bare with the clutch and brake
master cylinders removed-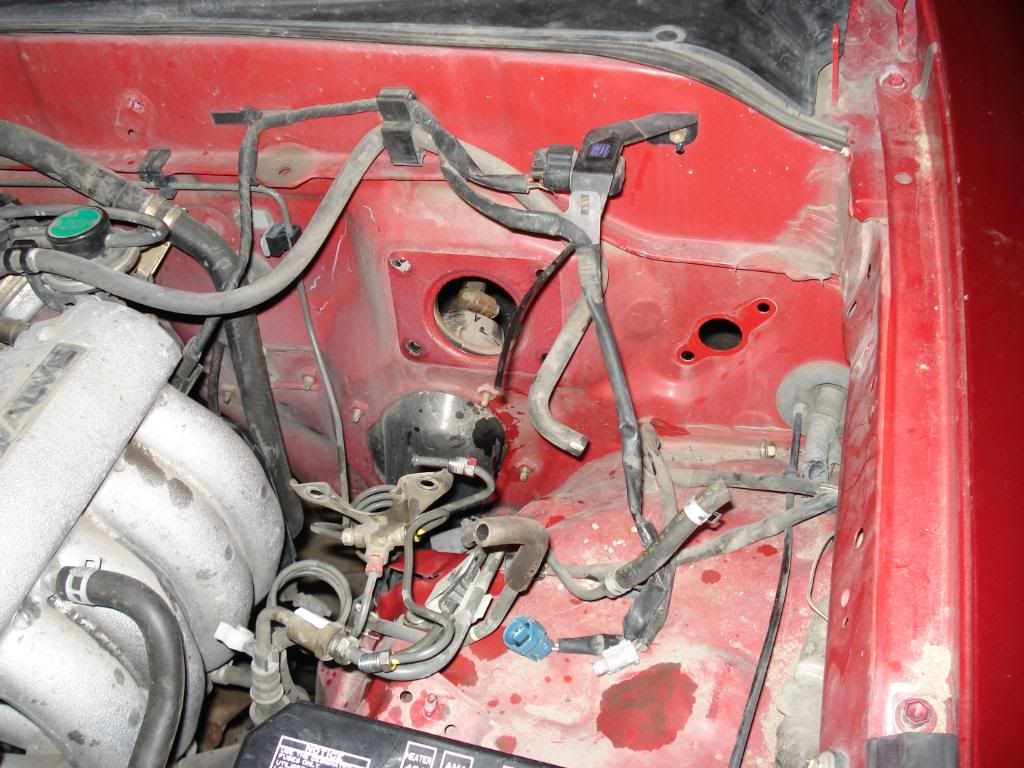 Here is my firewall after it was measured and drilled-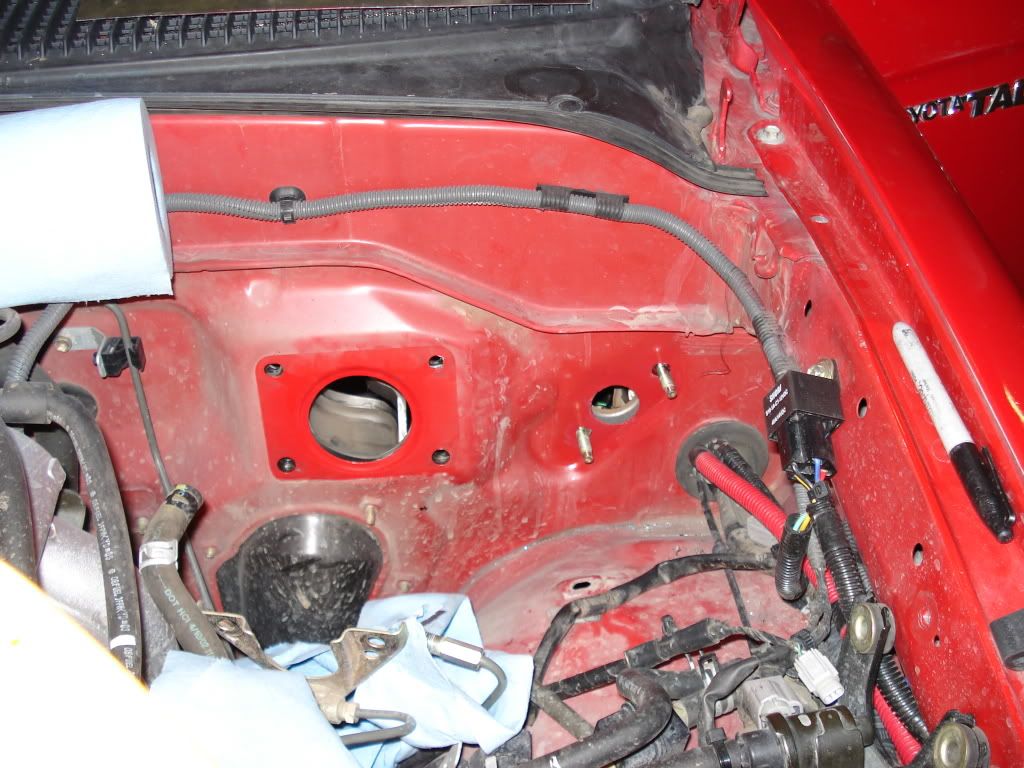 The clutch master cylinder is now installed. Note I installed
the 1997 brake master cylinder and booster as well because
that's what mated to the brake pedal and bracket. This may not need
to be done if you find a brake pedal from the same year truck as
your own. With the 1997 brake system installed I haven't really noticed a
difference, except maybe a firmer pedal feel. The brake power is good…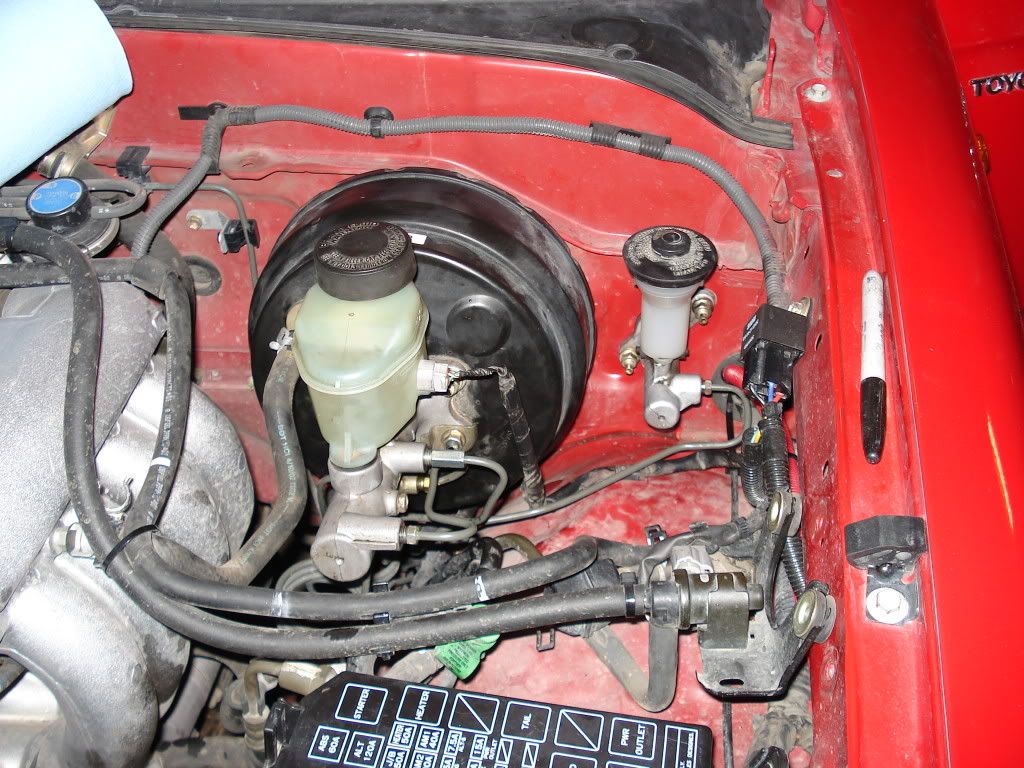 The manual shift boots do cover the opening on my 2002, but 4
new holes have to be drilled to mount it. Also the metal between
the two openings needs to be trimmed out for the new shift boot cover
to fit properly.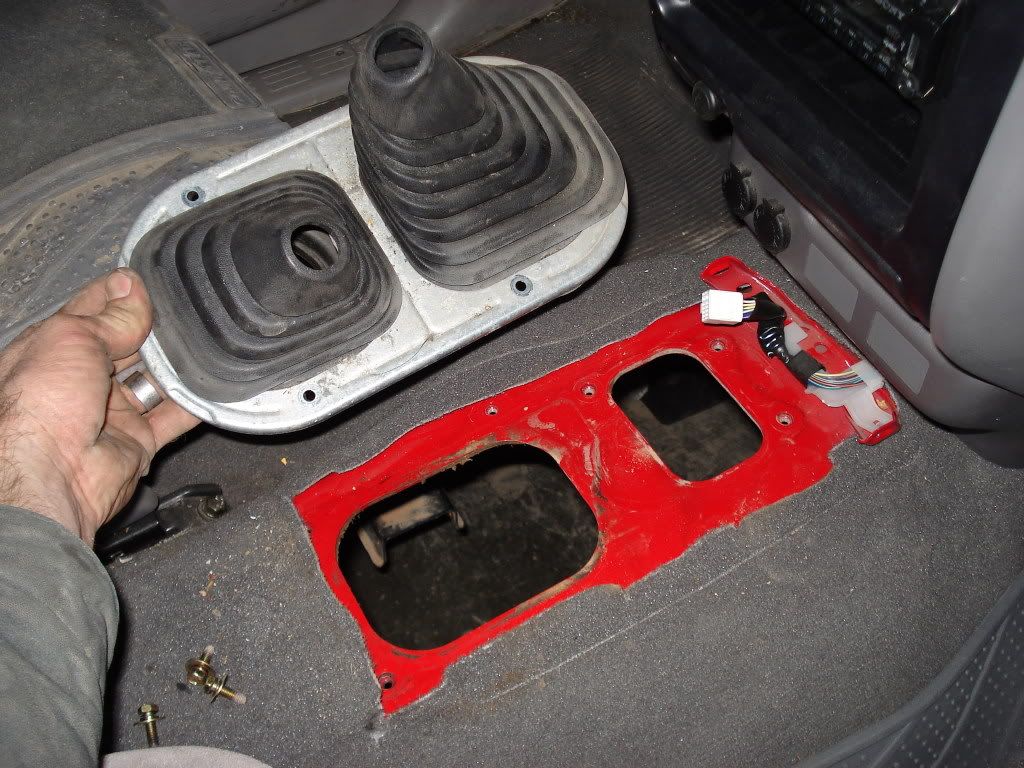 Here are the wires that remain after I cut off the plug that
plugged into the neutral safety switch. The switch is located on
the passenger side of the automatic tranny and has eight wires
that go to it.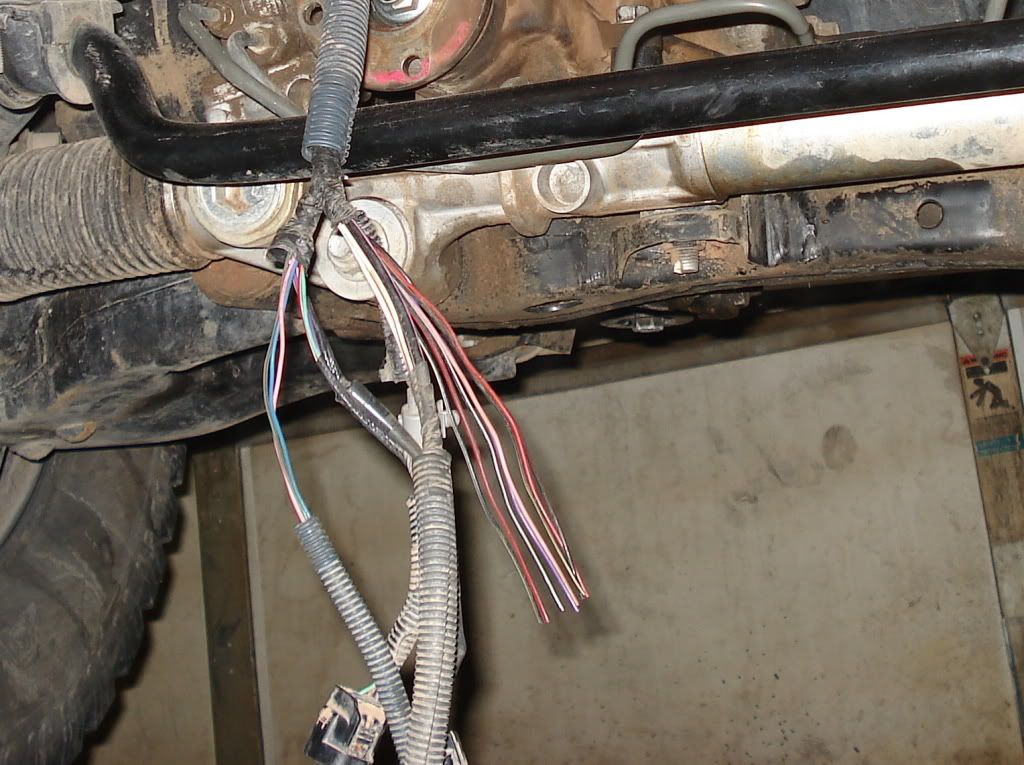 I simply cut off the plug and routed the 8 wires according to the
diagram below. Note- The diagram may be easier to read if you
pretend the neutral safety switch isn't there. Just look at the 8
wires coming from the switch and route them according to the
diagram.
Reading the wiring diagram is actually very simple.
When the clutch is pushed in, wires 6 and 9 are connected and
the computer thinks it's in neutral. Now the truck can be started.
Without the clutch depressed the truck will not start. Very factory like.
When the clutch is fully released wires 3 and 7 are connected.
Now the computer thinks it's in drive and the cruise will function
properly. However, as soon as you begin to depress the clutch,
the cruise will disengage just as it should.
When shifted into reverse wires 2 and 3 are connected and the
reverse lights function properly.
I know what your thinking, what if your in reverse and the clutch
is fully released? Doesn't the computer think your in both drive
and reverse? I suppose it does, but it doesn't seem to matter as
the reverse lights still work and the engine runs and drives just fine.
You may also be thinking, what if your NOT in reverse and the
clutch is somewhere between fully depressed and fully released?
The truck doesn't know what gear it's in is because no wires are
connected. Again, it doesn't seem to matter as the truck will run,
idle, and drive just fine.
As a note, by using the factory (automatic) computer with a
manual transmission, there is no way to avoid a check engine light
(CEL). This is because the computer also controls the auto
tranny which is no longer there. The truck still runs fine however
and doesn't go into 'limp' mode or anything of that nature.
Here are the ECU codes that are thrown due to the 'missing'
automatic tranny-
P0710 Transmission Fluid Temperature Sensor "A" Circuit
P0753 Shift Solenoid "A" Electrical
P0758 Shift Solenoid "B" Electrical
P0773 Shift Solenoid "E" Electrical
P1780 Park Neutral Position Switch Fault
As you can see all 5 codes are tranny malfunction codes, which is
to be expected. Why are there only 5? I don't know. All I know
is there are 299+ possible tranny codes ranging from P0700 to
P0999 but my ECU only tripped 5 in 1500+ miles of driving. I will
continue to monitor for additional codes and update if anything
changes.
Update- Nothing has changed, codes are still the same...
CEL solution- Since I can't stand the CEL staring me in the face, I
removed the bulb from the instrument cluster. My plan is to scan
the ECU at regular intervals to be sure no additional codes are
tripped.
Any questions feel free to PM me...
Surprise, surprise... The cross member is mounted 3 1/8 inches back
on my truck as compared to the donor. Because of this I had to
fab a bracket for the tranny to sit on. Not hard to do but
unexpected.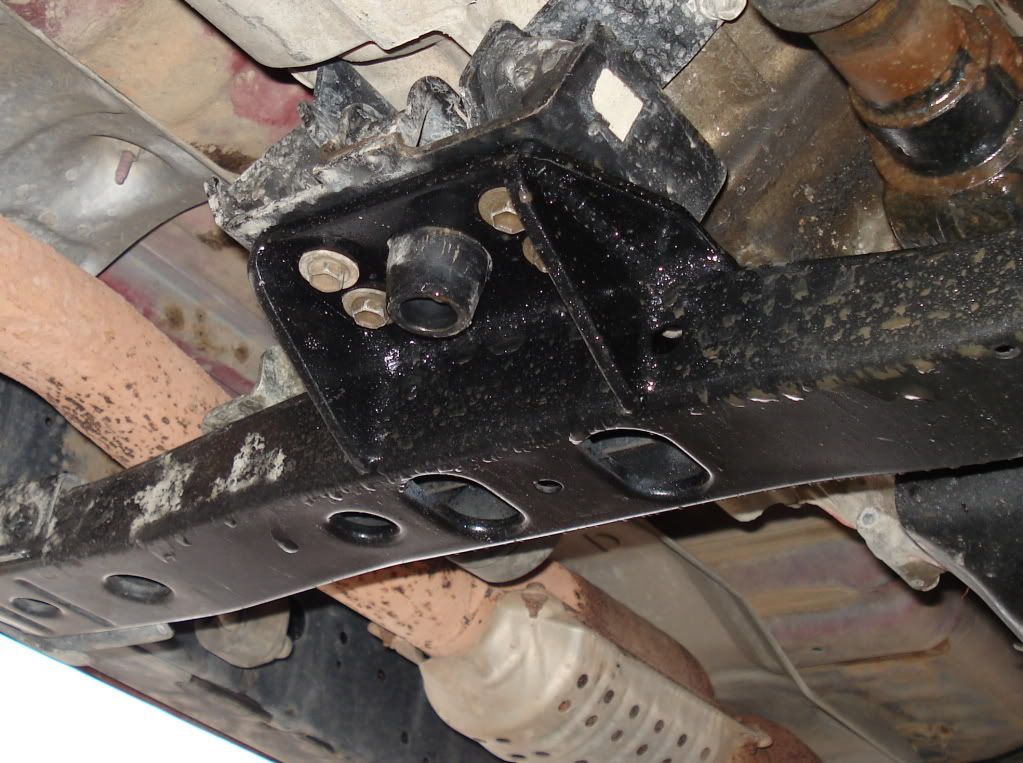 As you can see the color doesn't match perfect as the 1997 is much more of a blue-gray.
It's not that bad though and it looks far worse in the pictures than
it really is. The good news is that the 1997 shift boot cover aligns
with the 2002 center console perfectly-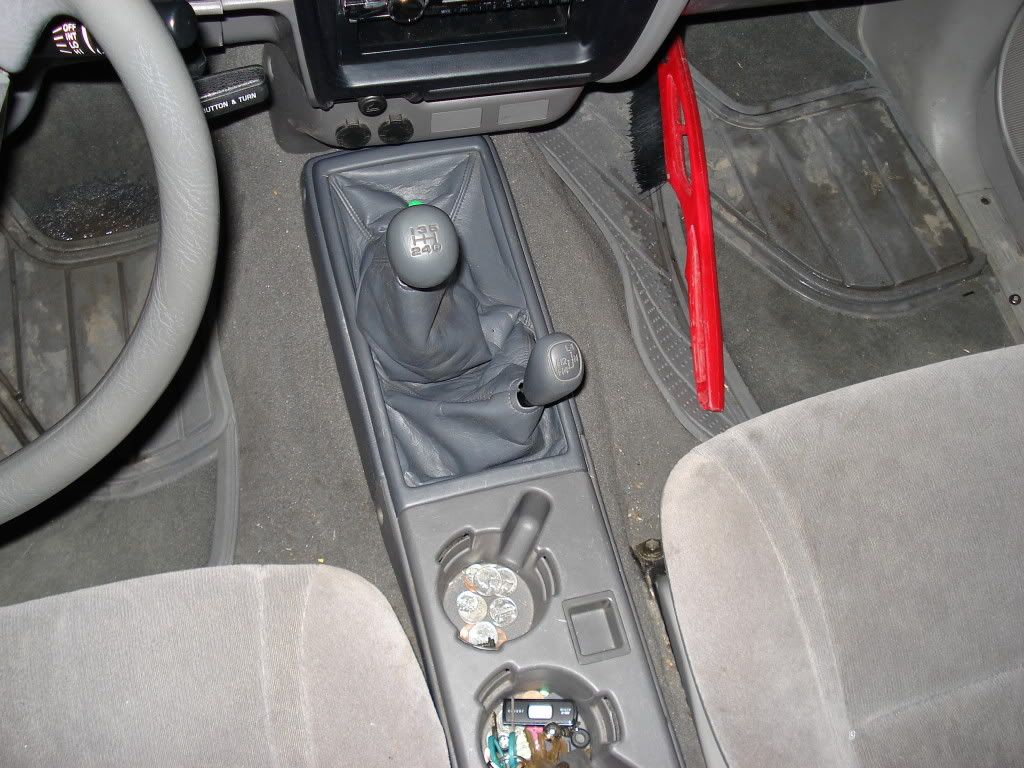 Well, after 4 LONG solo work days, my truck is now a fully
functioning manual 4WD. Of course if you don't have to remove
every part you need from a donor that will save a LOT of time.
But no matter how long it takes, trust me, it's worth it. If your
thinking about doing this, don't hesitate.
I hope many of you find this info helpful...
Oh, and I recently swapped the dash from the 1997 into my truck
as well. That's right, no passenger airbag. But I do now have the pull out dash cup holders...