The original build thread is located:
http://www.expeditionportal.com/forum/showthread.php?p=562020#post562020
I will try to paste all the sections here as well for people that are intrested.
OK, my canvas of choice is a 2006 Toyota Tacoma TRD Sport Access Cab 4x4 in Silver.
Like this one: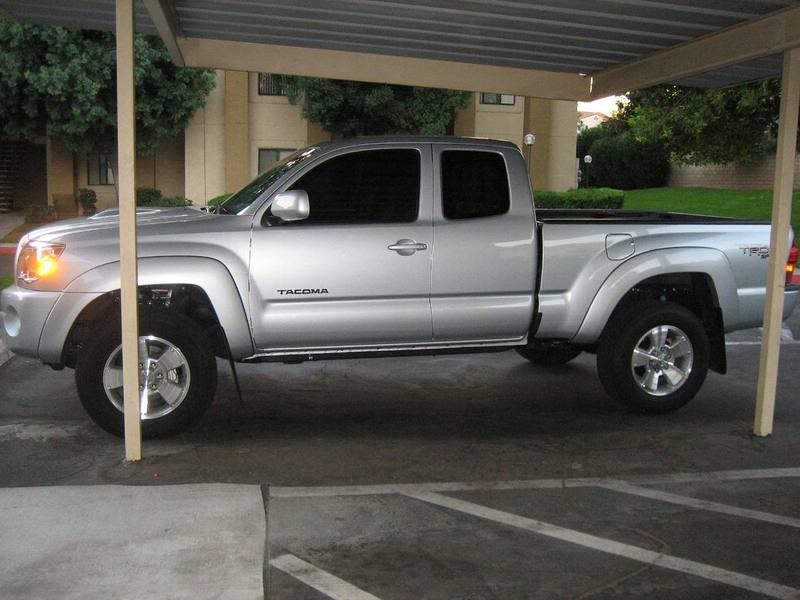 My plan was to run her stock until my original tires wore out, then if I had no problems with her at that point, it would be time to start building her…well the time has come! So here are my plans:
Phase 1
Wheels/tires and suspension:
- 255/85/16 BFG Mud Terrain KM2
- 16" FJ SE Anthracite wheels (including spare)
- Full OME suspension all around. Looking at the 886 Coils as I intend to run winch, etc.
Armor:
- Sliders (I would like a custom set that combines AJ's original design with "kick ups" and all-pros "kick out" design. However if this is too expensive to have made, I will put on all-pros
- Allpro Plate Bumper (would like to add custom headlight protection like the ARB)
- Possible limb risers
Storage:
- Custom Roof Rack (Planning on building my own, wish me luck)
- Bestop Softop
Electronics:
- 2x PIAA fogs in the bumper
- 2x PIAA driving on top of bumper
- 4x PIAA Driving Lights on rack
- 4x PIAA rectangle lights (2 rear and 2 side facing) on rack
- Yaesu 8900r
- Onboard Air (not set on system yet)
- Winch Probably M8000
Phase 2:
ARB Air Lockers Front and Rear (also regear for the larger tires)
Armor:
- Custom rear bumper with Tire Gate
- Bud Build Skids
- Safari Snorkel
Electronics:
- Dual Battery System (National Luna)
- 50" LED Light Bar
Random:
- Hood Blackout
- Magnetic Comm Handset Mounts
- Custom Relay Bank
FLIPPAC
This is not necessarily the order I will be doing everything. For example, the dual battery will come sooner if I do get all these lights going. I will also be doing lots of small things like sway bar removal, breather extensions, etc. These will all be contained in the write-up, just not outlined above.
Current State: