·
STITCH - Come and Take it!
2019 4RUNNER TRD Off-Road
Well my CBI Frame reinforcements are installed - - after a month of not able of hooking up with JFAB.
The CBI frame reinforcement plates cost $79 + shipping.
Well some things of note, the longest plate is too long
, I believe these were made to fit Tacomas (reg, extra, DC) up to 2004? I will check with Steve of CBI on this. Anyways, the actual install was not hard at all. We had to first cut the long plate shorter, then on the driver side we had to notch a corner to allow it to fit around a bracket. That same bracket is not on the passener side. But there are mounts there that looks to allow a bracket to fit there for our over-the-sea HiLux friends.
The first thing of business after jacking the truck up and pulling the wheels off, was to remove the paint of the frame, let me tell you that paint is THICK and very tough to remove. I first tried it with a wire brush on a die-grinder and that took forever! I then switched to a adbrasive disk and that did the trick.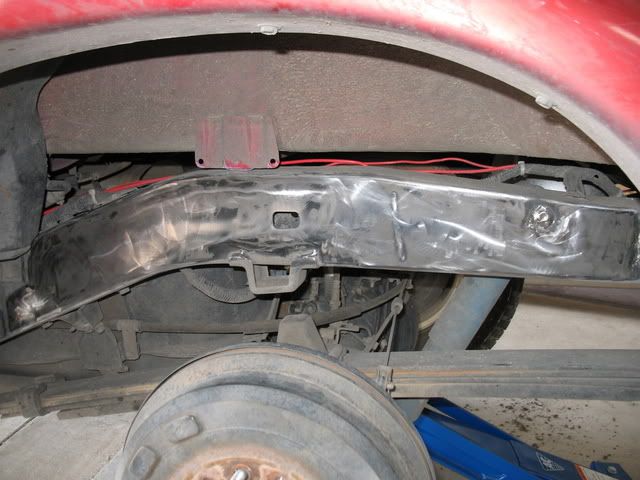 Jayce cut the plate and notched it.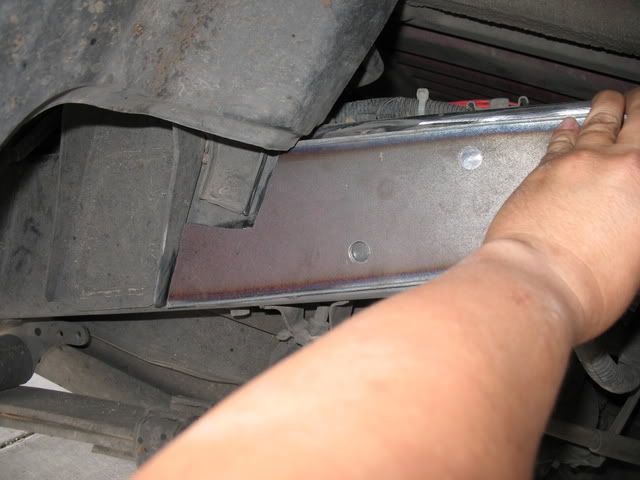 BEFORE WELDING - - We covered the fuel tank & fuel line and electrial wires with wet rags, to keep things a little cool
He clamped on the plates to tack weld the plate into place.
He then filled in the holes.
He then stitch welded about 5-inches at a time, at different places. He would say do one end of the plate, then switch to the oppersite end/side, to allow the original weld to cool down. This does two things, one, it prevents excessive warpage to the frame and plate. Second it keeps the fuel tank from getting too hot.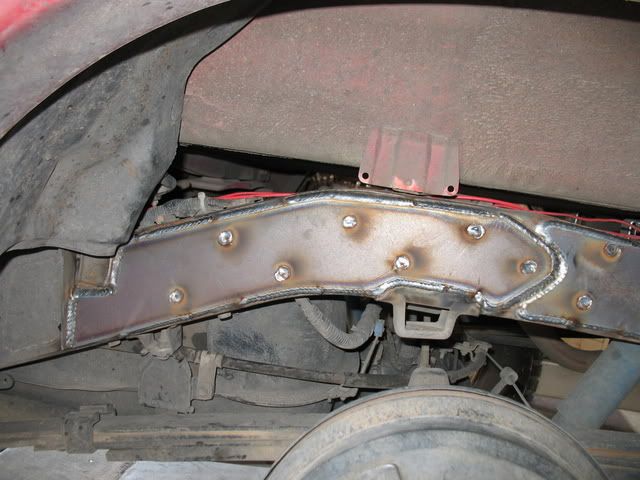 One thing that made sure was that when welding the two plates that are adjacent to one another, he left at least an 1/2-inch gap. This way he is welding the plates to the frame and not to the plate. So in the end, the weld will form a V-shape valley.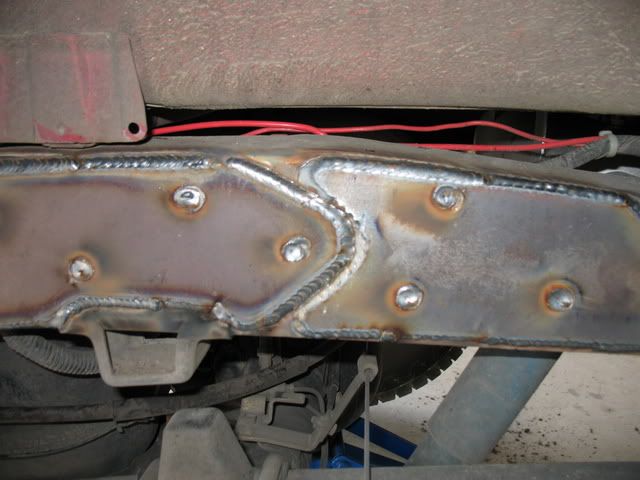 After everything was welded and scrubbed down of scale and burnted paint, I painted it to prevent corrosion.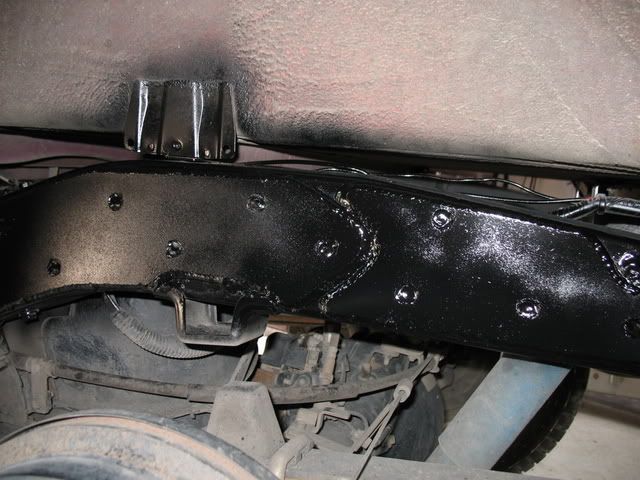 The only thing that was not expected, was the last plate that goes towards the tail end of the frame was not installed. Because my current set up has the stock bumper and tow hitch. This set up would make us drastically cut up the reinforcement plate to make it work. So I opted to hold off until I change my rear bumper out.
Many thanks goes to Steve for an excellent product and to Jayce (JFab), the master welder!
Anyways, here are the photos.
Contact me for any questions.