Discussion Starter
•
#1
•
Feel free to show off those Cooper STT Pro's and share your experience with them!
Description from Cooper:
The Discoverer STT PRO is Cooper's most advanced, extreme tire to date! The Discoverer STT PRO provides exceptional traction and performance in some of the harshest terrains on Earth. The distinctive tread design and compound provide remarkable on the road performance without sacrificing off-road traction. 3-Ply Armor-Tek3, silica tread compound, aggressive 3-2 center rib design, side-biters and more, all wrapped up in Cooper's advanced mud terrain tire. Push the Discoverer STT PRO to the limits and you'll "discover" what your vehicle is truly capable of!
· "ARMOR-TEK3" Carcass Protection provides 50% more protection against impact damage than standard 2-ply tires.
· The inner tread ribs alternating 3-2 pattern provides a number of significant performance benefits like: reduced road noise, increased stability and handling, superior soft surface (trail) and mud traction.
· The "flex groove" provides a smoother ride by helping to dampen the impact generated by inconsistencies in pavement, potholes and gravel.
· The Discoverer STT PRO features large, specially-designed cleats of rubber (side biters) on the shoulder area of the sidewall, to enhance traction and grip.
· The asymmetrical scallops on alternating lugs direct mud into the mud scoops to allow the tire to pull through muddy terrains with ease.
Source:
Cooper Tire & Rubber Company - Discoverer STT PRO?
My experience thus far:
I got mine about a month ago for my new truck that's currently in the process of getting long travel. I had debated on what size to get for a while. Originally I wanted 35's but I wanted to speed up the process a bit of getting it drivable, so I decided to go with 295/70/17 which are 33's. I measured them off the truck and they are just slightly over 33". Which I'm happy about because nothing's more annoying than thinking you ordered a certain size and they end up smaller.
First impressions:
I can tell a lot of design work went into these tires. Looking closely at the tire you can see all the minor details in the treads that help with things like traction and mud removal. The siping is going to be great for our harsh winters. Even rolling around the tires (moving them in and out of the truck to get them mounted) I can tell these things are grippy. I love the aggressive look and they've already totally changed the appearance of the truck! Even the guys at Discount Tire, where I took them to be mounted, kept commenting how great these look. Talk about beefy.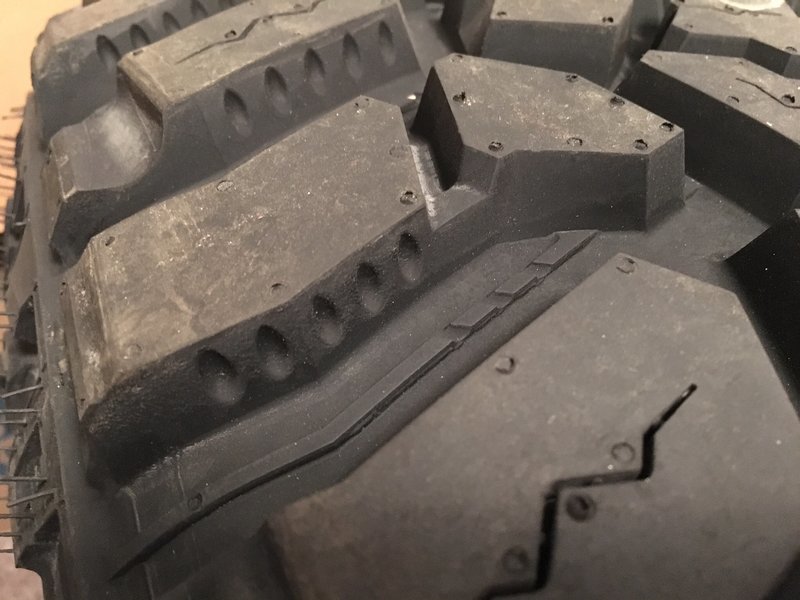 I had the opportunity to drive a vehicle with Cooper STT Pro tires on it, 1700 miles so plenty of time to get to know them. Seeing how aggressive the tread design is you'd think they were a loud tire. I was pleasantly surprised at how quiet they were. Not much louder than the KO2's. The ride was very comfortable and traveling through the winding roads of the Colorado Rockies I noticed no sway.
I will update this thread with more pictures when I get my suspension on my truck. I look forward to testing them out on some dirt and rocks!
Share your photos and experiences!