Discussion Starter
•
#121
•
Not sure on what the transmission gearing is, but assuming 1 to 1 n the tranny you'll be getting 6,232 ft./lbs in low. I think there are enough slip points in the system (torque converter and only an LSD not a full locker) that it won't be a problem.
Don't forget that 1:1 is usually 3rd in most trannys, and it's 4th in mine. First is about 4:1, and low is 3.8:1. So, a whole heck of a lot of torque on the driveshaft even. Not to mention the axles and ring and pinion. But I believe you are correct with the torque converter slip, and the tire slip. So long as I don't do anything crazy with it.
Well, haven't been on here for a while. Lots of other things keeping me busy and not sure if anyone was still reading, but at least there's one so I'll update. As of last update, I'd just gone back to daily driving this thing. (that was back in February). Work was really busy, and then I went to Alabama for 2.5 months. Figured I'd take the truck with me cause it's so darn fun to drive. So with about 1k miles on the whole setup I drove to Alabama. Only issues I ended up having were some of the front suspension lock nuts coming loose after the 3k+ miles of driving. I'll have to keep a better eye on that or tac weld them in place.
But to some pics:
Shifter mount getting mocked up.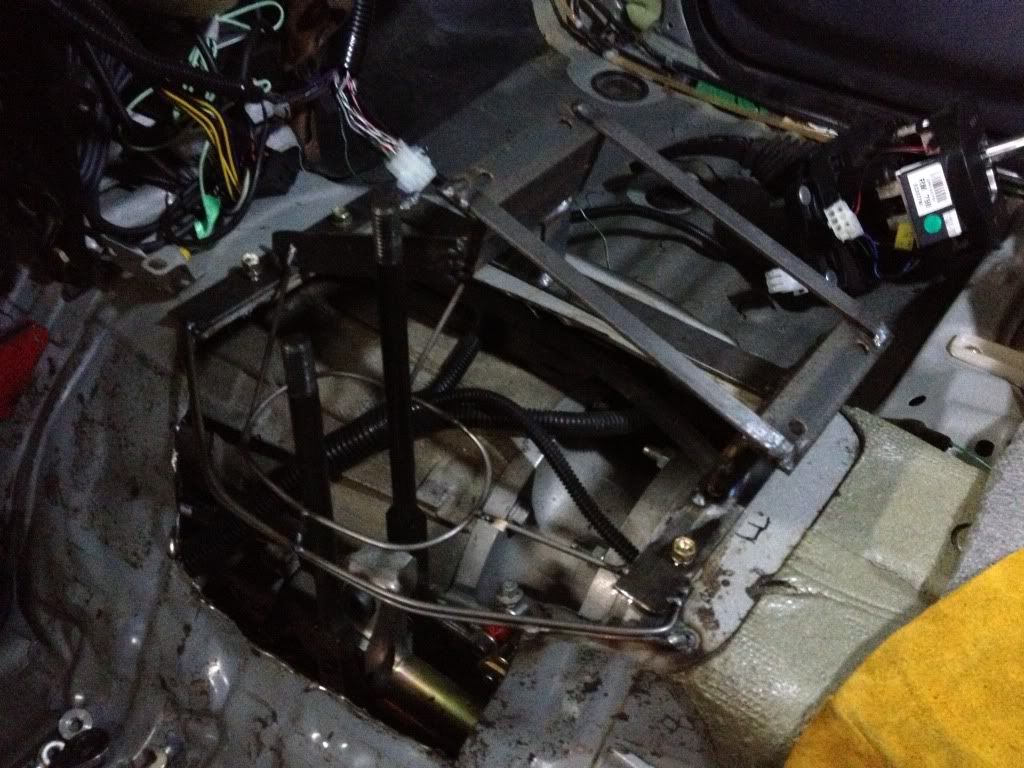 What it still looks like now. I'll need to get around to completing it, but I'm having a hard time getting the tap shift to work with this shifter, so I may have to switch it out.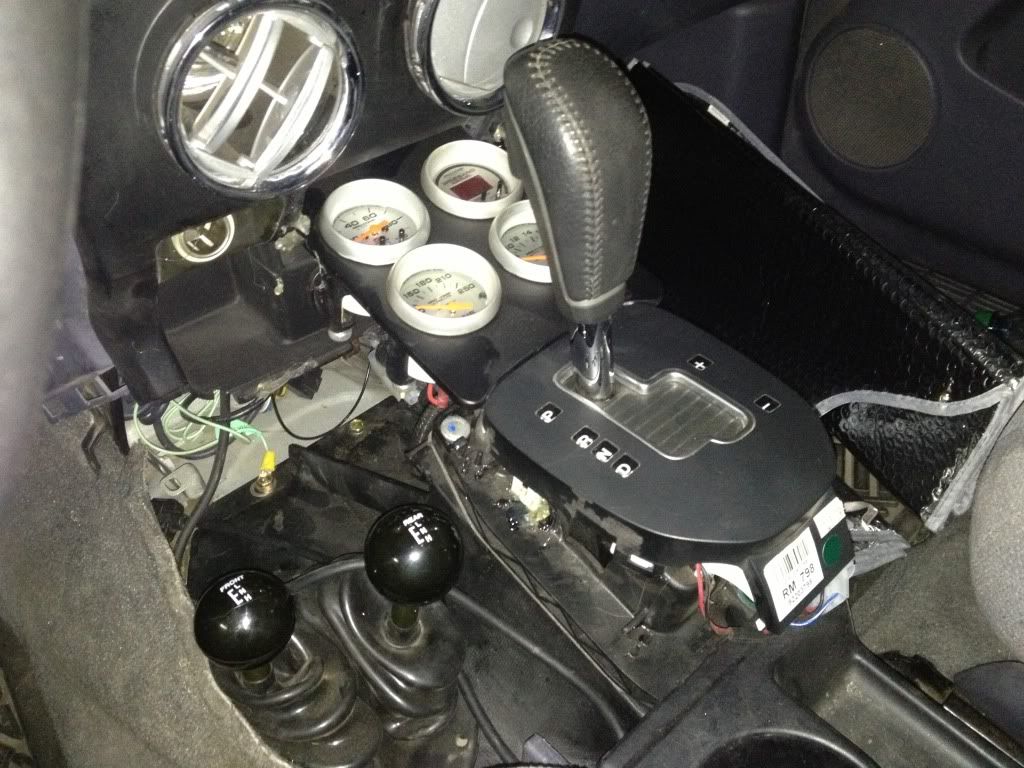 Finished dash. Sits right where the stock one did. Real carbon fiber panel I got off eBay.
New Shoes. I really like and highly recommend these tires. Just a little bit of noise around 40-45 mph. Other than that, pretty quiet and really good offroad.
The week after I got back from Alabama (beginning of June), the summer heat hits Vegas and the cooling setup I have proves ineffective. I went to Big Bear for a couple days, had to blast the heat the whole way out there and on the trail. I was miserable. So all the nay-sayers regarding my radiator and fan setup proved to be correct. So the truck went back into the garage for a long time while I figured it out. In the meantime, I got a new shop toy.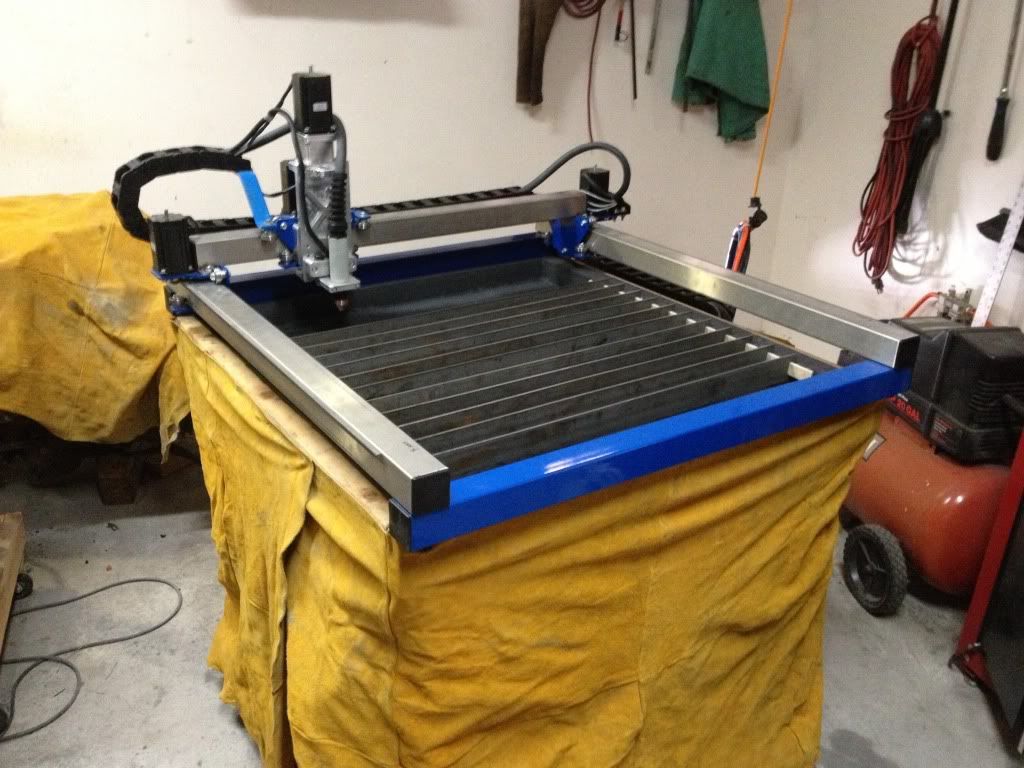 Its pretty freakin awesome to be able to make just about anything. I'm still working out all the kinks on it though.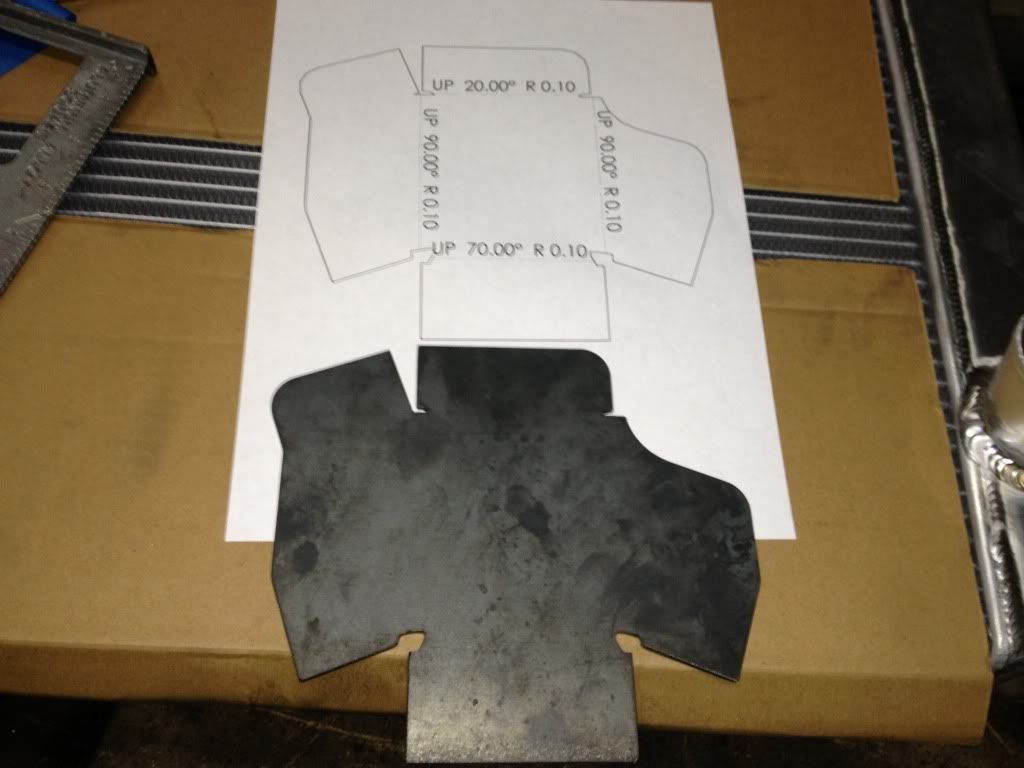 A bracket I made for my new Griffin Radiator.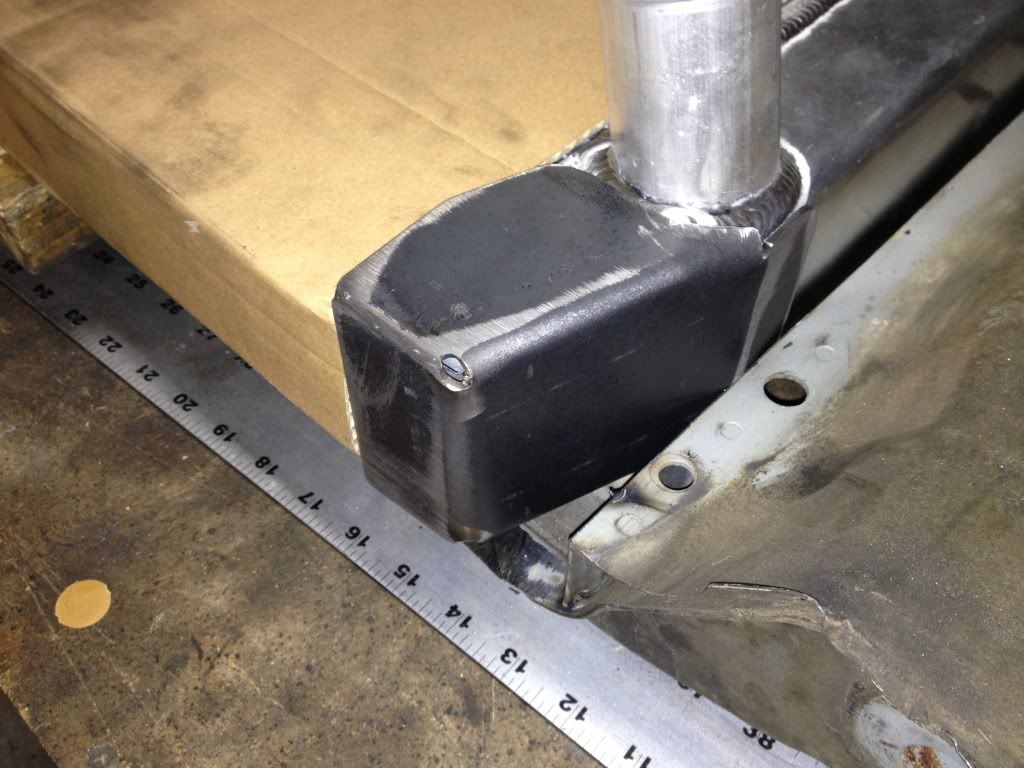 So I decided to bite the bullet and put a nice griffin radiator into the front end. And a real fan. Between the fan (real slim design at 2.75") and the radiator (2.5") I had to move the whole fan, radiator, and A/C condensor assembly forward about 2". That took a real long time to figure out. But the result is a pretty clean install.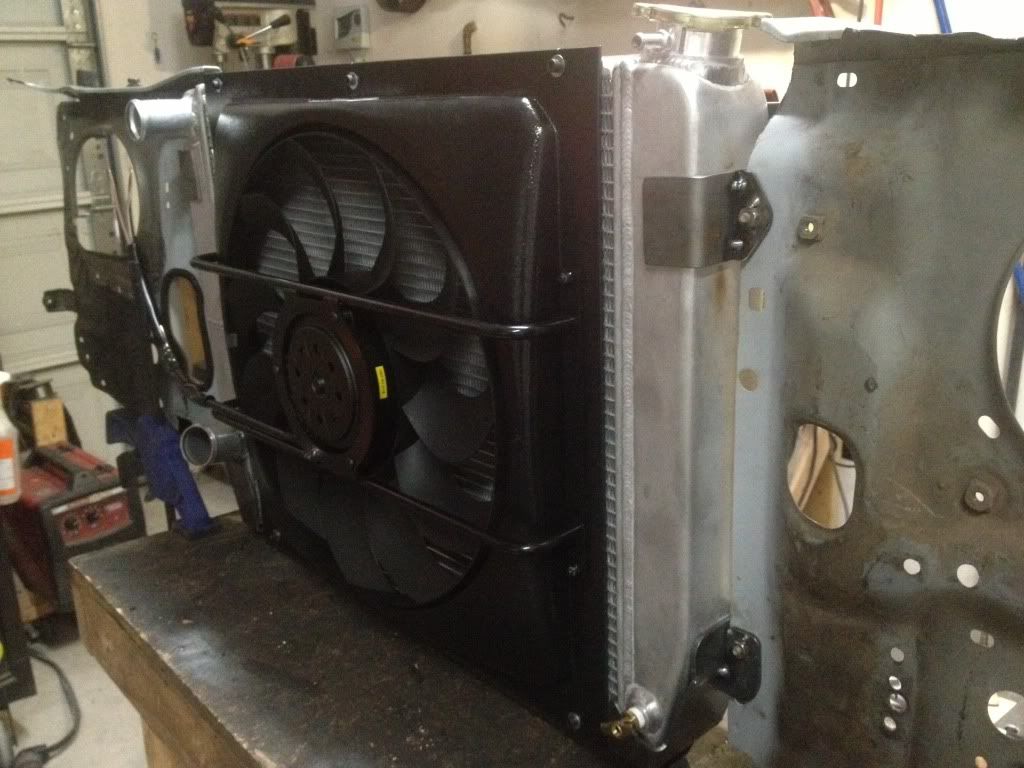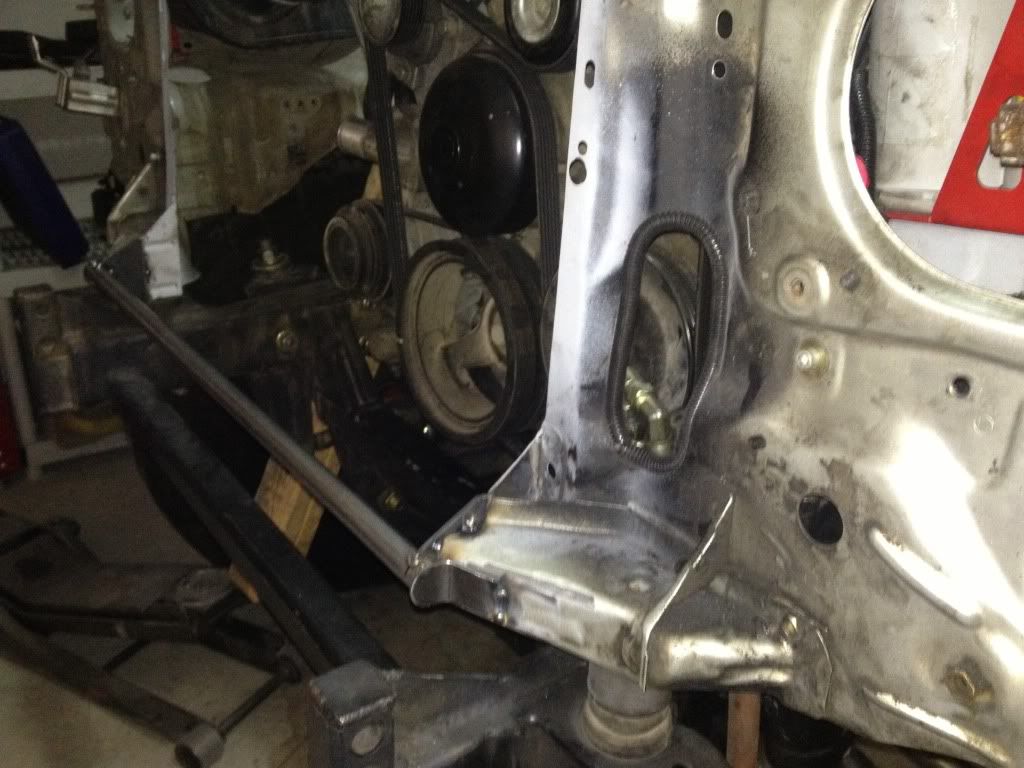 Still a very tight installation. I had some aggravation first finding the type of radiator I wanted and then getting it in the right place. I settled on the Dual Crossflow design with both inlet and out on the driver side. It meant crossing over with the piping, but I couldn't get it to fit otherwise.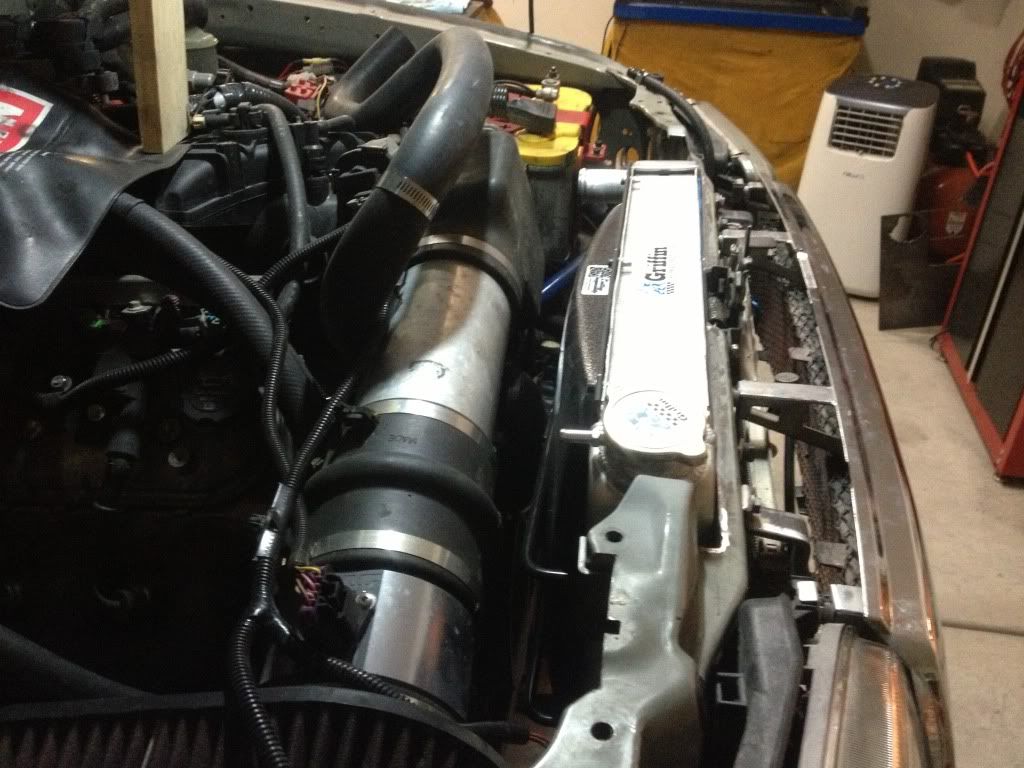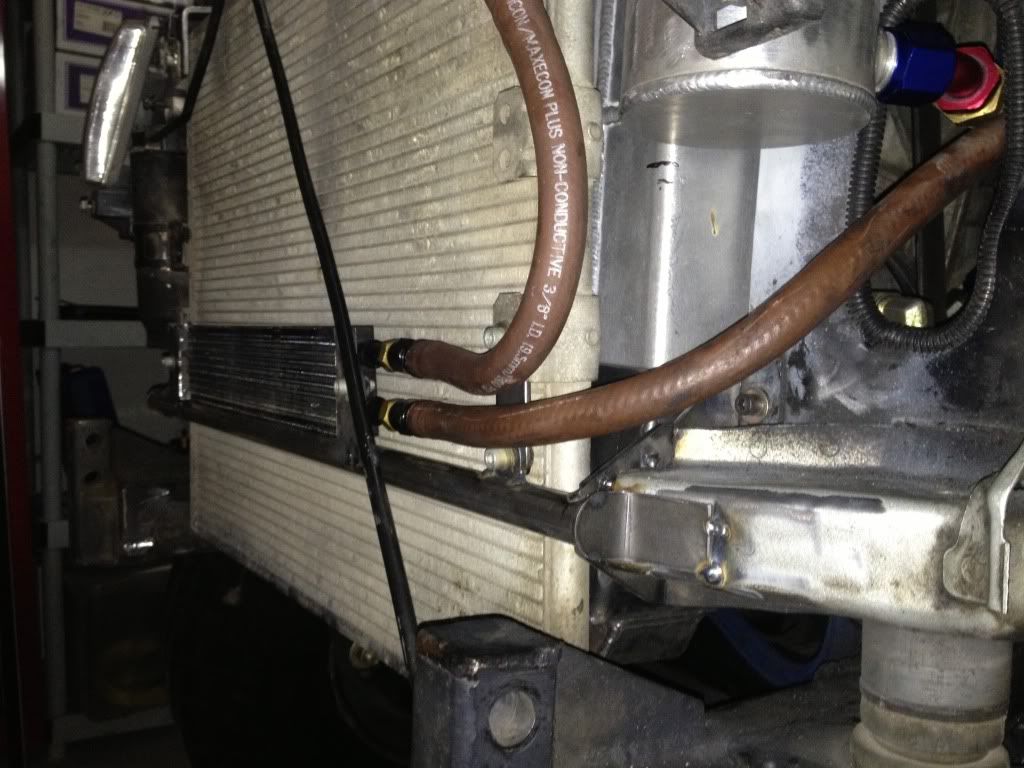 After I got it fired up, I still had trouble with overheating, figured I was getting air pockets since the tube had to cross over the intake and therefore was higher than the fill cap. Pretty easy solution to just had another inline fill cap. So far seems to have solved it.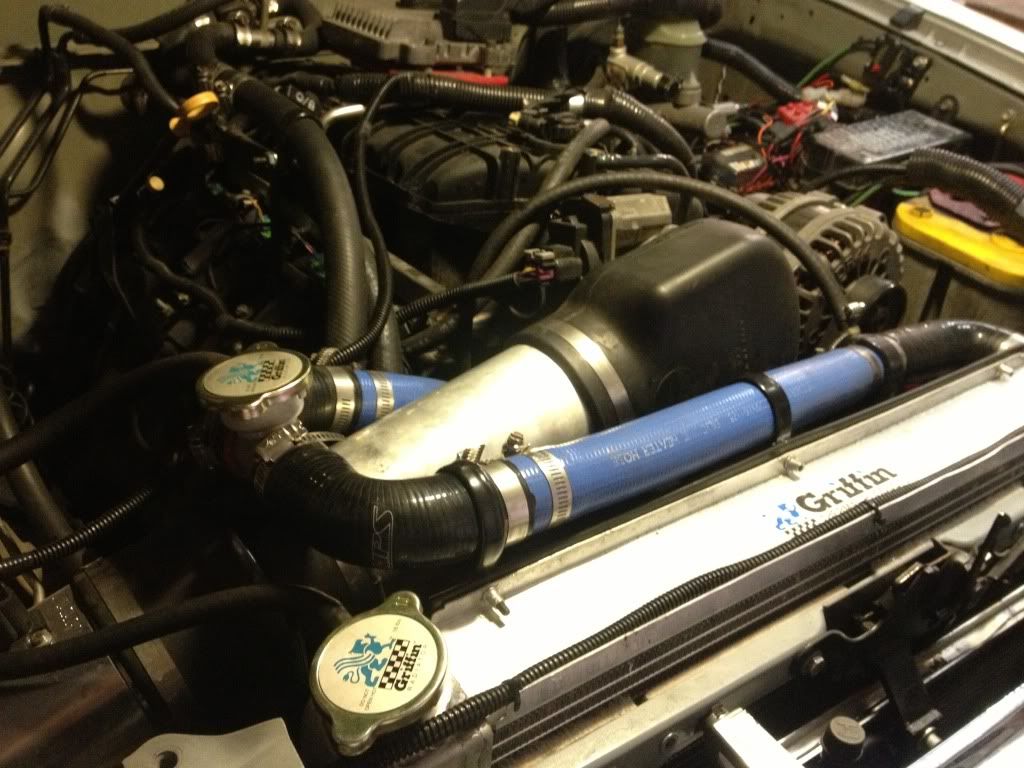 Which pretty much makes it all up to date. It is still getting a little warm when I do some hard accelerations. I moved the tranny cooler to the rear with a fan, so it doesn't get the best airflow, but keeps the tranny under 150*. Next step will be to take it offroad again and see how it does. Some sand will be very revealing.