For Sale 1995.5 Toyota Tacoma Regular Cab 4x4
Price = $6,000 Firm
Location = Roseville CA 95678
Well I have upgraded from my old Tacoma. This by no means indicates that this one is not trail worthy. There is nothing wrong with it mechanically and has been very good to me. Hopefully it will bring someone some very good times. Here are the specs.
Basics
- 1995.5 Toyota Tacoma 4x4
- Regular Cab
- 3.4 V6
- 169K miles
- 5 Speed Manual
- Cold AC
Axles/Suspension
- 4.56 gears front and rear
- Rear ARB locker
- Open Front Diff.
- 33in BFG MT 75% tread
- Manual Hubs
- Adjustable Coilovers
- 1.5" Spacers
- Custom Rear springs from 4x4 Spring shop in Rancho (can't remember the name sorry)
- Extended Diff Breathers
Body Armor
- Custom Rear bumper made by me
- Trimmed rear bed sides for extra clearance
- All Pro Sliders
Extra Goodies
- Hanneman Fiberglass Front Fenders
- Pioneer CD player
- 6/9s Pioneers behind seats
- 6in Sony explodes in Door w/ tweeters
- Bass Tube behind seat
- Radio Shack CB under CD player
- Low Profile Truck Box
- High lift mounts on Box
- 48" High Lift
- CB antenna also mounted on Truck Box
- PA Speaker under hood
- Front tow Hooks
- Rear shackles welded on
- Rock Lights under doors and between rear bumper and axle
- Spare manual hub CV w/ boots
- Quick release removable doors
- Downy Air Intake
Paint
- I just finished doing a roll-on-paint job within the last few months and it looks pretty good. I have extra paint that I can give you in case you jack it up.
The great thing about this truck is that it is perfect for someone who wants a reliable Daily Driver but wants to shift gears, hit the locker and wheel pretty much where they want. You buy this truck and it is ready to wheel NOW. You don't need to add anything. However there is still plenty of stuff you can add.
For an IFS Rig I have been able to go almost everywhere I wanted. For those with little wheeling experience this is a great rig to learn to wheel with. I am sad to see it go but like I said I have just out grown it.
Since I know this thread is worthless w/out pictures, there are some below. If you would like to see most of the trips I have been on you can click on MY PICS on my signature.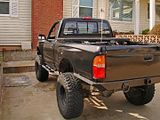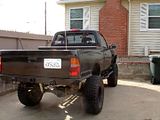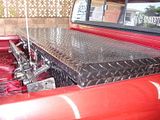 Thanks for looking.
PM me if interested!