FS [PA] 99 Taco 4x4 V6 XCab TRD $6,950
NEW Price: $6,950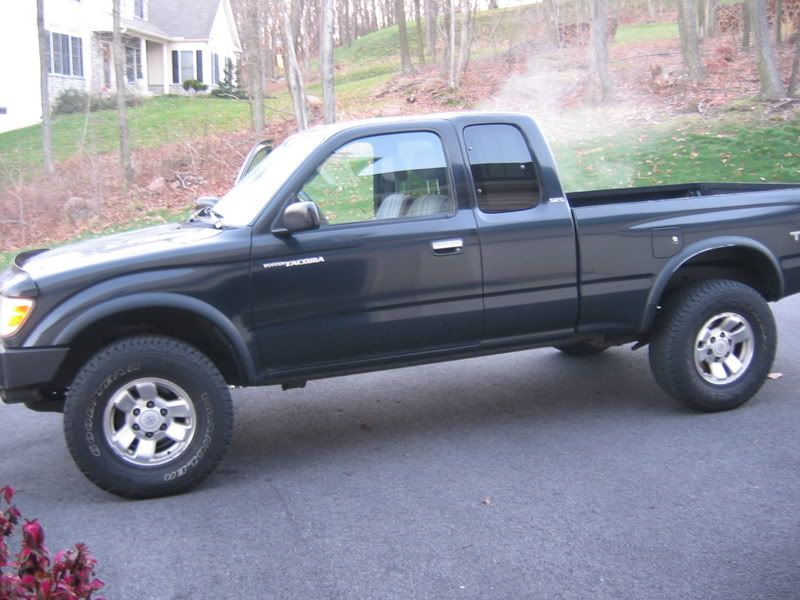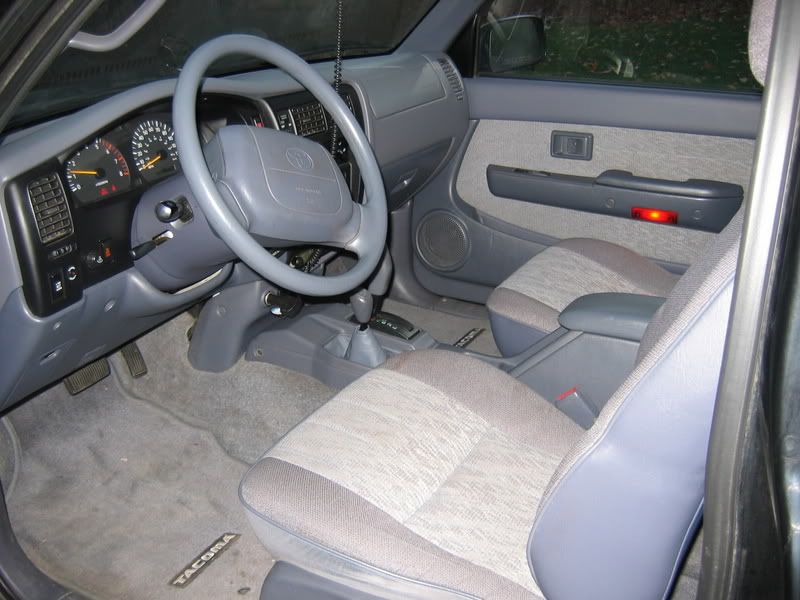 [
B]NEW LOWERED PRICE: $6,950[/B]
Price: $7,750
Nada: $10,050
Edmunds: $9,048
KBB: 9,000
Truck Specs.:
1999 Tacoma 4x4 SR5 V-6 XtraCab TRD (Auto)
BONE STOCK except for front bumper and battery
186,000 Miles
3.4L V-6 DOHC (19 MPG)
Black Exterior / Gray Interior
Bucket Seats with Center Console
4-speed Automatic
Manual (Lever) Transfer Case w/ A.D.D. and Locking Rear Diff.
Tires: GoodYear Wrangler SilentArmor (31x10.5x15) on Stock Alloy Wheels
COLD A/C
Dual Airbags
Cruise Control
ABS
Tilt Wheel
Power Windows and Locks
Sliding Rear Window
Security System
Digital Clock
In-Dash 3 Disc CD & Cassette Stereo
TJM T-17 Front Bumper (Black Steel)
Optima Battery (Orange Top)
Clean Title NEVER any accidents
VIN# 4TAWN72NXXZ421433
Who am I:
Original Owner
Purchased truck on Nov. 6, 1998 from Kern Toyota in Winchester, VA
It had 4 miles on the odometer when I drove it home.
I live in Morgantown, PA (south of Reading) and commute 70 miles a day
60 of those miles are on the Pennsylvania Turnpike.
Maintenance Schedule:
Motor Oil and Toyota Filter every 3-4k miles
Rotate Tires every oil change
Lube Zerk fittings on Driveshaft every oil change
Replace Air Filter every other oil change
Replace PCV-valve every year
Replace Gear Oil in Rear Diff, Transfer Case, and Front Diff. every 30k miles
ATF Flush (full 15 quarts) every 30k miles
Brake Fluid Flush every two years
Coolant Flush every two years
Power Steering Fluid Flush every two years
Replace Fuel Filter every 30k miles
Replaced (3) Accessory Belts @ 90k miles
Replaced (2) Hoses @ 90k miles
Replaced Water Pump @ 90k miles
Replaced Timing Belt @ 90k miles
Replace Plugs and Wires every 30k miles
Clean Throttle Body every year
Clean MAF sensor every year
Work Completed in last two weeks:
Transmission: Completely Rebuilt Transmission to OEM specs. by Cottman Transmission in Paoli, PA
($2,000)
on Nov. 3, 2006
*Transferable Warranty: 12,000 miles/1 YEAR Parts & Labor.
*Good-As-New!!
Coolant Flush
Brake Fluid Flush
Rear Diff, Front Diff, and Transfer Case Flushed
New Rear Diff Breather
New Rear Diff crush washers (fill & drain plugs)
Tires Rotated
Oil and Filter Change
Toyota Air Filter Change
Pennsylvania Inspection –good until Nov. 2007
Pennsylvania Emissions –PASSED
ATF Flush
Front Brakes: Brand New Toyota Rotors and Pads
Rear Brakes: Brand New Napa Rear Drums, Toyota Shoes, Napa Springs, and Napa Wheel Cylinders.
New Denso Spark Plugs and Toyota Wires
New Toyota Axle Bearings
New Toyota Inner and Outter Axle Seals
What's wrong with the truck:
*ABS doesn't work. Needs a wheel speed sensor. ($132.09 part from
www.trdparts4u.com)
.
*ECT Power Button Light Bulb went out a year ago.
THAT'S IT!! I'd sell this truck to my Mom.
I maintained this truck as if they were going to bury me in it. Regrettably, I have to sell this truck because my twin son's and their car seats won't fit in the back; I need something larger. In the last two weeks, I spent
$3,800
fixing and reconditioning this truck for sale: Good-as-new Tranny, Front and Rear Brakes completely done, Replaced all rear axle components due to rear seals leaking, inspected, all fluids flushed. Call my mechanic (Alex Curtis) at GoodYear Tire and Auto. in Phoenixville, PA (610-935-3234) and he will verify all work done. Call Phil or Brian at Cottman Transmission to verify the transmission work and warranty at: (610-647-8484). The warranty is transferable and can be taken to any Cottman Transmission in North America! You can have anyone you want inspect this vehicle; there is NOTHING to hide. I just hope she goes to a good home; truly.
Thank You,
Mark Rubin
610-360-0609