Replaced Fuel Filter and Engine cleaning write up.
Ok truck will be turning over 150k this week so I decided it was time to change the fuel filter, since it was the original. For those that don't know my truck is a 98 tacoma with the 2.7l 4banger. But I decided to go a different route than through the wheelwell and doing it blind. After helping Timberwolf replace his headgasket last year it gave me an idea to take out all the intake stuff off to get to it that way. After taking the intake, throttle body, plentium, and fuel rail off, as expected it had about 150k miles worth of nastiness that really needed to be cleaned. So after a can of seafoam, a can of deep creep, more cans than I care to mention of carb cleaner, tooth brush, and soaking a lot of parts over night I now have everything pretty clean. Yes this is the way I would recommend getting to the fuel filter, I feel that if I had not spent the time to clean the parts the change would have taken me probably 3 hours, but there is some added cost of 2 gaskets for the plentium.(I will give part numbers later). So did it help? Yes oh my god did it help. First off I got rid a my throttle sticking, the engine runs smoother at idle and at constant speeds, better throttle response, slightly lower rpms, and the truck seemed to have quit expelling smoke and soute under hard acceleration. I will post up any if any changes in mpg later.
Ok on to the how too. No special tools needed just 10mm, 12mm, 14mm, and 17mm wrenchs and sockets. Ratchet wrenchs are real handy especially the 12mm. A flat head screwdriver, pliers, and a bunch I mean a bunch of cloth rags or about 3 sacrificed t-shirts, oh and flexiable magnet when you drop bolts into unreachable places. Ok I needed about four gaskets for this job and 2 i didn't have, the throttle body gasket I just used sensor safe hightemp rtv. and the EGR tube gasget was a little burnt up and I will replace at a later date. The other gaskets are part #17176-75010 and 17177-75020 and are a little pricey the first was 7.58 and the 2nd was 9.48, and I coated them with high temp spray on copper gasket, that I had. The fuel filter part # was 23300-79446 and was about 33.83. All parts came from the dealer.
Ok here are some pics
Pill of parts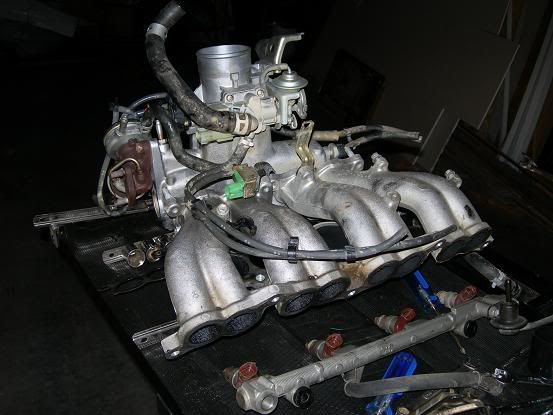 Don't that just look yummy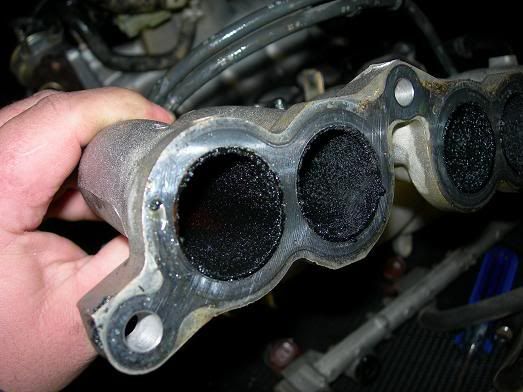 Dirty injectors, its a wonder my engine was running.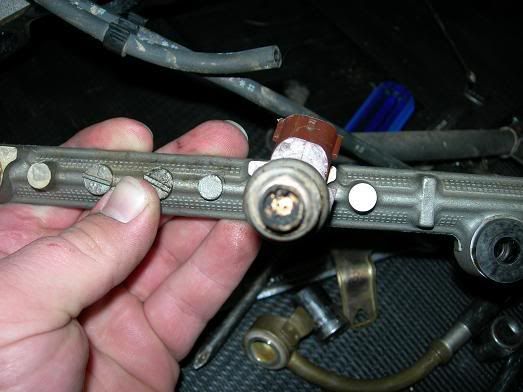 Injectors after soaking them overnight in seafoam and scraping out with a pick and then soaking them again.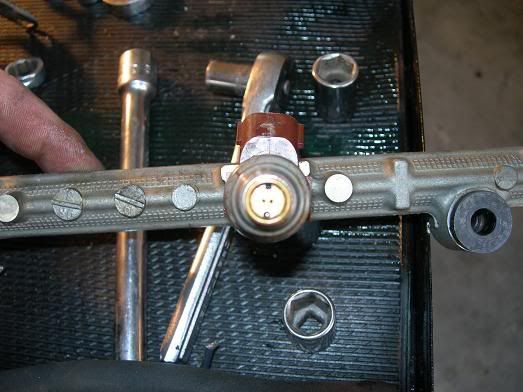 Cleaned throttle body, was completely black and caked with carbon, carb cleaner is your friend.
See how easy it is to get to the filter, oh now is also a great time to replace the starter if you are having issues with it.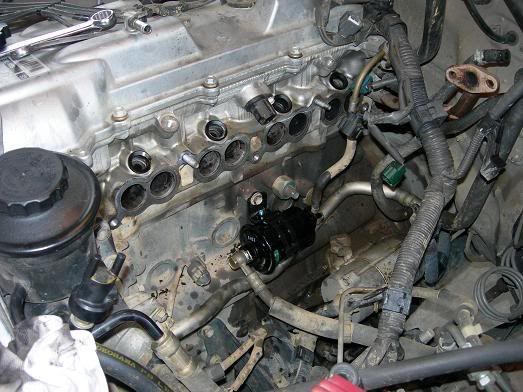 Half way back together.
All the way back together.
Ok sorry for the supper long post. If anybody wants to know more feel free to ask questions, and if anybody want I can go into more details about the tear down.