Discussion Starter
·
#1
·
Well my 04 Tacoma finally got the love it so rightfully deserved. I bought my 04 used in 05. I couldn't afford a new one in 04 and in 05 when I had the cash I didn't want an 05 so found a nice 04.
The only thing it didn't have was a tow package. The dealership installed the trailer hitch and 4pin wiring and that served me well but my Taco deserved better.
Since I've tower near the limits of the tow capacity WITHOUT trailer brakes I quickly learned that that wasn't a good time. I spent sometime in Iraq and with the money I saved I bought a new lightweight 14ft aluminum trailer to tow my VWs and ATVs around. It weighs in at a brisk 1000lbs and has brakes which is INCREDIBLE compared to the all steel 16ft dual axle no brake trailer I used to tow.
Anyway, right before the trailer was delivered I wired in a Tekonsha Prodigy and 7 pin wiring harness from etrailer.com. Wiring was a breeze and was VERY straight forward. In the picture below you can see the 20 and 30amp circuit breakers for the 12V to the trailer and 12V to the brake controller:
Inside I mounted the Prodigy right below the fuse door. It's a very nice location because if I remove the brake controller you really can't even see the holes I had to drill.
Outback the 7pin had a plug for the 4 wires already on the car. Attach that plug, one wire for ground, one wire for 12V(to circuit breaker), one wire for the trailer brakes, and 1 aux wire that doesn't get used.
Then I installed a Hayden 678 tranny oil cooler. Installation was pretty easy. The only thing that took me a while was figuring out how I wanted to mount it. After reading all the walk thrus I could find I decided to relocate the horn, move the AC line infront of the hood release support and position the oil cooler about an inch away using rubber bumpers. The lines are nice but I still want to put some plastic shield around them so they don't chaff
And that wraps it up. I'm thinking my next upgrades are going to be a lower temp thermostat and maybe a higher output alternator but that's down the road.
Anyway...here's a few pics of the Taco towing:
And the wife with the toys: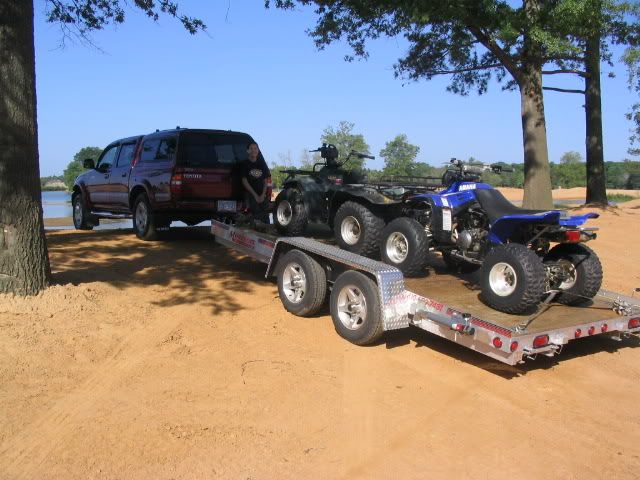 Thanks for lookin,
Jason