Discussion Starter
•
#1
•
I used to own a 2003 Hilux V6 4x4 that I sold -
to get my current hilux detailed below.
Here is my hilux.....
Its a 2007 Dual Cab SR 4x4 D4D auto. This is what she looked like when I got her -
She was a very pretty virgin...if only she knew of the whore that she would become!
Quick Run-down

3" suspension lift
285/75x16 Silverstone MT117 Sports
16x8 Black Dynamic Wheels - zero offset
ARB front locker
Marlin Crawler Crawl-Box with 4.7 XD gears
Xrox front tube bar
Millweld Sliders
Lightforce spotlights
In the 3 years Ive had her Ive done just a couple "small" things to her.....
From the dealership I got the grille colour coded and a snorkel fitted.....from there I sent her to me neighbour Rob who owns
The Suspension Centre
in Keilor who did the suspension for me.
I fitted a 3" suspension kit....Desert Fox Foam Cell shocks all round...Dobinson Coils up front....factory rear leaves reset in the rear.
Getting suspension fitted
I got some BLING 16x8 mags and 285/75x16 Maxxis Buckshots first off, this was done within the first week.
I didnt like the BLING wheels so I sold them for a set of black Dynamic Wheels 16x8 zero offset and fitted them instead -
Soon after that was an ARB Winch Bar and a TJM engine and transmission bashplate.....I then did an offroad driving course at the Werribee Proving Grounds through work.....
I then got some ARB Brushbars and some lightforce spotlights....heres some flex pics when new -
I then got 2 SR5 sportsbars and fitted them to the tub and got a rack and fitted that ontop of them.
Didnt like the chrome so I got them powdercoated black -
I then had a nasty incident offroad........
got stuck trying to cross a small stream, the hilux dammed the water flowing and it filled up the car as it slowly sank deeper......took us 5 hours of trying to recovery it, with brocken snatch straps and we decided to leave it there till the next day at 9pm -
I had a kind friend help me get it out with his dads 15 tonne excavator the next day.
After my water incident, Im mentally scarred with water crossing of any form now.......
I took her back to Robs workshop and got him to rework the suspension for me..... he readjusted the front as it had sagged abit due to the weight of the bars and he added a rear leaf and reset it all to suit....works really well both empty and laden with weight.
I then removed the rear bar, sold the rack, got a tonneau to suit , fitted a HUMEX 3" straight through exhaust with high flow cat and no mufflers (including 3" dump pipe) and bought a set of Silverstone MT117 Sports in 285/75x16...these are BIG 285's...measuring a full 33" x 12 inches wide when new mounted on the rims.
I then got the fabrication bug......made my own lower transfercase protector....heres a pic next to the factory one -
And fitted -
I got sick of my TJM bashplate always hitting things offroad because of its poor design...I contacted TJM head office with some suggestions but they never got back to me so I fabricated my own bashplate design.
The problem lies in these 2 brackets below between the radiator crossmember and engine crossmember....the Prado's dont have them at all so I dont feel they are necessary and hinder offroad performance -
I removed the 2 brackets, got a piece of cardboard and studied how I would make something better.
I moved the cooler pipes that hang down low up about an inch higher in existing holes -
I then used the existing brackets I had removed and measured and cut them to the shape I needed them to be...these will help me both mount the new bashplate and add as support behind it . Below, one cut and one not-
Both cut-
I fitted the TJM bashplate back on to compare the new cut profile the bashplate will have compared to the previous TJM bashplates profile -
I then cut the TJM bashplate up...using the rear portion under the engine I threw the front portion away and fabricated my own out of 3mm steel plate -
The End product -
I alsop cut those tow loops off the front corssmember so they dont hit on anything.
The benefit of my bashplate is that not only does it give you more approach angle, but the first and lowest point of contact is now behind the front edge of the front tyres, so your tyres are starting to climb up and over an obstacle before the bashplate hits it. Since doing this mod, I have not once collected the front edge ......and Ive been through some hairy terrain.
Pic of the under wing plates of the ARB bar that had to be modified for clearance for the 285's -
I made my own recovery hook along the way -
Pic of some of the guard trimming I had to do early on to fit the 285's
Replaced the rear tail lights -
And did a few trips aswell -
I then started to get the offroad bug a little bit harder......I took the next step.....I sold my ARB barwork......and bought a set of Millweld sliders, front XROX tube bar.....whilst I was waiting for them to come in , I relocated the front washer bottle to make room for bigger tyres in the future so I fitted an aftermarket unit in the engine bay -
Before-
After -
I also made my own hi lift jack holder on the headboard -
Brackets -
And mounted -
Then the Xrox bar rocked up -
Heaps better approach angle from each angle......so with the new bashplate and the new bar Ive not once yet got hung up on the front end.
I then got really excited and eyed off the grinder in me garage and thought id start cuttiong up the hilux....I did a rear quarter chop...first one of its kind -
And how she looks after the chop -
I made some removable mudflaps that I can quickly take off when offroad to suit -
Sliders fitted -
With the rear quarter chop the tyres looked like they hung out abit more and not to catch the eye of the law, I fitted a set of rubber sidemount flexi flares onto my existing fibreglass ones -
Then.....................we put it up a gear........
I made friends with Wyatt Scott, co owner of Demello Offroad in the USA aswell and Rock Solid Toys (RST) and Marlin Czajkowski, owner of Marlin Crawler.
They offered to come to Australia and fit the very first Crawl Box to a current model hilux in the world.......
This here is Wyatt's Tacoma by the way.....it was the very first 05+ Model Tacoma in the US to get a front solid axle swap done to it and it rides on 40" tyres -
Front axle is a Currie Enterprises Rock Jock 60 with reverse cut 5.38 gears and ARB locker with 35 spline axle's Ford F-450 1 ton knuckles, Warn premium locking hubs and Wilwood disc brakes.
Rear axle is a Currie Enterprises heavy duty high pinion Dana 60 shaved with reverse cut 5.38 gears and ARB locker with 35 slpine axles and Wilwood disc brakes.
Wyatt with his family next to his truck -
Heres a couple short vid's of his tacoma in action -
http://s134.photobucket.com/albums/q99/vlives2ride/08 21 09 TTORA BBL/?action=view&current=0822TTORABBL016.flv
http://s134.photobucket.com/albums/q99/vlives2ride/08 21 09 TTORA BBL/?action=view&current=0822TTORABBL017.flv
http://s594.photobucket.com/albums/tt30/MRDicus/Big Bear Aug 2009/?action=view&current=WyattGatekeeper.flv
And heres a pic of Marlin's early 80's hilux., marlin has been credited with being the father of Rock Crawling in the USA....having developed the very first crawl box (2 nd transfercase)...he runs 3 transfercases in his own hilux.......
Marlin Driving his truck on 37's -
And the famous video of marlin "walking the Crawler" -
http://www.youtube.com/watch?v=g4ygskAqoO0&feature=related
So you can see these blokes are the best in their game/business.....
Anyway, back to my build
So Ive got this first of new designed 4.7 geared Crawl Box thats gonna be fitted to my Hilux......because it is 8.5" long, I had to lengthen the front tail shaft by that much and shorten the front portion of the rear 2 piece tailshaft to get this to work.
Shortened front portion of 2 piece rear shaft below-
Transfer Case removed -
We came into a problem once the factory transfercase was remvoed...all the technical info on the current shape hilux I had ammased showed me that it had the same transfercase as the FJ Cruiser does in the states....and it does, except for some reason the Hilux has a forward shifting transfercase rather than a top shift transfercase which means the shifter itself fits above the rear transmission bellhousing and uses longer shift rods going back into the transfercase to shift gears.
This was a problem and we needed to convert my trasnfercase to a top shift......we didnt have the parts here, the Yanks were only here for a week....the front bellhousing adaptor was wrong too......it was gonna be a tough ask.
Below you can see the longer shift rods coming out of the factory transfercase -
What we did was we went to a Toyota Wreckers, we bought a transfercase from a 2003 Hilux V6 4x4 which had a top shift, but it was right hand dropped as opposed to the current hilux's left hand dropped.....no problem, we just needed the shift rods anyway. So we took it and came home where Marlin stripped both transfercases and rebuilt my one with the rods we needed.
Here you can see the factory Hilux transfercase fitted with the shorted rods......the factory transfercase also has a blanking plug where the top shift handle goes into in those applications so we removed it and made our own smaller blanking plug to cover the hole in the back of the transmission bellhousing.
The other thing we did, because of the tight spot the factory transfercase shifter handle will now be in, we fitted a marlin Crawler short throw kit......
Below is a comparison pic of the different shifter bases....from far left to right we have the marlin quick shifter base, then a factory toyota quick shifter base from the wreckers, then the factory base the hilux has and then the blanking cover that was on top of the transfercase that we removed -
Below is a pic of the custom shifter rod we made to shift the Crawl Box and enable the shifter itself to be in the factory location where the factory transfer used to be -
To make room for the new position of the factory transfercase, we had to remove the center console, remove the handbrake assembly which we needed to modify the mounting bracket as it was in the way, we removed the auto shifter assembly which we needed to slightly trim and we drilled a 3" hole through the 3 floor panels off the hilux -
In between each layer of panel we heavily bogged it up with silicon to keep it water proof/water tight. Below you can see a close up pic with the quick shift base poking through the floor -
Wyatt has to also extend all the wiring 8.5-9" and after a couple in and out fits and refits to make sure everything was ok, and the new shifter fit properly and didnt hit and anything we finally got it done with the new parts late Friday night....we started Monday morning......
Inside the hilux, we had to try and make the new shifter location look good and as factory as possible.....so we drilled a hole infront of the center consol lid where the new shifter was going to eexit -
Below you can see where the new factory transfercase shifters location is poking through the floor in amongst everything else -
And the end product with the console cover in place -
The quick shift makes a really big difference to the throws of the shifter, much much shorter....
What has the Crawl Box done to the Hilux?
Here, let me explain......
I have used my 2007 Hilux D4D auto as the basis for this example....bear with me.......

Hilux D4D Auto

Diff Ratio = 3.73

1st gear Ratio = 2.804

Low Range Ratio = 2.56

To calculate the Crawl Ratio we multiply first gear of the transmission with the low range of the transfer case -

2.804 x 2.56 = 7.18

Now multiply the previous number (7.18) by the diff ratio (3.73) = 26.78 Crawl Ratio
This would be far better in a manual Hilux diesel as first gear ratio in a manual is 4.313 and the diff ratio is 3.53 meaning it has a crawl ratio off 38.98

Basically, the higher the number, the slower the crawl speed is.

Dont forget Im on 33's so it kills the current crawl ratio in low range......

OK, now with a 2.28:1 crawler box it would be--> 26.78 x 2.28 = 61.06 Crawl Ratio

What really kills it for the hilux is the high diff ratio (3.73) and the high 1 st gear in the auto (2.804).

Now with the 4.7:1 gears that will be fitted my crawl ratio will be -

26.78 x 4.7 = 125.86 Crawl Ratio

So my standard Hilux has crawl ratio of 26.78 and with the Hilux in Compund Low with the Crawler it will be 125.86.....effectively, 4.7 times slower than standard.
Now, back to business...heres a couple of vids from the very first time we took the hilux offroad to test the crawl box -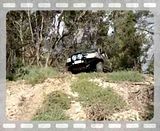 Since then Ive gotten the front ARB locker fixed that was leaking and offroading now is damn awesome........
Just thought Id mention by the way, the following Tacoma is my inspiration and I hope to build my hilux into something similar one day -
Heres a couple of pics and small vids from Steep Track at tallarook.......
pics of Steep Track looking up at the first section -
this is looking down from the first section
here you can just make out some of the blokes at the bottom of the track at the top of the pic
after the first little bit of track at the start right before it opens up, to get access any further you have to climb over a big tree root thats been eroded infront of it, the steep up was pretty big so me and steve showed off our masonry skills and build a little ramp to help me up and over it. i wasnt takin more risks than i had to on this root, ive seen a landrover blow a center diff trying to climb over it in the past and another hilux a rear diff
then it was on the way up......that first root took 3 attempts to get over as as soon as your over it you come across another one at the same point when your rear tyres are getting over the first one so it slows you down.....if the front locker was working would have been better.
steve was kind enough to upload a vid of my run -
part1 -
http://www.youtube.com/user/Steve9R#p/a/u/2/d6R114IKssI
part2 -
http://www.youtube.com/user/Steve9R#p/a/u/1/ztlaFzeHxIk
part3 -
http://www.youtube.com/user/Steve9R#p/a/u/0/xepz6Uns8PM
doesnt do it justice, you gotta try and get there and do it yourself.
Here's another vid taken by steve of the luxi climbing out of a empty creek up a steep embankment -
http://www.youtube.com/watch?v=xqXhzpgJJiU
I sorted out fitment issues I had with the Xrox bashplate mating up to my custom bashplate since I dodnt use the factory mounting location so abit of adjustment and some work got it working fine......
On the front of the bashplates I added a small Marlin Crawler Sticker as a little warning to prospective passengers....LOL
I also replaced the dodgy cheapo little light I had on the rear of the rollbar to light up the tray with a Twin Narva LED light that I got as part of the promotional gear during my 4x4 TV shoot. This light takes less current and the light is a white light not yellowish and lights up a better area to see gear in the tub at night.
Few more pics from another recent trip to Tallarook -
Driving up a huge rock on one of the tracks.....
http://s736.photobucket.com/albums/xx3/Hilux_Max/?action=view&current=max-boulder-steep-trk-1.flv
The rocks were greasy with moss and moisture on them, and the tracks were bit greasy too....
the fact my tyres are just over half worn didnt help either....Hmmmmm...tyres
http://s736.photobucket.com/albums/xx3/Hilux_Max/?action=view&current=crawln-over-rocks-1.flv
Me testing out the crawler....again :roll:
http://s736.photobucket.com/albums/xx3/Hilux_Max/?action=view&current=crawlin-over-boulder.flv
got my new towbar brackets that were custom made to raise the center section of the towbar to match the rear quarter chop.
I also got them to make an extra tab going horizontal just below the chassis rail where I put two extra bolts either side to clamp it on even stronger......number plate was just tech-screwed into the towbar itself...
see pics below -
am hoping to at some stage make side protection bars to protect the lower quarter running off the sides of the towbar.
And thats where I pretty much am now.......
Future Mods
The next thing Im going to do is sell the black sportsbar and tonneau cover I have and I am going to purchase the following frame for the ute tub in black -
And on top of it Im going to fit a luggage rack with a racksack of some sort to carry all the family's clothes, linen, pillows etc when going on trips away and will be below the roof ehight when fully loaded -
Ill mount my hilift to the rear of the rack, a shovel and axe either side of it......
Rack sack similar to below -
I got the following 1st of their kind heavy duty front driveshafts coming in the next week or so to help test out before release to the public -
Standard Hilux CV shaft on top and upgraded units below....these are development units, not released yet so I hope to test out their strength with the crawl box and front locker.
The specs on the CV's we will offer:
1.5 mm heavier shaft
15 mm extra extension at the CV... which equates to about 4" extra operating angle at the wheel.
Outside cup is 10mm bigger... making CV cup wall heavier.
These would work really well with a set of UCA's that I hope to get one day, coupled together they should give a little bit more down travel without any binding whatsoever. And should be able to handle the abuse a crawl box and front locker and future 35's will throw at it.
And then 35" tyres of some sort....Im leaning towards a set of 35/10.5x15 Silverstone Extremes at the moment.
Then a rear ARB Locker.
Wish-List
Custom Tube Rear Tray,
Long range fuel tank and water tank
Roof rack with LED Light Strips on the front
Front and rear winches and dual batteries
Maybe.....a custom solid front axle conversion....that'll be last after everything else.