Discussion Starter
•
#1
•
Made it back! Sorry for the time delay in getting some photos up, but a lot of stuff backs up when I'm gone for two weeks.
I had a blast. Too bad all the roads were washed out in larmier county. I decided to move to another location when ff33 called an updated me on the state of the trails. So I went through Rocky Mtn Nat'l park and freelanced from there.
Here is recap with photos. Though, I only have pics up until spring creek. Grit must have gotten into the camera and it ceased to function after that.
124 pics can be viewed at
http://s449.photobucket.com/albums/qq212/Packrat01/2010 packrat marathon/
Trip started here at hackett gulch
But I was met with this sign at the top. So no longer can one loop hackett with longwater gulch. Although, some thoughtless ATV riders have bypassed the cable fencing
Entrance to Grizzly lake
End of Grizzly lake trail - nice camping there!
Next was Iron Chest
Things were going well, so I decided to add OCG to the mix
Tried to clean this optional obstacle just before Whale Tail. Something I was able to make when on a day trip last year, but the extra weight of all the gear prevented me from getting over. OOOps, not being very smart!
Ended up on the wrong end of the winch line
But pulled myself free...
But, not without carnage - Damn paint wasn't even dry on this mod!
After OCG, I drove to Clohsey's Lake trail. The water crossing was very long, DEEP, and running very fast. So I made a smart decision and chose to camp at the trailhead and skip this trail. Instead, I spend the evening going over my truck, respooled the winch, and reset the antiwrap bar so that the pinion angle would not be affected by its new configuration.
Next was sayre, McNasser, and peekaboo gulches. Sayre gulch had a crossing as well. It looked deep, but was short. I slowly nosed in and was immediately up to my front bumper. So I backed out and put my snorkle raincap on and closed the deckplate mod to cross it. I'm so glad I did that. On the way back through I took this video clip. If you watch closely, water comes over my left front fender and enters the hood louvers, then later steams out the same vent! This is a movie clip, so click on it and it will direct you to photobucket where you can view it.
Busted some snow drifts and was first tracks to top of McNasser Gulch. Raincap on the snorkle.
Salmon with baked potato on the grill that night
Next up - Holy cross. Almost made it through french creek, but got high centered right here.
Rather than pull winch line again, I decided to use my Atlas and shift my front over a little to change the line. Reverse Front Dig... Would have worked too, except my front driveshaft broke - Damn!
After changing it in place, I crawled right out. Continued on for a stretch, but did not make it to Cleveland rock. An off camber, muddy, snowy section stopped me and took about 1/2 hour to back out. Camped near the end of the trail and looked over my rig..... Whats wrong with this picture....
Damn! I was able to get it looking somewhat normal... and I parked it overnight with some articulation to try and straighten it out some.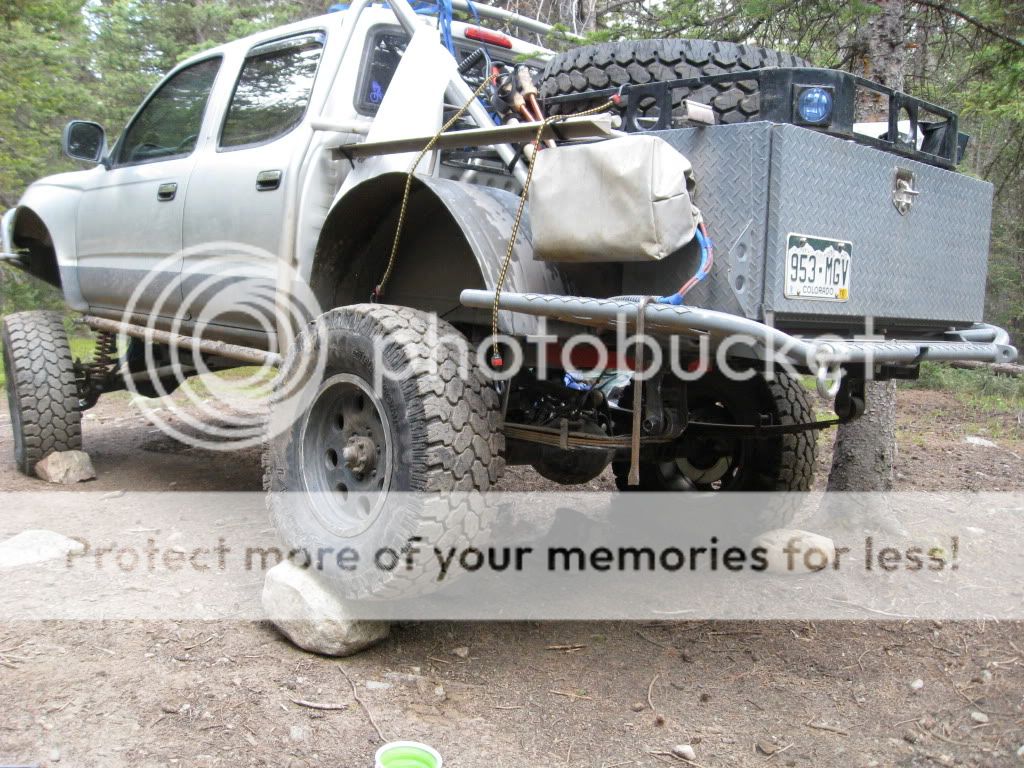 Then, off to REd Elephant, Bill Moore, Mill creek
We got some weather but still had a good time
It would have been a miserable night on the trail, so I wussed out and got a room in Idaho springs. Then went to spring creek the next morning. After getting my butt kicked on Holy cross, and being on my spare driveshaft, I was trying to play it safe. Found myself slipping toward a hole on this first obstacle. So I chose the winch again the wussed out on the bypass. All the weight I was carrying made a huge difference in the trucks abilities.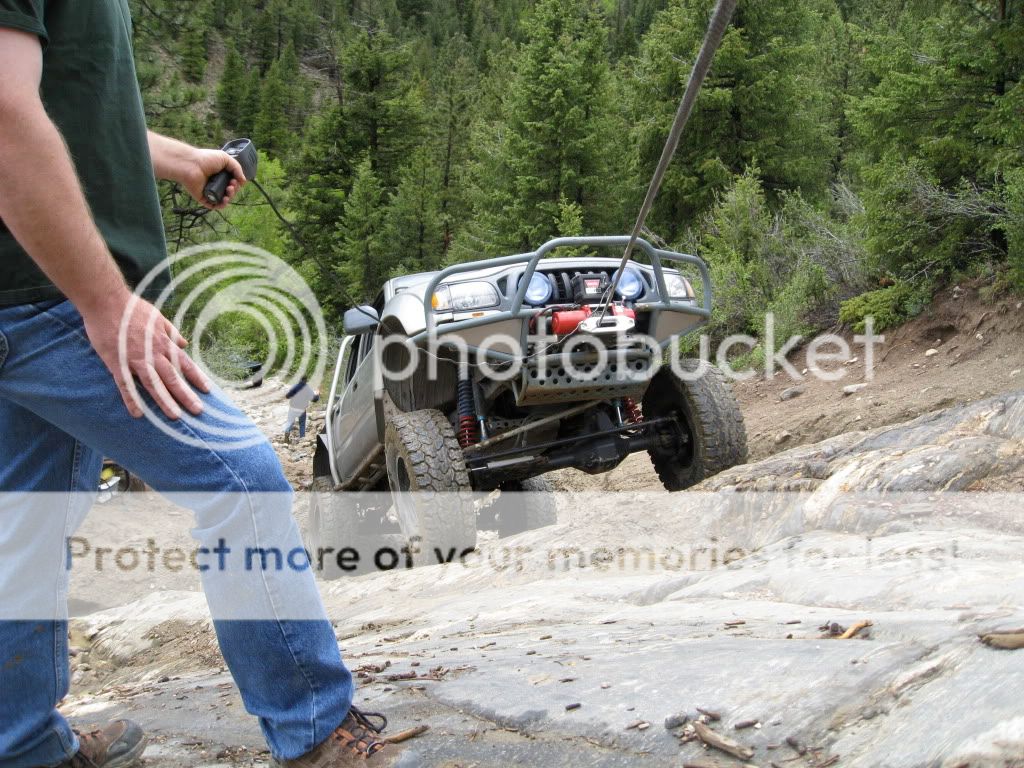 The rest of the trail was fine, but I wasn't pushing hard lines either.
Here is a shot of Jay aquiring some carnage on his door
Eric just throttled up, no problem, until a too short shaft stopped him. Stopped him about 8 times!
But, give him credit, he still tried the harder lines
Though, not without some B.D. - not that he cared.
Nice shot of Jay..
Thats it for photos. Dead camera. I decided again to sleep indoors that night and returned to Idaho springs. But, on the way, a sidewall tear acquired on OCG decided to blow. So now Im on my spare unbeadlocked tire as well as spare front driveshaft, bent antiwrap bar, and bent left rear main leaf spring! But, the show must go on.....
Monday, I did apex road, rollins pass and Jenny creek. Jenny creek had some long and deep drifts to cut through at the top and I felt that solo, it would not be wise to trust my extractions to the one winch. So I camped on Jenny creek that night and pulled out my flat repair kit and used three plugs to get the sidewall to hold air. At least I now had a false sense of security with a "spare" that held air.
Next was Eldorado Mtn - Closed
Moved onto Caribou creek - Closed
Moved onto MSV, coney Flats- closed again - Damn, now Im way ahead of schedule.
Went into Bunce school road. Found a nice campsite at the jctn of 202/202A and stayed there for two nights, but drove the tight little gully of 202, and the T-133A plane crash site. 202 put me at 30 degrees sidehill! Staying there for two nights gave me plenty of time so I ran (on foot) Bunce school road for 90 minutes with the dogs, did laundry at the campsite, bathed, and washed most of the mud off my truck.
After that, everything was Closed, Closed, Closed. Damn! Did RMNP and camped on beaver creek in Arapahoe nat'l Forest. Moved onto Cottonwood pass, then Transfer trail. This put me close to home so I got back one day early. Which turned out to be a good thing.
My driveshaft is getting fixed, and a new Procomp just arrived. I'll leave the antiwrap bar and rear leaf spring until Packrat has some down time this winter. Camera got tossed into the trash and I'll bring a waterproof/shockproof one next time. Rest of the year will only be some day wheeling trips I think as time is tight. But Im starting to plan for next years Adventure........ Montrose maybe.... whose in?