Discussion Starter
•
#1
•
Well the 10+ year quest for a clean, rust free, removable top, mid wheelbase, Left hand drive, 70 series landcruiser has finally yielded us this fine beauty. With the help of Landcruiser 70 guru, Hugh of Safari LTD, we have the unicorn vehiclethrough JDMLandcruisers.com to start this long awaited project. Spain must be a great place to live if you are a BJ73, as this there is no rust, and even the original paint is in good shape. The "Mi Toyota Es Fantastico" decal on the rear window is the only modification so far, and it will stay! Our latest addition to the our "familia" of land cruisers will be named "Inigo" Montoya. For those that haven't seen princess bride
Stock vehicle specs:
1987 Toyota Land Cruiser BJ73 LX: Silver with white FRP top, original 80's multicolor decals, 3b diesel, full float Lsd rear axle, 5 spped mt, 24 volt, "Mi Toyota Es Fantastico" decal
Planned upgrades will be a multi purpose offroader and daily driver. Big tires, more power, etc, retaining and/or improving drive ability.
Planned upgrades:
-servicing of basic maintenance items, injectors, etc.
-Turbocharger for more power.
-Coilover front suspension via 3 link and panhard.
-Coilover rear suspension w 4 link
-80 series full float disc brake rear axle with Nitro custom 32 spline chromoly axles, 100 series type 4.88 Ring & Pinion, solid spacer, air actuated locker
- 80 series width hybrid 9.5" front axle Nitro 80 series chromoly birfield kit and custom 32 spline axles, Aisin hubs with chromoly hub gears, nitro 100 series type 4.88 Ring & Pinion set, solid spacer, air actuated locker
- upgraded crossdrilled cryo'd rotors
-37" tires on beadlock wheels
-3" lift height, custom fender work
- bumpers, sliders, winch
- HID headlight conversion, Rigid overhead light bar & duallys
- ARB twin compressor, air tank, 24v to 12v converter for stereo and aux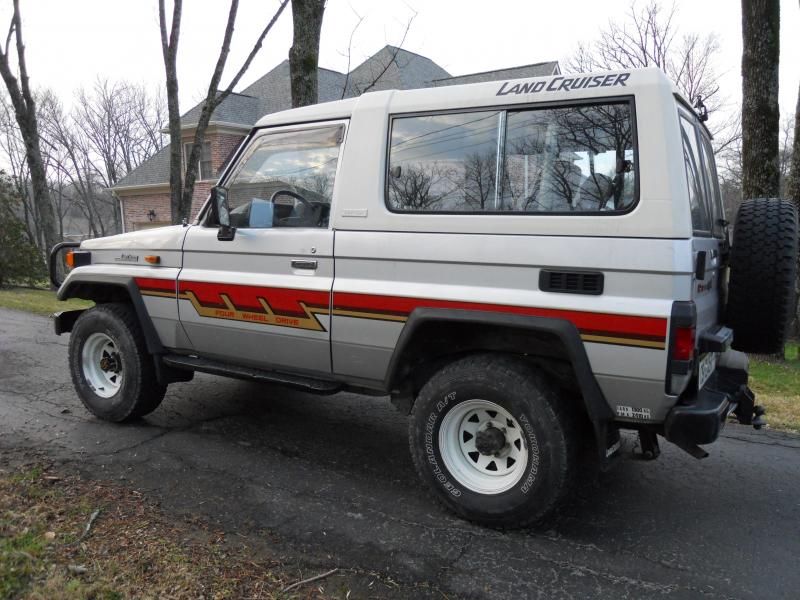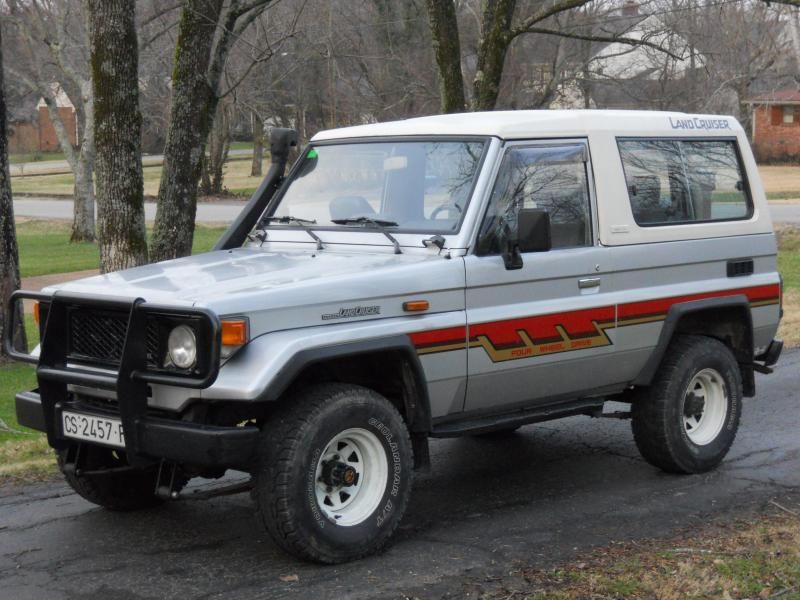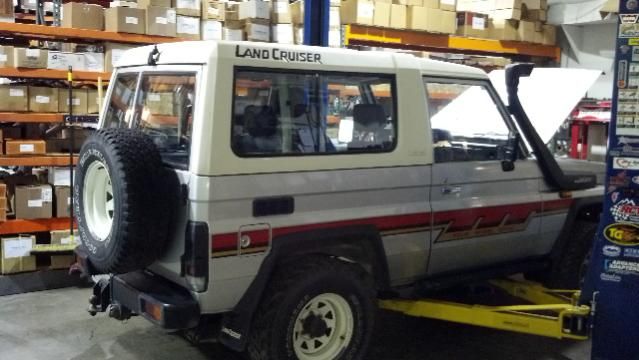 Well, got the turbo kit ordered today, as well as a bunch of maintenence items. Also installed an ARB CKMTA12 24 Volt Twin 100% Duty Cycle compressor.
The turbo kit we used was this one:
http://jeffersonstatemachining.com/P...s_Services.php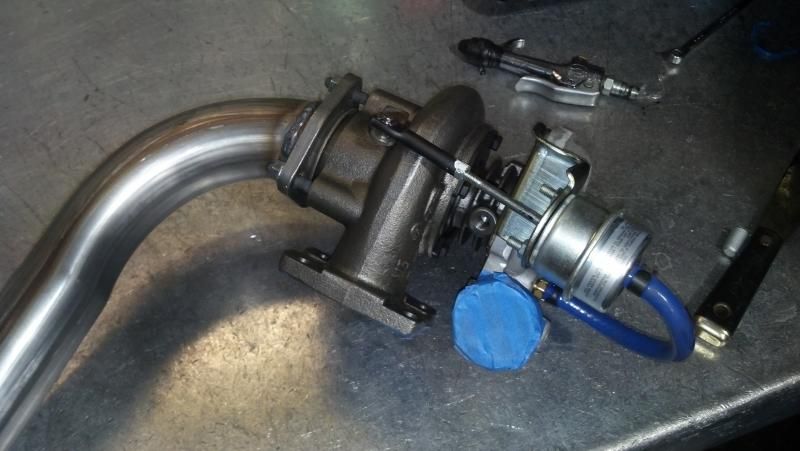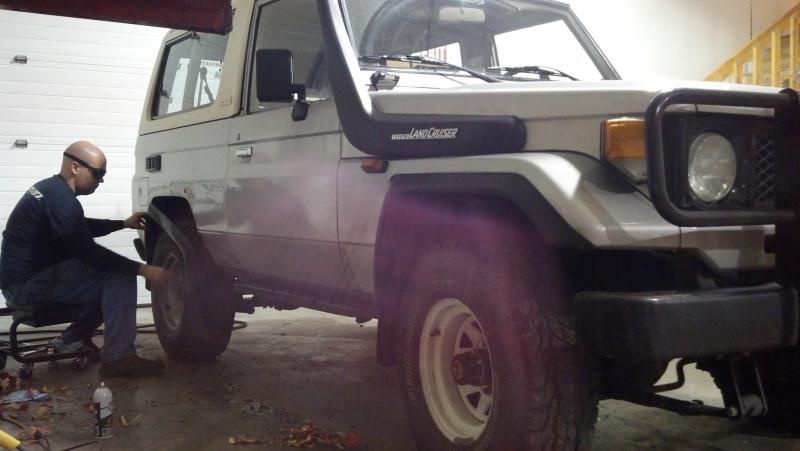 The kit was sourced from Keith at Jefferson State Machining, he was quite knowledgable, and quick to return my call, and is in the USA. Price is good too, but I told him he should raise his price:
Products/Services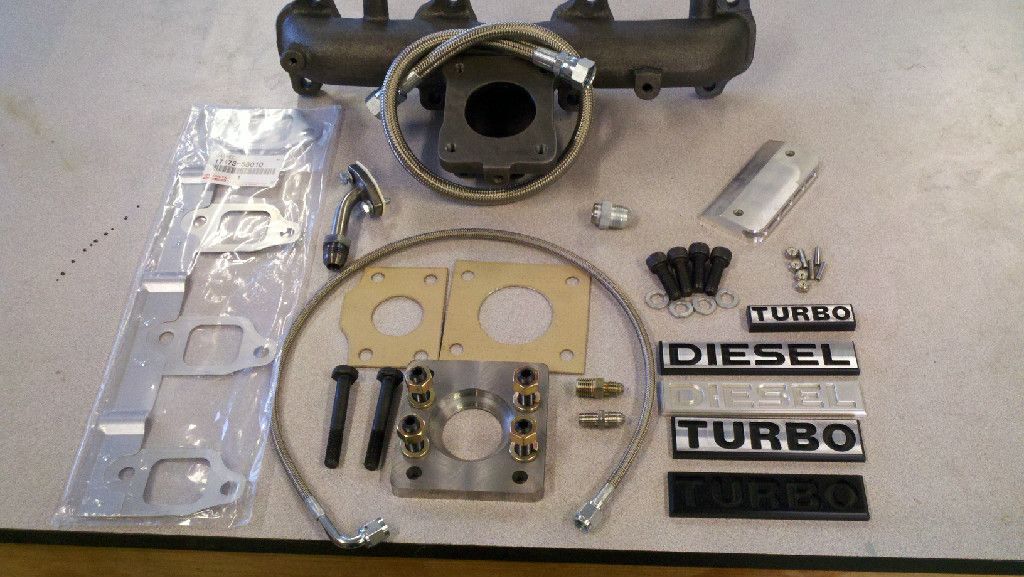 The kit was very nice and features:
-Garret GT Series Turbo
-Oil feed line w/ direct fitting, return line w/ weld in bung for oilpan
-13bt type reproduction Exhaust Manifold, gaskets
-Turbo to Manifold adapter plate.
Not included:
-12" piece of 2" exhaust
-3 bolt flange w/ flare to attach downpipe
-Exhaust
-Depending on your air cleaner tube, you may need to source a 2" 45 degree silicone connecter, and a 2.75-2.0" reducer and another roughly 12" chunk of 2" tube.
Install is pretty straight forward.
Before starting the job:
-check your oil filter, if it points up you will need a new adapter. Ours did, so we sourced the appropriate parts from Steven at EBI Cruisers in BC.
-I'd also suggest picking up a 2' chunk of 2" stainless exhaust pipe to use for the turbo-intake and the air cleaner-turbo
-I'd suggest bringing the turbo to an exhaust shop to have them fab a 3 bolt flared flange with a 90 deg bend and about a 16" downpipe so you can at least drive it to the exhaust shop when finished.