After a lot of planning, the time has finally come to put a solid axle under my truck.
Here's how the truck sat at the beginning of the build.
Stats before the swap:
4.88 differential gears with front/rear ARBs
Dual cases with a 2.28 front case and 4.7 Lefty
Icon coilovers
Deaver 11 leaf, leaf pack paired with Bilstein short body remote reservoir shocks
Bud Built front skid
Flat belly with custom aluminum/UHMW skid plate
CBI front/rear bumpers and sliders
Parts being used for the swap:
Front Axle:
Diamond housing
9.5" Land Cruiser diff
5.29 gears w/ ARB locker
RCV axle shafts
67" WMS-WMS
Tacoma brake kit
Keyed steering arms – flat
25mm bearings
Aisin manual hubs
Rear Axle:
Diamond housing
9.5" Land Cruiser diff
5.29 gears w/ ARB locker
66" WMS-WMS
Full-Float
"Drotor" brake kit – current model 4Runner rear disc brakes
FROR drive flanges
30 spline 4340 axle shafts
Front Suspension:
4 Wheel Underground 3 link
14" Radflo remote reservoir coilovers
2" Radflo air bump stops
The drivetrain will mostly be staying the same. Same set up, just replacing the Lefty with a right-hand drop case. The original dual case set-up, front diff, rear axle, and coilovers will be installed in my 00 4Runner after I complete this build.
Here's the drivetrain specs:
3RZ 2.7L 4cyl engine w/ 272K miles
W59 5 speed manual transmission
Crawl box w/ 2.28 gears
Inchworm Gear Clockable Dual Transfer Case Adapter
Right-hand drop transfer case w/ 4.7 gears
Yes, the axles will be wide. I chose 67" front because I think the long term goal for my 4Runner is a long travel front and triangulated 4 link rear. It seems like most long travel kits have an overall width of 67", so this will keep both vehicles the same width.
Here's some early pictures of the axle width.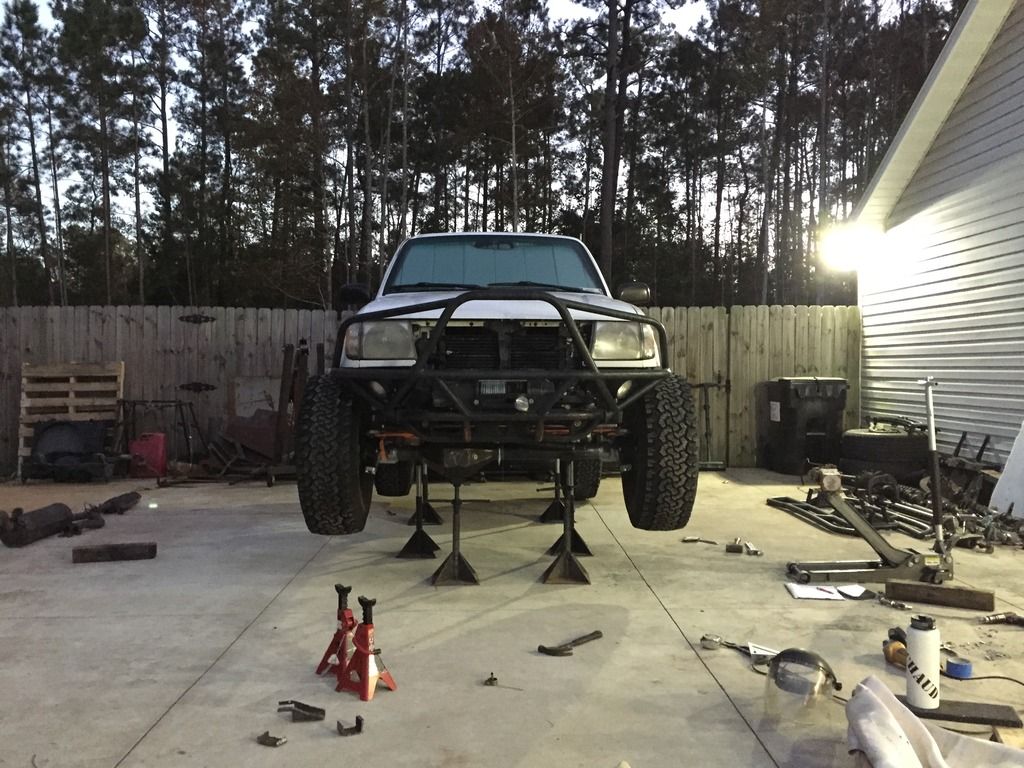 A little background of the truck.
When I bought this truck I never even considered using it for off-roading. Once I found out they were great for it, it was all down hill. I don't like doing things twice, so I wanted to lift it right the first time. I went with Icon coilovers and a Deaver leaf pack and was happy with my decision. I geared it to 4.88 and added ARBs, which was great for the 33s and ok for the eventual jump to 35s. I added a Lefty, which helped a lot, then I added a crawl box and enjoyed the selection of gears I had to choose from. I thought I would never bob the bed, then I did. It's just been a journey down the rabbit hole. But it's been amazing and the truck has done very well. I've wanted to swap a solid axle for a while. At first I wanted to do a custom 3 link. Then I realized how much time, effort and money it would take to design my own. I looked into All-Pro, and it seemed ok, but didn't really do it for me. I almost settled on just using a Trail Gear leaf kit because of how complete they are, but I knew it would have a high frame height and it wouldn't perform as well as links. Ultimately I'm glad I decided to go with 4WU. I'm confident that with this link system and axle choice my front end will finally be complete.