Discussion Starter
•
#1
•
I picked up another 1st gen Toyota 4Runner last week, this one is a 89 that's got a new engine but the trans has a bent shift fork. I got it for $1k and I have two R150 Toyota 5speed trans to fix it. The interior was rough, the clear coat was flaking off, but there is zero rust on the body or frame. The engine runs great, as it should because it's a new long block with around 15k miles. The bad is the speedo doesn't work and hasn't worked in two years, so it's very hard to believe the 15k on the engine. I did look the engine over very good, the block is still shiny black like a newish engine would look. It has a slight oil leak coming from the drivers side valve cover, easy fix. I knew the trans was bad, it has a bent shift fork or something. The guy has been driving around his in-laws farm for the past year using 4low and starting off in 3rd. The trans jumps out of 1st and 2nd gear, I drove it down the road and actual got it going in 2wd using 1st but couldn't go to 2nd, it drove very good and had more power then my 91's 3.0. It has 3rd gen 4Runner wheels and some wear out 31" mud rovers. There is also a 1" body lift on it. Overal I feel that for a $1k 4Runner that's over 20 years old, I got a great deal. The clutch that's in it should be good cause a new one was installed when the engine was installed, but if it turns out not look good when I pull the trans I have a center force clutch for it. I plan on swaping the trans out Thur night or sometime next week, lucky for me the shop I work at on base allows us to use the shop and vehicle lifts. We also have a nice trans jack so it should be a lot easier then the time I changed the clutch on my 91 4Runner in my driveway. I ordered some ball joint spacers that'll give the stock IFS around 2" of lift and a pair of BDS shocks, for $85. I'm going to do a add a leaf/shackle in the rear and should allow for a 33" tire. For the interior I'm going to look for either some 2nd gen 4Runner SR5 seats or some that I find in a u-pull-it that feel/look good. I will be on the look out for some door panels and carpet, but if I can't find the door panels I'm going to make my own. I'm going to remove the carpet and attemp to pressure wash and clean it but I don't think it's going to look any better. Later on I'm going to do a light sanding on the body and rattle can it red with some rattle can clear coat.
Here's the first pics I've taken of it,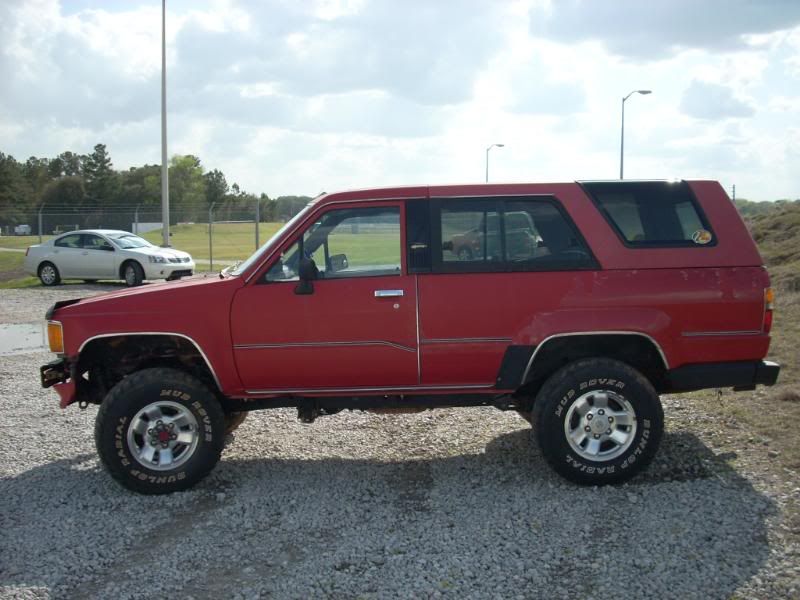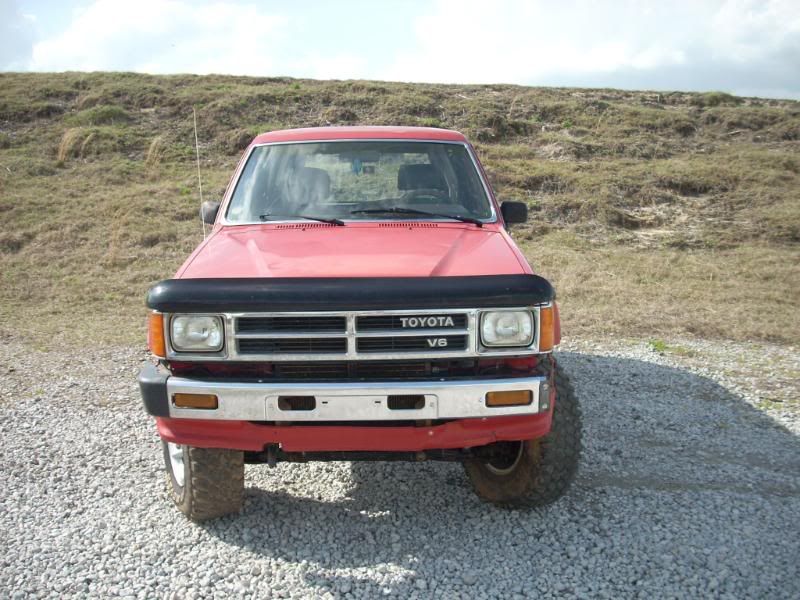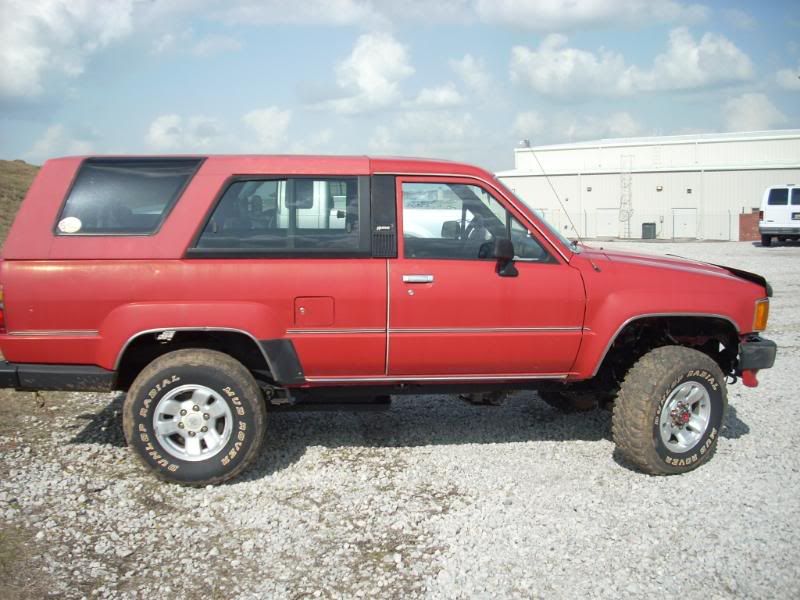 Not bad looking for a $1k classic 4Runner with a new long block and everything works, even the AC (well there isn't a radio but some 6x9's and 1 10" sub mounted in the rear)
Still unsure on what I'm going to do with this after I get on the road. I've had a couple guys I work with tell me that they would buy it after I changed the trans for $3k. If I keep it I'd like to leave mostly stock and give it our daughter, she'll be driving legally in 9 years... LOL and a classic 4Runner would sweet.
Steven