TTORA SO-CAL

presents

Miller Jeep Trail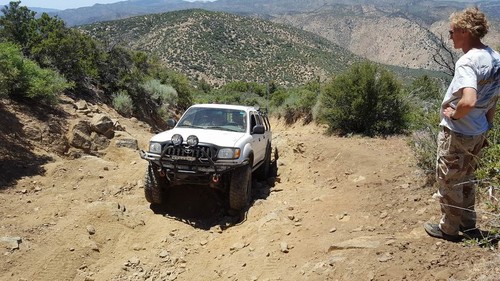 Miller Jeep Trail is located off Interstate 5 about an hour's drive north of Los Angeles. It is quite short -- only three miles, but to get there you first have to take the much longer Lockwood Mountain Trail, which winds over several mountain ridges taking you from the Lockwood Valley to Lockwood Flat. Then the Miller Trail takes you straight up the side of Alamo Mountain. Most of the trails around LA are made up of rocks and shrubs, but this trail takes you up amongst the trees through the Los Padres National Forest.
The trail covers a lot of ground. You will go up and down the local mountains a few times before you make the final ascent. The final ascent up Alamo Mtn is the most difficult section of the trail. It gets steep, loose and rocky with some potential for hitting the low points and rocker panels on stock rigs pretty hard.
More on Miller
After we complete Miller, we usually hang out at the "skills" area and play around.
Vehicle Minimum Requirements:
4WD, sliders/skids, tow points, 31" tires w/locker
Stock rigs should anticipate some scrapes and bruises.

Meet Point:
Flying J Truck Stop
42810 Frazier Mtn. Park Road
Lebec, CA 93243
N34 49.025 W118 53.150
You'll be able to fuel up here as well as get ice and lunch stuff.
Meet Time:
9:00 am
Communications:
CB ch31, HAM 144.450 for car to car
COVID-19 SAFETY RULES:
Please maintain social distancing with others where possible when outside your vehicle. Face masks are recommended.
Total time on the trail varies by group size, but 4-6hrs is typical. We will be stopping briefly for a lunch break. It'll be warm so pack a few extra bottles of water!!
2019 Trip pictures
2016 Trip pictures
2015 Trip pictures
2014 Trip pictures
2013 Trip pictures