My 1997 Tacoma Sas, New Crossmember Photos!!
HERE IT WAS JUST OVER A YEAR AGO.. A STOCK 1997 TACOMA.. 2.4L
THEN....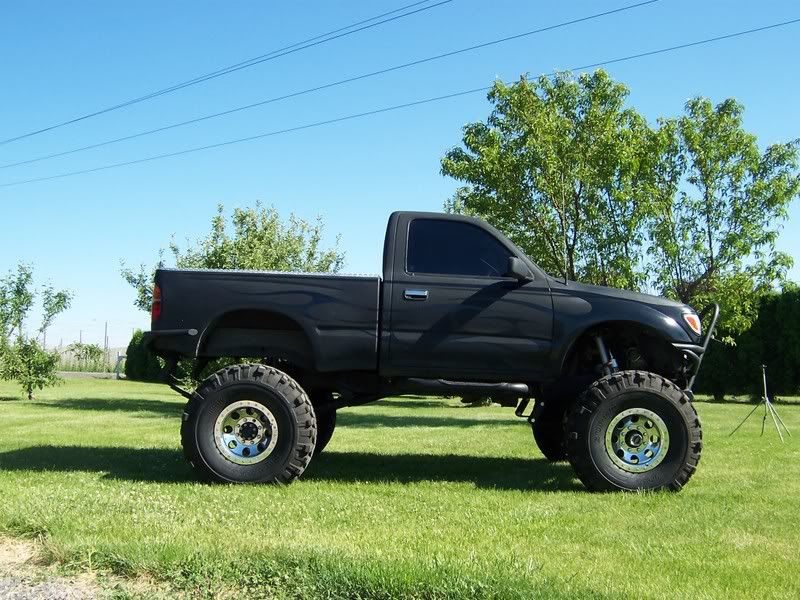 AND NOW AFTER
WAY
TOO MUCH MONEY..
HERES HOW THE PROGRESS WENT... AFTER A COUPLE WEEKS I BOBBED THE BED ADDED A 3" BODY LIFT & PAINT.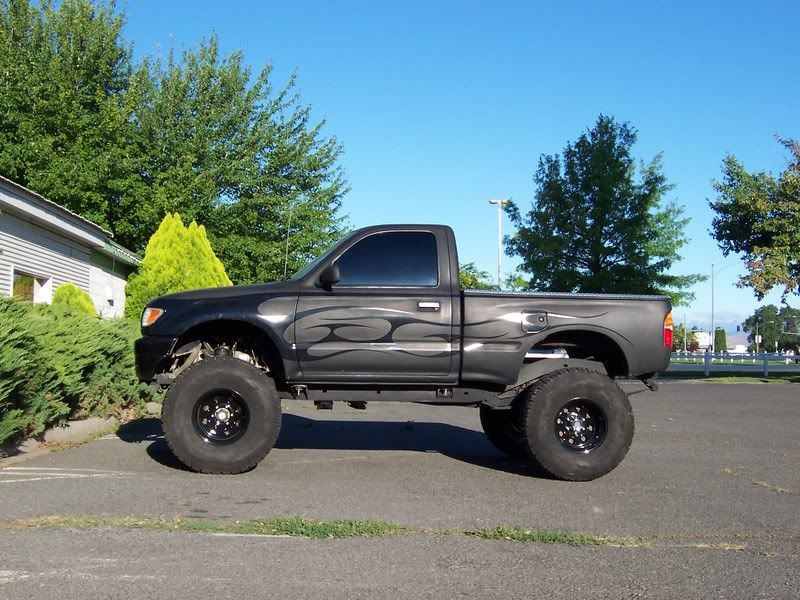 THEN ADDED A LITTLE 3" SUSPENSION ON TOP OF THAT.. IT WAS GOOD ENOUGH FOR A WHILE UNTIL I REALIZED WHAT COULD BE DONE..
THEN CAME THE IMPORTANT STUFF
FRONT:
HIGH PINION DANA 44 OUT OF A '78 3/4 TON FORD HIGH BOY, ARB LOCKER
CHROMOLLY AXLES, SUPER JOINTS, ARB DIF GUARDS, WITH 5.38 GEARS.
4" TRAIL GEAR SPRINGS.
REAR:
DANA 60 OUT THE SAME RIG. FULL SPOOL, DISC BRAKE CONVERSION, 5.38 GEARS.
4" TRAIL GEAR SPRINGS
SHOT OF THE 60 SPOOL!!
LET THE REMOVAL BEGIN!!! NOTICE I ALLREADY FABBED UP THE FRONT CROSSMEMBER WITH FULL BUCKETS FOR THE SPRINGS TO HANG IN...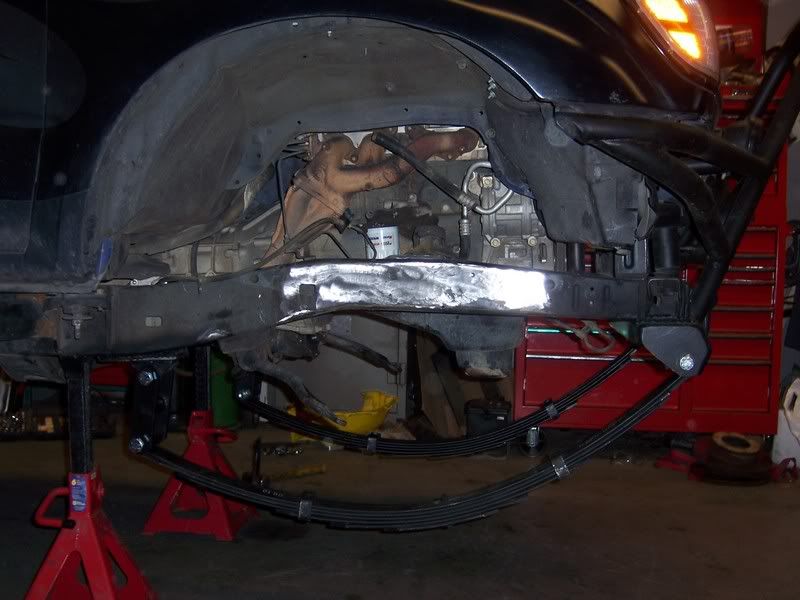 SPRINGS INSTALLED.. THIS ONLY TOOK HALF A DAY SEEING HOW THE CROSSMEMBER WAS ALLREADY MADE AND REAR SHACKLE MOUNTS IN PLACE THE WEEK BEFORE..
DAY 1 SITTING ON THE AXLES.
I HAD TO FLEX IT OUT.. EVEN THOUGH IT WAS JUST ON THE ROLLERS..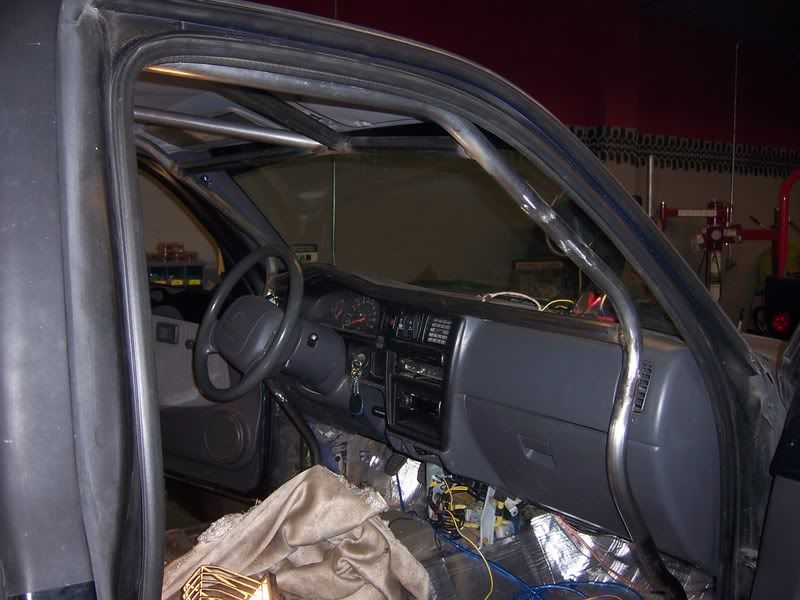 INTERNAL CAGE IN PROGRESS..
NOW FAST FORWARD A COUPLE WEEKS.. STEERING BOX INSTALLED
GOOD FRONT SHOT SHOWWING THE FRONT BUMPER AND HANGERS, NOT TO MENTION THE 38" SWAMPER TSL'S
SHES WIDE BUT NOT TOO BAD..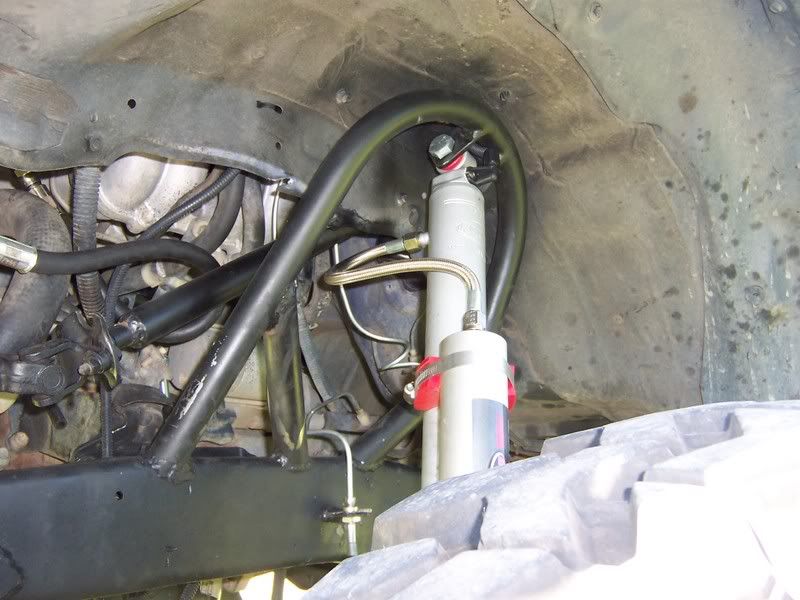 FRONT SHOCK HOOPS WITH RANCHO 9000 PRO SERIES 15" TRAVEL SHOCKS WITH ON BOARD ADJUSTMENT.
HIGH STEER ARMS "ALMOST DONE" THERE NOT QUITE HIGH ENOUGH EVEN WITH THE 1" SPACER, I NEED TO GET TALLER ARMS,, THEY SEEM TO HIT WHEN FLEXED ON THE DRIVERS SIDE..
GOTA HAVE THE T-1OO OIL PAN..
NOW THE REAR..
REAR CROSSMEMBER WITH SHOCKS INSTALLED.
CLOSE UP SHOWING THE PROPORTIONING VALVE SETUP..
REAR DISC SETUP.
GOOD SHOTS OF THE REAR BUMPER I BENT UP.
ON BOARD AIR IN THE BED.. AND YES... THATS AN AIR HOSE REEL UNDER THERE....
INTERNAL CAGE PICS..
CENTER CONSOLE WITH ALL THE RANCHO ON BOARD SHOCK ADJUSTMENT, AIR PRESSURE GAUGE, AND SWITCHES TO RUN EVERYTHING...
13/38/16 TSL ON THE MICKY THOMPSON CLASSIC LOCKS..
JUST A NICE SHOT OF THE ALMOST FINISHED PROJECT..
STILL TO GET:
FRONT DRIVELINE
TALLER STEERING ARMS
DIFF BREATHER HOSES
AND WHO KNOW WHAT ELSE.. ??
IF YOU ANYONE HAS ANY QUESTIONS JUST ASK.. I'M MORE THAN HAPPY TO ANSWER ANYTHING TO THE BEST OF MY KNOWLEDGE...I KNOW I COULD OF USED THE ADVISE WHEN I WAS DOING MINE..
AND
YES
I DID ALL THE WORK!!!! OF COURSE I HAD HELP. IT WOULD BE POSSIBLE WITHOUT IT. BUT ALL THE FAB WORK, WELDING, AND MONEY WAS ALL ME..
BUT I GOTTA SAY THANKS THE MY GOOD FRIENDS RYAN, STEVE, (THE OWNER OF TRUX ETC. THE SHOP WHERE THE ALL WORK WAS DONE) ADAM, MIKE AND CHRIS.. WITHOUT THEM THIS WOULDNT EVER OF GOTTEN DONE..
THANKS GUYS!!!!
MORE PICS COMMING SOON!!!