Well, until I get the plumbing of my hydro-parking brake (which has more hoses than a Nissan engine bay) I figured I should at least take a stab at making my current parking brake work since I've only recently gotten tired of not having a parking brake (after almost 2 years w/o one... not the smartest thing I've done). I do want a t-case brake, but my money is going to other stuff from Ballistic Fab (namely an SAS axle bracket kit, arms, etc...) Anyways, what I really needed was better holding power and we all know what leverage can do...
Design is very simple, bent square stock, 6 bolts and nuts. Bolts directly into your factory parking brake linkage. Design gives almost doubles the mechanical advantage of the stock setup.
No cutting or drilling is required.
You will have to adjust your cable to take up the extra slack but that's it. Also places the cable up and out of the way of shocks, leaf springs, etc.
Upper forward bolt goes where your cable clevis normally resides. Lower forward bolt rests on the arm. I know it's uglier than a mud fence but it's the prototype okay?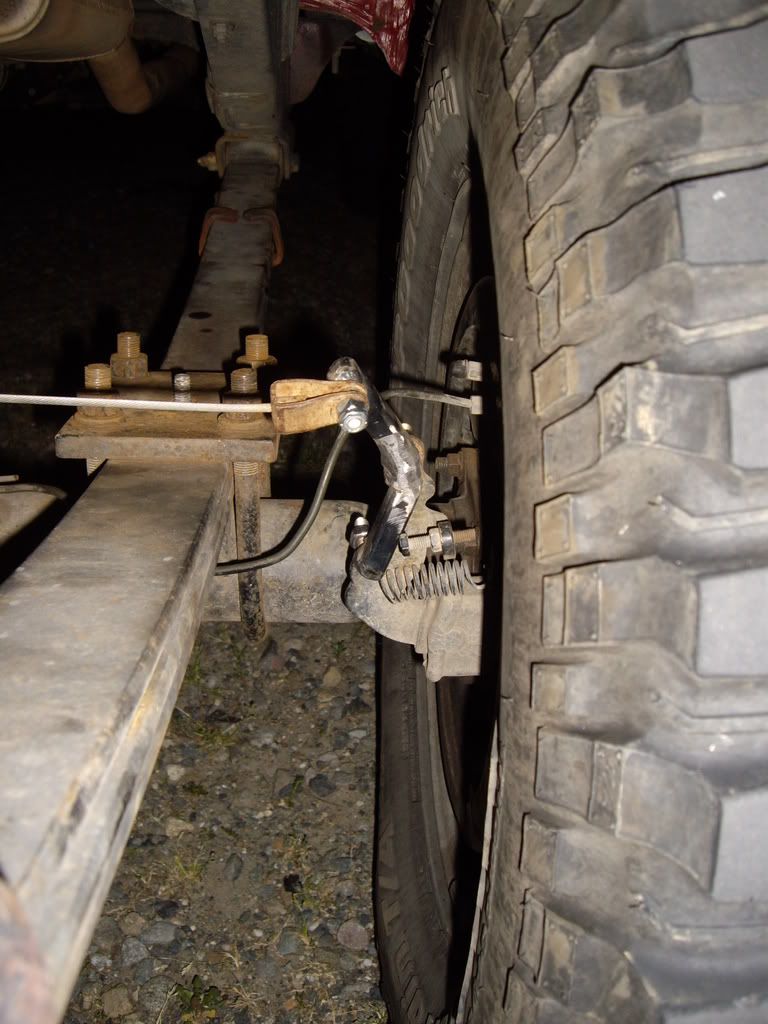 Power went from barely able to hold stock truck on slight grade to holding truck SOLID (with 33's) on 20* angle. Didn't even budge when I tried to push it.
Looks like some dip shit welded it with his feet, I know. All I had was .025 wire and the shop was closed. Very happy with the results of this mod. Will perform a little more R&D to see just how much it can hold. So yeah, lemme know what you guys think, or just flame away!