Discussion Starter
•
#1
•
Well I have to say that I'll definitely be going again. That January 13th trip is sounding better and better. I learned a bit more and wheeled with some good guys, and girl(Once again, go Val). Only suffered minor damage. I slid off a rock into another one and nicked the very outside edge of my front passenger wheel. No biggie. If I learned anything, make sure the tires are firmly planted on the rock.
Some of the stuff I saw up there was somewhat more enjoyable than the wheeling. The guy on the ATV that rolled it, and the mystery person in that lifted Van was something else. Plus Brad getting way tipsy going up that hill on the other side of the creek was entertaining.
I love the attention my truck got. That one group of ATVs just kept gawking at my truck, and even took pictures at one point in the trail. Here they are watching me go through that one trench.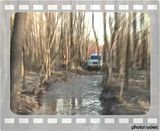 Here's the rest of what I got:
http://s23.photobucket.com/albums/b389/WDRodge/Paragon - December 06/
Nice to meet everyone and I'll be sure to tag along again.