·
STITCH - Come and Take it!
2019 4RUNNER TRD Off-Road
First I want to thank Adam, Kevin, Brad & Jayce who has helped wrench on my Tacoma.
And to the many others that I have used their threads on the items I have read up on and how they installed the equipment.
Next, I bought my 2001 Tacoma Double Cab TRD Limited new in 2000.
Only major options were the TRD package, Limited package and e-locker.
Please email me with any questions.
OR
You can go to the EXPO Section to post the questions.
TejasYOTA's Q&A Thread - click here
For the modifications listed below; I have provided a hyperlink.
So you can go directly to that thread without needing to wait for all the photos from the other threads to load.
In the beginning, I mainly used my truck to drive to trail heads to either hike, rock climb or mountain bike.
So most of my wheeling were on the original weak ass AT tires that came with the truck and on fire roads and crossing of small streams.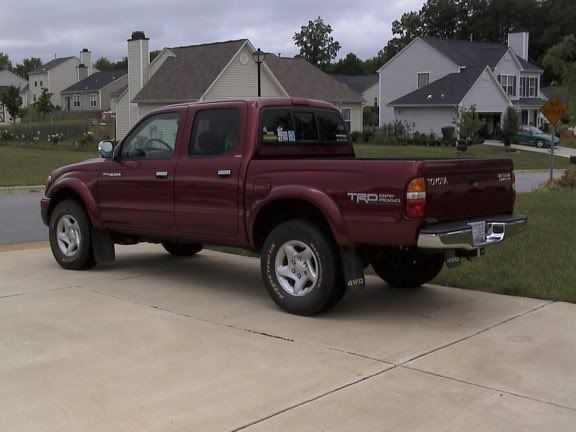 Most of my time, energy and Money :2cents: went to my other ride, a 2000 BMW Z3 2.8L straight-6 Roadster.
As you can see I spent my weekends mainly racing her in three different states (NC, SC & VA).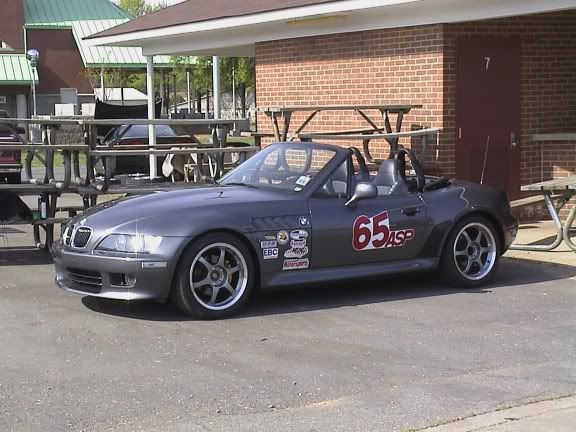 After my move to San Antonio, I semi-retired from racing, due to the long drives and hellahot temps.
After a few years of not really doing much stuff, I decided to look into wheeling and I found YOU ALL and the TX-TTORA Chapter!
Hanging with the San Antonio crew, was eye opening and amazing on how well even a stock Tacoma could handle most easy to moderate wheeling spots.
Now I had a new hobby to sink my time, energy and Money :2cents: okay most of my money and I still do a lot with my BMW Car club.
Engine:.....3.4L, normally aspirated
Trans:......Auto
T-Case:....Stock
Rear Axle:......Electric Locker - factory
Tires:.......285/75-R16 Goodyear DuraTRAC
Wheels:....16X8, Toyota FZJ80 (1993) rims
Below are the things I have done to my Tacoma.
SUSPENSION
Front Shocks/springs: Donahue Coil-Overs
Rear Shocks:...Donahue Signature Reserves
Bumpstops:.....Timbren front and rear
Rear Leafs:......DEAVER-10 Springs
Emergency Brake Bracket (e-brake) on Hub modification
UCA:........ Total Chaos UCA
CV Boots:.....Off Road Solutions CV Boots
http://www.tacomaterritory.com/forum/showpost.php?p=1390626&postcount=17
http://www.tacomaterritory.com/forum/showpost.php?p=1390626&postcount=17
Brakes:.......Goodridge Extended Brake Lines - front and rear
Body Lift:....Roger Brown 1-inch w/ heavy duty hardware
POWERSLOT Rotors and HAWK Brake pads
FZJ80 (1993) Land Cruiser Wheels
Goodyear DuraTRAC Tires 285/75-R16
No Loss Valve Caps
Steering Rack-Replacement and then fix
Possible modification to Steering Rack Frame
Steering Rack-corrosion issue
Lower Ball Joint-Replacement
PROTECTION
Trail-Gear Front Bumper
CBI Fabrication Heavy Duty Clamp-on Sliders
CBI Fabrication Custom Rear Swing-out Bumper
Cutting Fender for Bumper Clearance
CBI Bumper tilt repair
CBI Frame Reinforcement Plates
Bud-Built Front Skidplate
Pinch-weld Mod
4XInnovations' Tube Doors-mirror & locks
Bud-Built Belly-Pan and Cross Member
- pending install
R.O.R.E. e-Locker Skidplate (Ruari's Off-Road Equipment) -
4x4wire.com rore_skidplate
R.O.R.E.-website here!!!
Rhino Spraying Liner
TUFFY Deluxe Stereo Console 8-inch
- - NEW
RECOVERY
JFab custom Tool Box, Bed Bar & Bed Rail
ARB Safari SNORKLE
VIAIR 450 Constant Duty Air Compressor w/ 2.5 Gallon Tank
Military 20MM Ammo Can
Shovel and Axe mount - on Bed Bar
Flashlights (MAGLite and SURE-Fire)
Hi-Lift 48-inch & Modification to Bumper
Hi-Lift 60-inch Extreme
Rear axle - Breather replacement - Creeper Breather
Mac's Custom Tie-Downs
Relocated Oil Filter Mount
TW-CB installation and information
Firestik antenna-install and SWR Measuring
Additional Modifications:
Wiring your truck - REAL BASIC
BlueSEA SafetyHUB Fuse Box and HELLA Relay Box
LED Rock Lights
LightFORCE 170 Striker HIDs
LED Flood Lights
Headlamp (foggy) replacement
Recovery gear (straps, shackles, tool kit, med kit, etc.)
Grey Wire Modification for the E-Locker
Side View Mirror Replacement
Rearview Mirror-WINK 5 Panel Panoramic
Cuprest's Rubber Insert Replaced with a Mousepad
Turn Signal Flasher Relay
Fuel Filter replacement
Fender Flare removal
- - NEW
Charging Cables-Big 3
- - NEW
Alpine 4-channel amp
POLK Separates front and rear
Valantine1
Radar Detector - hardwired
Optima Red Top
Pioneer MVH-X560BT radio, Uniden 980SSB cb, RAM X-Grip mount
CB antenna - Wilson 1000 w/ magnet mount (current)
TEQ Bottle Opener on the bumper
*******
REMOVED From use - due to issues
License Plate Light by LitePLATE
>.......LitePlate UPDATE, this item failed at the PCB, I have removed.
>.......I will NOT RECOMMEND this part for use.
ProCLIP & OTTERBox Cell Phone Mount
>....the ProCLIP's weld nut stripped from the plastic.
It now does not tighten.
I have replaced the system with a RAM X-Grip.
Cobra 18 WX-ST II and a Wilson Silver Load Flex-4 (4-feet long)-(past) - replaced with a Uniden 980SSB and Wilson 1000
*******
Garage stuff:
RaceDeck Flooring
LISTA Cabinets-Pt I
LISTA Cabinets-pt II
That's it for now...see you on the trails.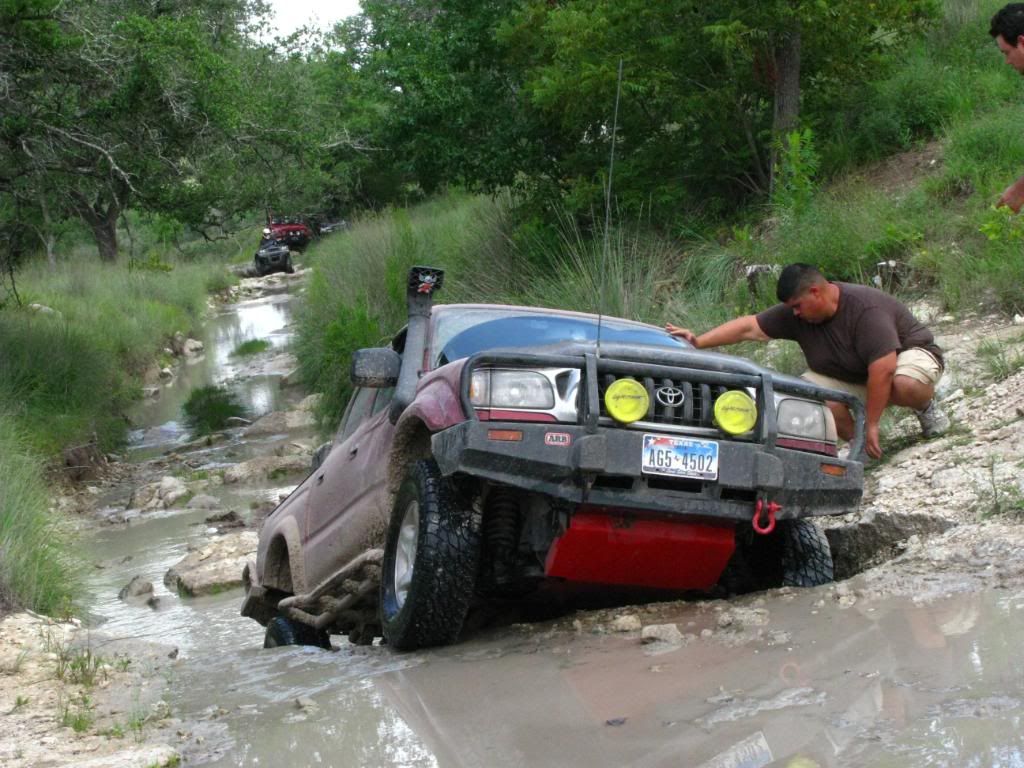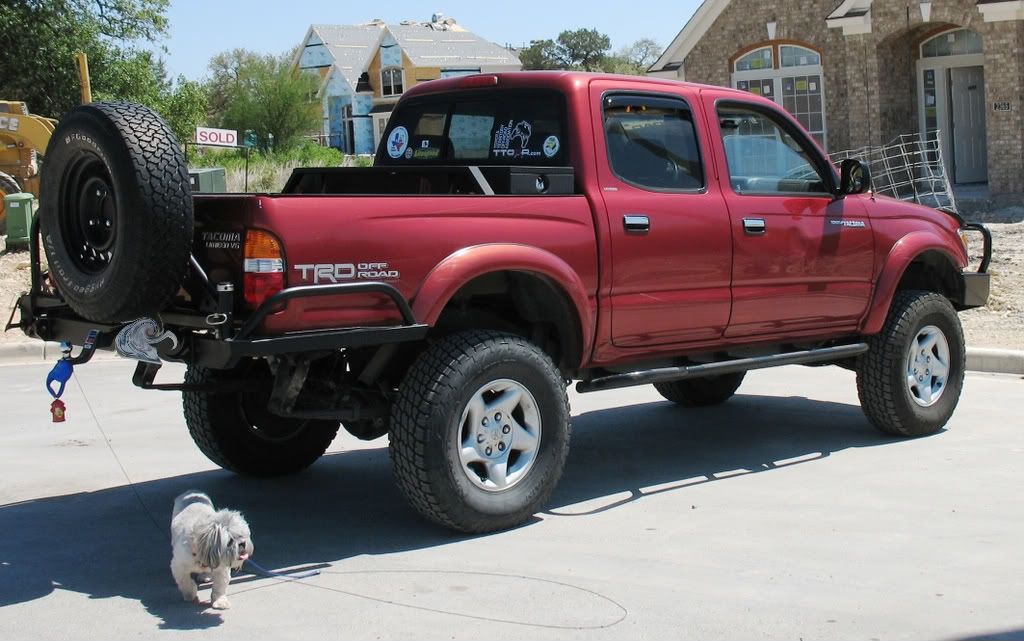 ********

WHAT IS NEXT?!?
Nothing yet...most likely the HO Alternator.
I did purchase Budbuilt's Belly Pan skid plate and cross member.
But due to interference with CBI's Clamp-on Slider mounts, I have to figure out to modify the Cross Over Member.
JFAB and I were talking about what we could do with it.
Once I get that done, I will post up.
Disclaimer: Any modification or suggestions that you take from any of my posts is your responsibility. Me or my family are not liable for any issues or accidents or deaths that occur. Be safe, read, re-read, ask questions and if you do not have the skills find someone that does.

This guide is for information only, and I nor any member of this forum (including the admin, moderators, owners, hosts or affiliates) take any responsibility for anything that may go wrong. Use this guide at your own risk.