Discussion Starter
·
#1
·
I have a tube bumper from Shaffers Off Road. It was made to be welded on to the frame and has a front reciever hitch. Origonally made for the front of an 83 4x4 but will work with anything given a little time and effort. I have a new 02 PreRunner so using that is out of the question. I bought it for close to $450.00 and I dont expect to get that back just wanted to throw it out and see if there were intersts on it. Let's say $250.00 obo takes it. I really dont want to ship it. Local pick up is prefered im in Fullerton, Cal State Fullerton to be exact. I can deliver to Fullerton, Brea, La Habra, La Mirada. And if you really want to Palmdale/Lancaster because I visit my parents there frequently. And all I ask for the delivery is some gas money.
Here are the pics from the websight that I bought it from, trades are welcom for something interested
PM or email to
[email protected]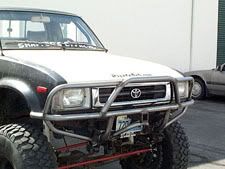 Some minor desighn changes were made on the mount but for the overally desighn of the bumper is the same.
This is a weld on bumber, not a bolt on applicaton, and must be custom fitted for anything other than an 79-83
Serious buyers only please, will consider any reasonable offer. I need to get this thing out of here, it is taking up too much room in my garage.
Unpainted in raw material, minor surface rust is present due to sittin around. Has always ben covered and stored in a garage attic.