Yanman's 88 Hilux Pickup
Welcome to my build thread!
Everyone knows that alot of projects are a work in progress and this thread is no exception. Therefore, this thread will continue to change in the form of tweaking the existing posts along with posting new mod updates as my rig evolves.
I've had a lot of fun creating this chronological thread and going back and seeing the transformation of my rig from when I bought it to where it is now. Plus it's not a bad idea to do this incase something happens to my rig, so I can be compensated by my insurance company.
Disclaimer
The opinions expressed in this thread are my own and in no way represent those of TTORA, its chapters, its members/users, or its vendor/sponsors. Nor should my opinions, what so ever, influence others with their builds. This includes doing what I've done and/or doing business with and/or purchasing products from the same vendor(s).

I am not responsible if a link I post up works one day then doesn't the next. I have no control over what other sites do and how they keep them organized or if they still exist. Nor am I in control if this site adds a random link to my posts sending you off to some irrelevant site. If there is any doubt, go to the home page of the area in question.

I do try to keep the information posted on this thread accurate, but things change over the course of time and I do make mistakes. Do not take the information I post on here as flawless. Please, please, please do your own research, and courteously let me know where my info is wrong.

I'm not trying to advertise for the insurance companies, we all know they make a killing off of us and then usually jack up our rates when we make a claim or a claim is made against us. However, I have seen to many times where someone has had their rig totaled and/or stolen and were SOL because they only had liability, basic full coverage, or worse no insurance at all on it. :scared: The insurance company I am with offers a policy for modified/restored vehicles and will insure the cost of EVERYTHING up to a set number ie: $20k, $25k, etc. So most of what I spent on parts and labor is all covered. So a word to the wise, if you can afford it and if your insurance company offers it, I HIGHLY recommend that you get your rig insured with some sort of modified/restored vehicle policy.

I may be able to understand and communicate with the English Language, but I don't have a college degree in it, nor am I a professional writer with an editor on retainer. So, there will be spelling, punctuation, and grammar errors.


If reading this thread has helped give you some ideas for your build, and/or helped you learn from my mistakes, then I am happy to have helped out. Enjoy!
On to Business
Back when I first joined TTORA I was going to build up my 2003 Tacoma, and I have done a few mods between now and then with:
Tinted Windows
Slee Sliders (SOLD)
Inchworm Gear E-Locker Guard
Pioneer AM/FM/Cassette/CD/MP3 player
E-Locker Gray Wire Mod
TRD Headers
Rear Diff Breather Extension
Secondary Gauge Cluster:
Suspension (1.5 - 2 inch lift):
Picture below does not represent the truck's actual appearance.
But my taco was just too clean and pretty to wheel and I didn't want to hack/chop/scratch/bash up such a nice truck. So, back in May of 2009, I decided to turn my taco into an daily driver/semi pavement princess and permanently retire it from wheeling. Then I got this truck: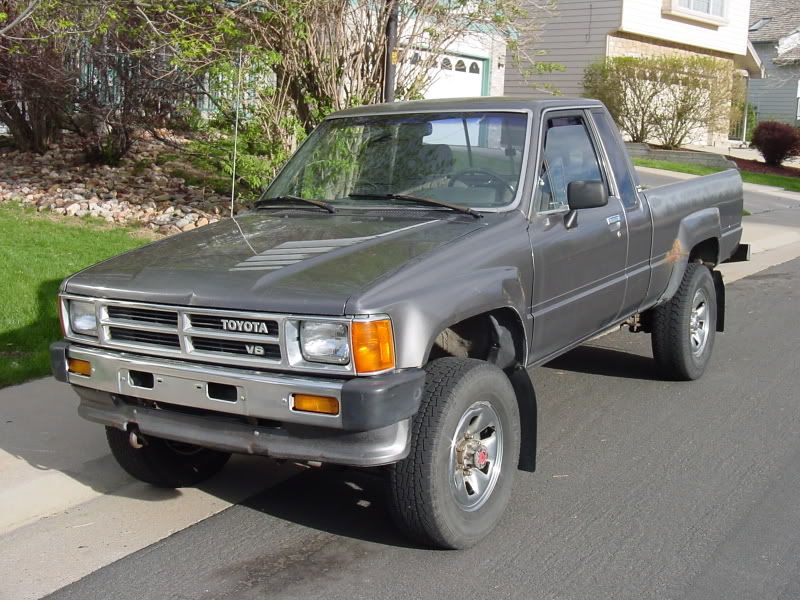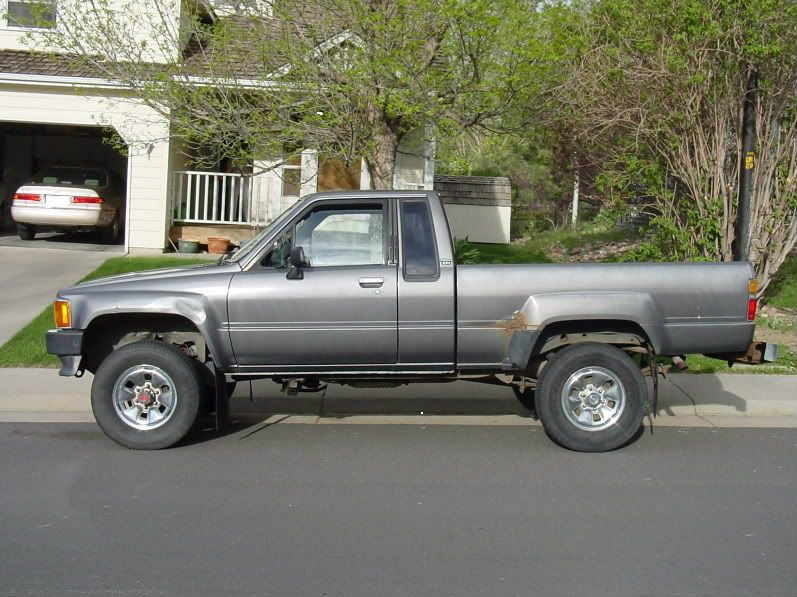 A 1988 SR5 V6 5spd Xtracab Short Bed Hilux Pickup, aka my 88.
It had over 230k on it, and was in really good shape other than the typical 84-88 bed rust and some fading paint. It ran well, drove straight, didn't appear to have been wheeled on anything too nasty, and everything
seemed
to work except the AC.
Bone stock, except for:
upgraded Infinity speakers
a ton of speaker wire all over the cab
no radio
no tailgate
no jack
no spare tire tool kit
Classic Husky floor mats, which don't seem to be available anymore for this truck
cloth seat covers
aftermarket rear bumper
bed mat
wiring for a camper shell
wiring for towing
peeling window tint
a ton of dog hair everywhere in the cab
So, why did I go with a pickup truck, specifically this generation, instead of a later or earlier truck, 4Runner, FJ Cruiser, or a Landcruiser? Also what the hell possessed me to get a truck with the 3.slow?!?!
Initial Personal Requirements/Preferences:

Fuel Injection: My first car, a 1980 Limited V6 Buick Skylark Sedan, had the biggest PITA POS carburetor on it. Ever since that experience I have refused to have a vehicle without fuel injection. Another reason is that most of the trails my rig will be on are high in the mountains with lots of elevation changes, an EFI system can better adapt the air-fuel ratio. I have wheeled along with vehicles with carburetors and they always seem to have trouble with the elevation changes.
Manual Transmission: Once I learned how to drive a manual tranny, I had more fun driving and I found that I had better control of what the vehicle was doing. There after manual trannys are what I prefer to have in my trucks and especially sports cars!

Landcruisers:

The 2nd, 4th, & 5th gen Landcruisers are the ones I like and based my research.
61-83 2nd gen FJ40s will always have a special place in my heart, but to get one in decent shape thats not a rust bucket is big $$$, and unless they have been modified they are not fuel injected.
81-87 FJ60 / 88-90 FJ62 4th gens, IMHO, don't have enough power for that heavy of a vehicle. The 81-87 FJ60 Models are not Fuel Injected, but have a manual tranny. The 88-90 FJ62 Models are Fuel Injected, but have an automatic tranny.
91-92 FJ80 / 93-97 FZJ80 5th gens are too $$$ and too wide for the trails it would be on. Also all of this generations transmissions are automatics.

4Runners:

There are only 3 generations of 4Runners that I like, the 84-89 1st gen, 96-02 3rd gen, and 03-09 4th gen. The later year models just seem to get bigger and bigger.
The 1st gens, like the FJ60s and 2nd gen 4Runners, are heavy rigs due to all the glass in the rear and the stock engine is underpowered for a vehicle that is that heavy. Now it can be helped (only a little) by removing the stock topper. But I could not find one that I liked enough to buy.
The 3rd and 4th gen 4Runners were more $$$ than I wanted to shell out.
All 4th gen 4Runners come with automatics.

FJ Cruisers:

I had a chance to test drive a brand new limited edition all White TRD FJ Cruiser. They are nice, and probably very capable offroad, but they are so new that they are $$$, plus there is a HUGE blind spot on them and like the FJ80's they are too wide.

Trucks:

79-83 1st gen 4x4 Trucks do not have an XtraCab option, and most of those trucks have worse rust problems than the 84-88 trucks, and they are not fuel injected.
89-94 3rd gen Trucks came in at a VERY close second. My first Toyota was a 1991 Deluxe V6 5spd Xtracab 4wd Short Bed that I had for 12 years and loved it.



But at the time when I was looking for my 88 I didn't find any that I liked well enough or were in my price range. Thinking back on it now, I should have kept my 91 and made IT my trail rig.
95-04 1st gen Tacos, I already have an 03 so it seemed redundant, plus modifying the newer trucks is way more $$$ than the older ones, and there are more aftermarket and used parts available. The 01-04 DoubleCab option does not have a full bed, and at the time I wanted a full 6ft bed. Also, 01-04 DoubleCab Tacos only have automatic trannys, unless someone did a tranny swap.
05+ 2nd gen Tacos are too $$$ and too big for me, plus they are so new that 95% are real nice and I would just be back in the same boat I was in with my 03 Taco. As mentioned before with the 01-04 DoubleCabs, I wanted a bigger bed, and yes, the 05+ Tacos have a full bed option available with the DoubleCab, but that is one long truck!
T100 and Tundras like the 05+ Tacos and FJ80s are too big

Wheel Base:
The stock wheel base on this truck to me is at a nice sweet spot. At 112" it will make it less susceptible to end over rolls when going up or down steep inclines, compared to shorter wheel bases, and less susceptible to getting high centered, compared to longer wheelbases. Anyway, just for comparison here are stock wheel bases of other vehicles I was interested in:

FJ40s are at 90"
1st & 2nd Gen 4Runners, 79-94 Standard Cab Pickups, and 95-04 Standard Cab Tacos have 103"
3rd Gen 4Runners are 105"
FJ Cruisers stand at 106"
FJ60/FJ62s are closer at 108"
4th Gen 4Runners and 05+ Regular Cab Tacos are even closer at 110"
FJ80/FZJ80s are the same as my truck
89-94 XtraCab Pickups and 95-04 XtraCab/DoubleCab Tacos are sitting at 122"
05+ Access Cab/DoubleCab Short Bed Tacos have 128"
05+ DoubleCab Long Bed Tacos are 141"

(Stat info provided by Toyota via ToyotaReference.com)
Drivetrain/Driveline
I know, I know, the 3VZ-E 3.0 liter (183 in³) V6 is one of the worst performing engines that Toyota has made. It does have the most power out of the 3 engines available in the United States for that generation (145-150 hp at 4800 RPMs), OK torque, but only if you wrap it up a bit (180 ft-lb at 3400 RPMs), the gas mileage could be better (16 City / 20 highway), but as almost everyone knows the biggest thing that scares people away is it is prone to head gasket failure, and its a difficult engine to work on. Also it is the only non-DOHC V6 that Toyota made.

Compare that to the 22RE 2.4 liter (146 in³) I4 which is one of the better engines Toyota has made. It lacks in power compared to the 3.0 (112 hp at 4800 RPMs), but made up for it with better low end torque (137 ft-lb at 2800 RPMs), better mileage (19 City / 22 highway), less susceptible to head gasket failures, and easier to work on. Plus there are TONS of aftermarket performance parts available for the 22R engines.

But the overall drivetrain (R150F transmission, rear diff, rear axles) that comes with a truck that has the 3.0 is stronger. That was the primary reason why I got a truck with the V6. A side reason was that it would be a little easier to do a 3.4 swap, if I ever go down that route.

Now some might say, "But what about the 22RET turbo that has the reliability of the 22RE and the drivetrain equivalent of the 3VZ-E?" That engine does have more power, obviously, than the standard 22RE but still less that the 3.0 (135hp at 4800 RPMs). Where this engine really excels versus the other two is low end torque (173 ft-lb at 2800 RPMs). But those engines were only available in the United States for two years (1986, 1987) in the Trucks and 4Runners. Believe me, if I could have found one that meet all the requirements listed in this post and ran well, that would have become my trail rig.
(Stat info provided by Toyota via ToyotaReference.com)
Other Stuff:

I don't have a family to justify the need for an SUV or DoubleCab truck
I've always liked pickup trucks more than SUVs
Pickups are usually lighter than SUVs
I've always liked the body style of the 2nd gen Pickups and 1st gen 4Runners
I've always liked the extra room an XtraCab provides
Getting Organized
When I was in the process of modifying my Taco, I wanted to stay organized and focused on the modifications I wanted to do.
I applied the same practice to my 88. So I created an Excel spreadsheet and organized it accordingly:
Divide the modifications up into categories per areas of my truck, Drivetrain, Wheels & Tires, Suspension, Exterior, Interior, and misc.
List the description of the modification
Price of the mod
Date of the price of the mod when I got the quote or saw it on the net and/or ad
The vendor that was selling the mod
The vendor's web site link to the mod, or phone number
Date when the mod was purchased, specifically parts
Date when the mod was installed
Notes about the mod
The information on this list would change as I would change my mind, or find a better product and/or vendor.
I would highlight a mod that I wanted to focus on and get done to make sure I would stick with it. When a mod was complete I would highlight it in a different color, in a way of checking it off my list.
This approach was EXTREMELY helpful!
Performing Mods
Right now I don't possess the abilities or tools to do my own fabrication work, especially welding. Same goes with any major mechanical problems or modifications, ie: engine and transmission work. Fortunately this site has introduced me to lots a great people and shops that were able to lend me a helping hand.
Thankfully, I can turn a wrench and read a service manual and have been able to do a few minor to moderate mods and maintenance on my own.